Specialization with Tom Palermo and John Anello [THA 220]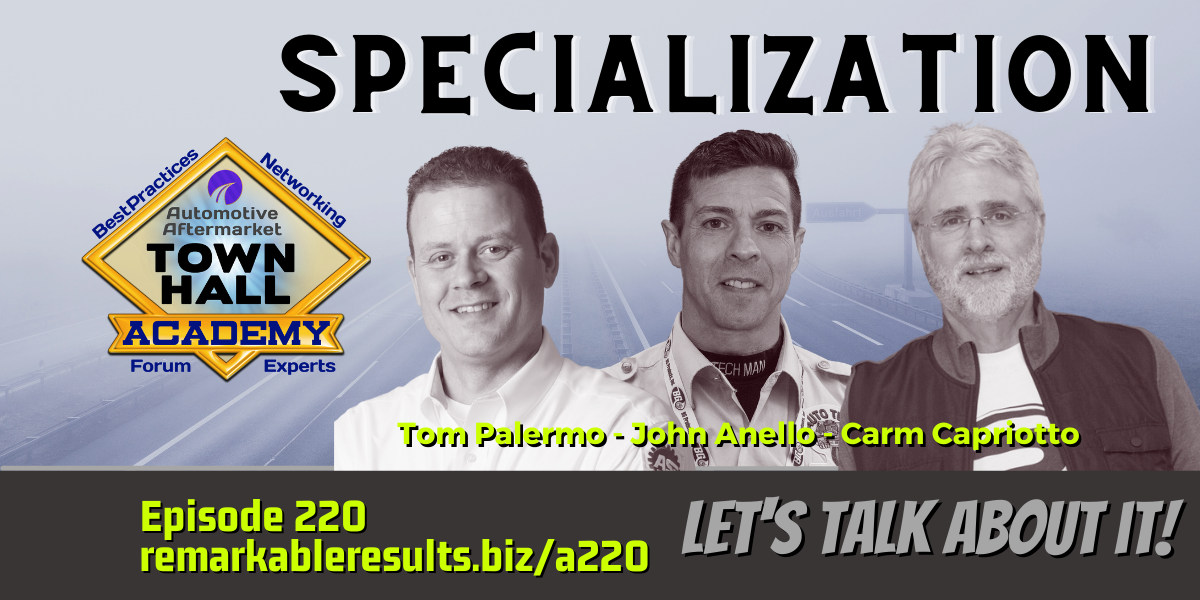 Tom Palermo is General Manager of Preferred Automotive Specialties in Jenkintown, PA. Tom is a world class Master Technician and a Certified ASE Advanced Level Technician, is certified from ASE including Master Auto, MasterTruck, Master Truck Equipment, Master School Bus, Master Collision, Master Transit Bus, L1, L2, C1, X1, P2, F1 Besides the 2015 NAPA/ASE Technician of the Year, Tom also earned the 2011 AAIA-ASE World Class Technician Award from the Automotive Aftermarket Industry Association, National Institute for Automotive Service Excellence, and the Best Tech of the Year award sponsored by WIX Filters. The majority of Tom's business is fleets. Listen to Tom's previous episodes HERE.
John Anello, Auto Tech on Wheels (Mobile Diagnostics, Programing, ADAS). Listen to John's previous episodes HERE
Key Talking Points
Fleet specialist Always be marketing for any specialist (fleet/private/mobile)
Don't limit yourself to one specific brand/type of fleet
Develop loaner fleet for customer use
Critical- being able to handle any issues with fleet vehicles when a fleet manager calls, be the 'one stop shop' for fleet managers
Sublet mobile technicians
Mobile technicianCons- spend a lot of time on road, catering to customers that don't have sufficient equipment or employees not engaged in training, technology moving at rapid pace
Lift each shop by showing them how to properly use equipment by educating them, build relationships with every customer
John handles 50-70 calls per day and often provides free tech assistance
Continual research- having solid foundation first then learn how to adapt as things change
Every 5 years a business will get staleNeed to look at whole picture and figure out how to continue to move forward with technology and best practices
Stop avoiding jobs- "adapt or die" embrace technology
Most business owners don't like taking the 'risk factor'Take the risk and reap the benefits
January 1st, 2022Move to 77gh for all cars going forward, mandated every car to have front radar automatic emergency braking
Manufactures will have secure gateways for cars (control gateway username and password for tools)
Aftermarket must register tools and have wifi capabilities for the future
ADAS must be done correctly
A special thanks to Tom Palermo and John Anello for their contribution to the aftermarket.
Books Page HERE
Listen to all Remarkable Results Radio, For The Record and Town Hall Academy episodes.
Facebook Twitter LinkedIn Instagram Youtube Email
Join the Ecosystem – Subscribe to the INSIDER NEWSLETTER HERE.

This episode is brought to you by Shop-Ware Shop Management. It's time to run your business at its fullest potential with the industry's leading technology. Shop-Ware Shop Management will increase your efficiency with lightning-fast workflows, help your staff capture more sales every day, and create very happy customers who promote your business. Shops running Shop-Ware have More Time and generate More Profit—join them! Schedule a free live demonstration and find out how 30 minutes can transform your shop at getshopware.com

This episode is brought to you by Shop Marketing Pros. Your guides are Kim and Brian Walker with a rich history as shop owners and industry veterans. When someone searches for a shop, who are they finding? Your competitors? It should be you! The good people over at Shop Marketing Pros know how to drive website traffic and make Google work for you! www.shopmarketingpros.com