Millennials A to Z – Part 2 – Sara Fraser [RR 620]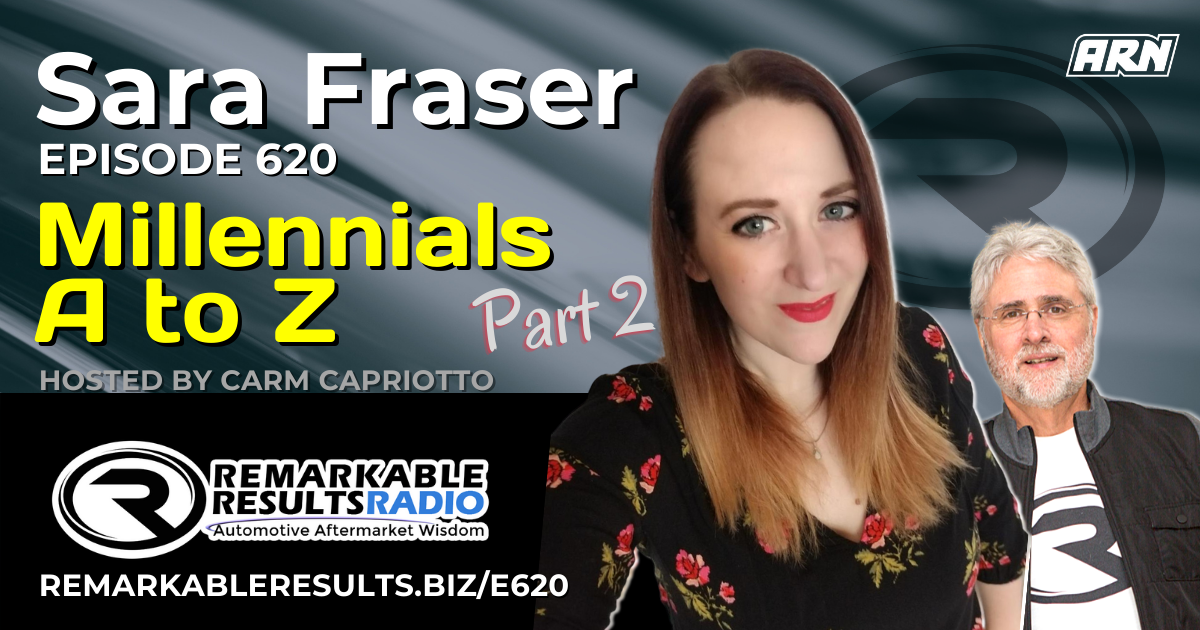 Sara Fraser is a millennial who has a love for life, travel, and connecting with other humans! She has over 15 years of retail management experience, the last 6 of them as an office manager for a used car sales and service center. To bring her customer service, marketing, and business knowledge to the automotive industry she has recently joined the team at Haas Performance Consulting.
Sara loves helping others grow and succeed and is excited to share her expertise on management and social media, her views on how and why the younger generations think and act, and how to work and manage a business within a multi-generational workforce. When she isn't working Sara spends her time traveling, attending theatrical productions, music festivals, concerts, advocating for human and animal rights, celebrating life in general and connecting with other people from all over the world. Look for Sara's previous episodes HERE.
Key Talking Points:
Why aren't millennials applying to my shop?
Millennials don't buy products without looking at reviews- they won't apply/accept offer without researching shop thoroughly first
Have current employees leave google reviews- show off and share your business culture .
Shop should look clean and inviting- millennials want walk through interviews to evaluate their potential work space
Flexibility in work hours- millennials grew up with parents that were away from the home or working extended hours. Life after work is more important than work.
Social media/linkedin/indeed- the more you advertise you're hiring on different platforms, the bigger net you're casting and the more feedback you'll have
Advertise your culture- be inviting into your team, millennials are looking for that workplace "home"
"Ideal boss"- approachable, comfortable to talk to, honest, trustworthy, positive attitude, personable. Millennials like to share information about their life outside of work and want the same reflected back. You are more than a boss, you are a mentor/role model.
Embrace change and adapt to your employees needs – create a space for employees to flourish and succeed
Show millennials the auto industry is a viable career- they did not grow up with the knowledge they could be a technician as a career
Resources:
Thanks to Sara Fraser for her contribution to the aftermarket's premier podcast.
Link to the 'BOOKS' page highlighting all books discussed in the podcast library HERE. Leaders are readers.
Find every podcast episode HERE.
Every episode segmented by Series HERE.
Key Word Search HERE.
Be socially involved and in touch with the show:
Facebook Twitter Linked In Email
Listen for free on Apple Podcasts, Google Podcasts, Spreaker, iHeart Radio, Spotify, Podchaser and many more. Mobile Listening APP's HERE
Join the Ecosystem – Subscribe to the INSIDER NEWSLETTER HERE.

This episode is brought to you by AAPEX, the Automotive Aftermarket Products Expo. AAPEX represents the $740 billion global automotive aftermarket industry and has everything you need to stay ahead of the curve. The Virtual AAPEX Experience 2020 is in the record books. Virtual AAPEX lived up to presenting leading-technical and business management training from some of the industry's best and brightest. Now set your sights on the homecoming in Las Vegas in 2021. Mark your calendar now … November 2-4, 2021, AAPEX // Now more than ever.

This episode is brought to you by Shop-Ware Shop Management. It's time to run your business at its fullest potential with the industry's leading technology. Shop-Ware Shop Management will increase your efficiency with lightning-fast workflows, help your staff capture more sales every day, and create very happy customers who promote your business. Shops running Shop-Ware have More Time and generate More Profit—join them! Schedule a free live demonstration and find out how 30 minutes can transform your shop at getshopware.com/carm