Journaling – Your Personal Case Study with Matt Fanslow [RR 648]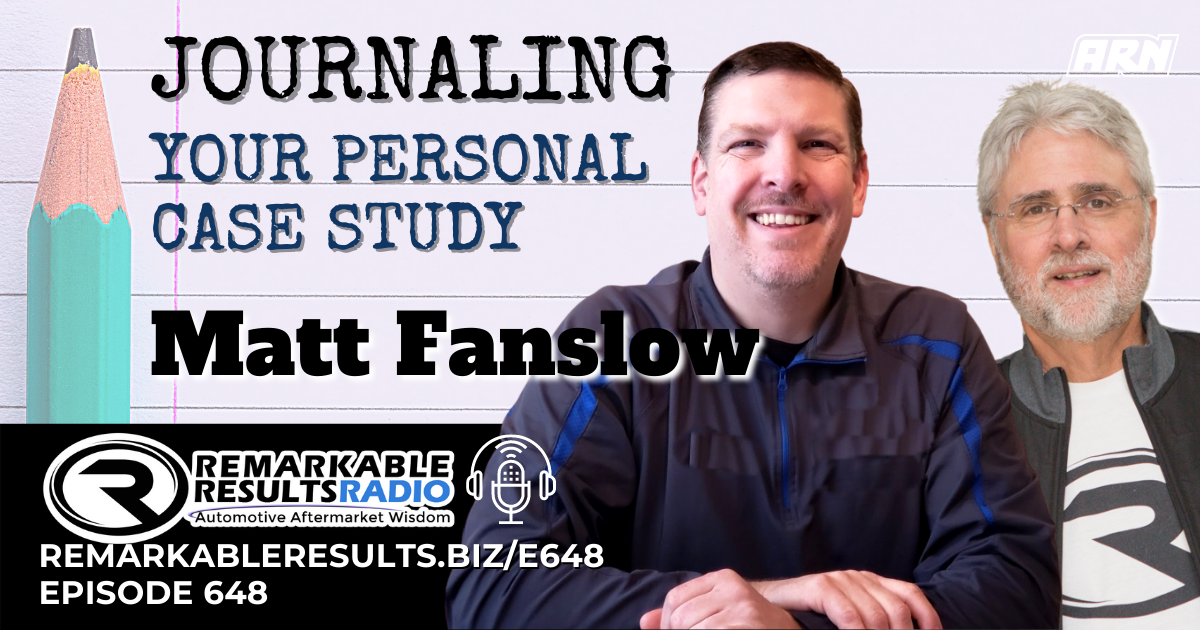 Matt Fanslow is the diagnostic tech/shop manager at Riverside Automotive in Red Wing, MN. His primary responsibilities are to diagnose driveability and electrical/electronic issues, and perform most all programming, coding, initializing, adoptions, etc. Basically, if it needs to be figured out or has wires, it goes to Matt. He's been a tech since 1996. Matt is also a subject matter expert for ASE and has instructed at Vision Hi-Tech Training and Expo. Matt has participated on 18 ASE technical committees for the ASE Practice Test, A6, A7, A8, and L1 tests. He's also done case studies for Standard Motor Products. Fanslow's goal is to do everything in his power to improve the overall level of professionalism within the automotive and light truck repair trade and also raise the level of its public image. Matt Fanslow's Previous Episodes HERE.
Key Talking Points
Competent technician shortage
Biggest issues within shops- communication and remembering everything as things change
Commute back and forth to work- have time to think about your day. Be honest and critical. When you're entry-level there may be more negatives than positives, don't beat yourself up about it. Unpack it step by step. Were you on your phone too much? Did you have unnecessary motions?
Keeping journal/diary/google docs- while at work jot down some bullet points and when you're at home expand each one. Helps with great with memory and learning. If using an electronic journal you can search it as time goes on. As you accumulate entries over time, go back and read what you wrote and see firsthand the progress you've made. Brings value to yourself and employer. Confidence through competency. Steer the direction of feelings of anxiety and being overwhelmed with new information. Use anxiety to push yourself forward.
Future journal/diary you write in every month or every few months. Where do you want to be? How will you get there? Be a specialty tech or diagnostic tech etc. Build a path and map out weak areas to focus on.
Everyone learns differently- write down your take on processes that helps you learn and remember
The way your brain works is malleable- rewire it with how you learn best
What is memory? To learn from mistakes and not doing them again. Our memory has changed as technology has advanced. We no longer memorize information like we used to with the ease of the internet search engines. Remembering phone numbers is a skill of the past.
Scientific proof and studies- Journal of Applied Psychology and National Academy of Sciences.
Thanks to Matt Fanslow for his contribution to the aftermarket's premier podcast.
Link to the 'BOOKS' page, highlighting all books discussed in the podcast library HERE. Leaders are readers.
Listen for free on Apple Podcasts, Google Podcasts, Spreaker, iHeart Radio, Spotify, Podchaser, and many more. Mobile Listening APP's HERE
Find every podcast episode HERE.
Every episode is segmented by Series HERE.
Key Word Search HERE.
Be socially involved and in touch with the show:
Facebook   Twitter   Linked In   Email
Join the Ecosystem – Subscribe to the INSIDER NEWSLETTER HERE.

This episode is brought to you by AAPEX, the Automotive Aftermarket Products Expo. AAPEX represents the $740 billion global automotive aftermarket industry and has everything you need to stay ahead of the curve.  The Virtual AAPEX Experience 2020 is in the record books. Virtual AAPEX lived up to presenting leading-technical and business management training from some of the industry's best and brightest. Now set your sights on the homecoming in Las Vegas in 2021. Mark your calendar now … November 2-4, 2021, AAPEX // Now more than ever.

This episode is brought to you by Shop-Ware Shop Management. It's time to run your business at its fullest potential with the industry's leading technology. Shop-Ware Shop Management will increase your efficiency with lightning-fast workflows, help your staff capture more sales every day, and create very happy customers who promote your business. Shops running Shop-Ware have More Time and generate More Profit—join them! Schedule a free live demonstration and find out how 30 minutes can transform your shop at getshopware.com/carm