Apprentice Journey – High School to Graduate [RR 675]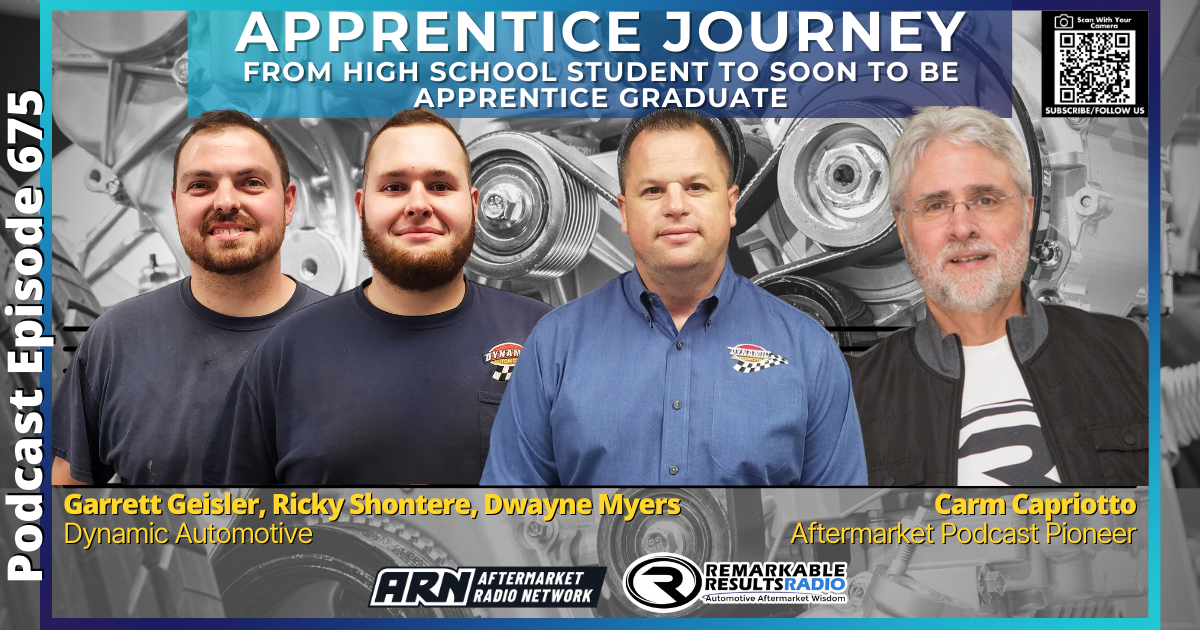 The future of the aftermarket depends on having an apprentice program at every shop in North America. The more you know and hear apprentice stories, the closer you are to start you own.
Link HERE to all apprentice episodes.
The Panel:
Garrett Geisler, Shop Foreman, Dynamic Automotive, MD
Ricky Shontere, Apprentice Graduate, Technician, Dynamic Automotive, MD
Dwayne Myers is a partner in Dynamic Automotive in the greater Maryland area. Dwayne invests time in the industry with the Auto Care Association and serves on the education committee with CCPN (Car Care Professional Network). Dwayne was recently honored as one of only 17 outstanding individuals that qualified for the prestigious 2017 World Class Technician Award presented by The Auto Care Association and ASE. He is very passionate about hiring and sustaining a strong and engaged team. Listen to Dwayne's previous episodes HERE.
Key Talking Points
Ricky had no knowledge of cars prior- signed up for an automotive class in high school because it would take up the most time in his school schedule. Did a shadow program at a Career and Technology Center and was accepted into the school.  

Apprentice program- challenging work to drive the apprentice, asset not an expense.   

Mentoring- learning curves together, mentor comes in a little earlier before the apprentice to start their day to make up for teaching the apprentice. Team system to split hours of the apprentice.  

Future with Dynamic Automotive- Ricky is striving to become a master technician

Friendship in the shop and outside of the shop  

Advice- be confident in your work, learn the basics first, creating an apprenticeship program brings the potential into your shop which leads to more opportunities. 

Mentor qualities- patience to explain how things work, broad knowledge, drive to research issues and problems to find solutions, cares about apprentice's success and the apprentice as a person.    

Learning beyond the vehicle- soft skills (communication, self-confidence), basic financials (401K, buying a new vehicle, savings account)
Thanks to Garrett Geisler, Ricky Shontere, and Dwayne Myers for their contribution to the aftermarket's premier podcast.
Link to the 'BOOKS' page, highlighting all books discussed in the podcast library HERE. Leaders are readers.
Listen for free on Apple Podcasts, Google Podcasts, Spreaker, iHeart Radio, Spotify, Podchaser, and many more. Mobile Listening APP's HERE
Find every podcast episode HERE.
Every episode is segmented by Series HERE.
Key Word Search HERE.
Be socially involved and in touch with the show:
Facebook   Twitter  LinkedIn   Instagram  Youtube   Email  
Join the Ecosystem – Subscribe to the INSIDER NEWSLETTER HERE.

NAPA Autotech Training helps your technicians keep their skills sharp and their NAPA Know How up to date. It's the highest quality technical training that covers almost every vehicle system and every make and model. NAPA Autotech is presented by experienced instructors who are ASE master certified technicians. Even after a class is over, techs can access course information online with ClassPass. So when questions come up later they can get the answers. AutoCare Center owners who have taken advantage of Autotech Training say that well-trained technicians are helping to increase their shop's repair capability and raise bay productivity. That results in fewer comebacks, more satisfied shop customers, and reduced technician turnover.
Learn more about NAPA AutoCare and the benefits of being part of the NAPA family by visiting www.NAPAAutoCare.com.