Apprentice Journey – High School to Graduate [RR 675]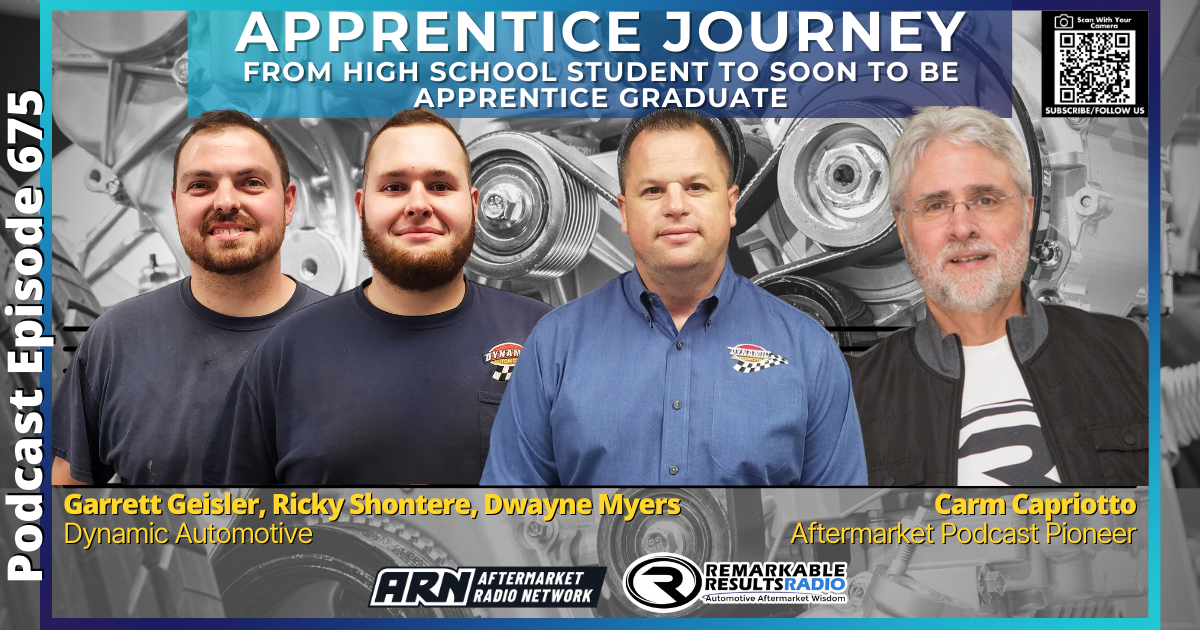 The future of the aftermarket depends on having an apprentice program at every shop in North America. The more you know and hear apprentice stories, the closer you are to start you own.
Link HERE to all apprentice episodes.
The Panel:
Garrett Geisler, Shop Foreman, Dynamic Automotive, MD
Ricky Shontere, Apprentice Graduate, Technician, Dynamic Automotive, MD
Dwayne Myers is a partner in Dynamic Automotive in the greater Maryland area. Dwayne invests time in the industry with the Auto Care Association and serves on the education committee with CCPN (Car Care Professional Network). Dwayne was recently honored as one of only 17 outstanding individuals that qualified for the prestigious 2017 World Class Technician Award presented by The Auto Care Association and ASE. He is very passionate about hiring and sustaining a strong and engaged team. Listen to Dwayne's previous episodes HERE.
Key Talking Points
Create the environment you desire- businesses don't run themselves, people (leaders) run businesses. You don't always get what you want, but you always get what you choose. Are you choosing to be in the weeds of business every day or do you want your business to run without you? Determine what you value and your culture will follow.
Transitions in the business- be an owner, you hired employees to do a job so let them. Train them well so they can leave, but treat them so well that they don't want to. Don't micromanage.
What I've learned- learn from everyone no matter what their status or level is. Everyone learns based on their experience, knowledge, and skill. Allow people to grow, owners are often the biggest obstacle. Think about the vision, cast the vision, and let your employees make the vision.
lifted burdens- watch people grow from where they are to where they want to be.  Don't create more work for you as an owner, grow employees.
Employees who lead- should be taught the responsibility they have of leadership no matter their position. They will continue to grow. Your business is only as strong as the weakest employee. They need to reflect your values.
 Your responsibility as an owner- coachability, valuing people, mentors, communicating vision
Leadershift- based on the 15 laws of growth written by John Maxwell. 15-week course for employees of businesses. Grow employees in their current roles. Owners choose who their leaders will be based on current behavior. Leadership is learned, everyone has the ability.
Thanks to Garrett Geisler, Ricky Shontere, and Dwayne Myers for their contribution to the aftermarket's premier podcast.
Link to the 'BOOKS' page, highlighting all books discussed in the podcast library HERE. Leaders are readers.
Listen for free on Apple Podcasts, Google Podcasts, Spreaker, iHeart Radio, Spotify, Podchaser, and many more. Mobile Listening APP's HERE
Find every podcast episode HERE.
Every episode is segmented by Series HERE.
Key Word Search HERE.
Be socially involved and in touch with the show:
Facebook   Twitter  LinkedIn   Instagram  Youtube   Email  
Join the Ecosystem – Subscribe to the INSIDER NEWSLETTER HERE.

NAPA Autotech Training helps your technicians keep their skills sharp and their NAPA Know How up to date. It's the highest quality technical training that covers almost every vehicle system and every make and model. NAPA Autotech is presented by experienced instructors who are ASE master certified technicians. Even after a class is over, techs can access course information online with ClassPass. So when questions come up later they can get the answers. AutoCare Center owners who have taken advantage of Autotech Training say that well-trained technicians are helping to increase their shop's repair capability and raise bay productivity. That results in fewer comebacks, more satisfied shop customers, and reduced technician turnover.
Learn more about NAPA AutoCare and the benefits of being part of the NAPA family by visiting www.NAPAAutoCare.com.