Q & A with Chris Chesney [THA 241]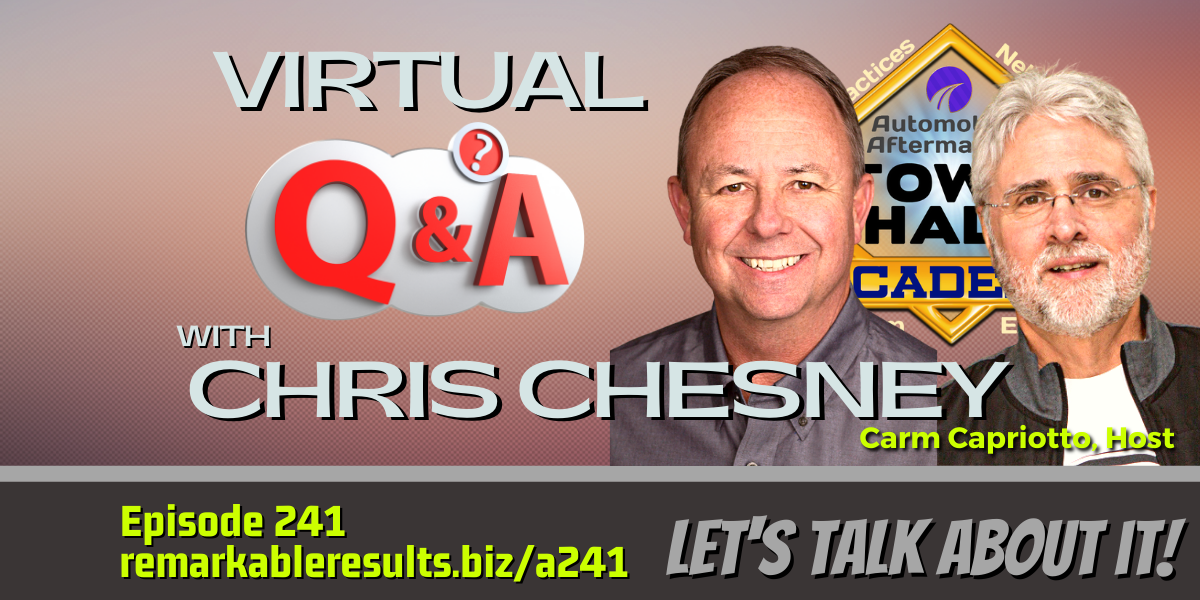 Chris Chesney 
is the former director of Customer Training for Carquest Technical Institute. He is also a NASTF Board Member. Visit Chris's previous episodes
HERE
.
Jay Huh, CarMedix, Durham, NC. Jay started his business in his home garage in 2015. He didn't have any mechanical experience but felt there was a need for an honest affordable mechanic shop. Fast forward to 2021, CarMedix has grown into a 10 bay facility and did over $1 million in sales last yr and tracking over $1.5 million this year
Brad Pellman, Pellman's Automotive, Boulder, CO. Brad first started working in the automotive industry at the age of 15 and over his career has held a wide variety of jobs at both dealerships and independent repair shops. In 1995 this dream of owning his own shop became a reality when he opened up Pellman's Automotive in Boulder, CO with his wife, Lisa.
Brad is ASE master certified and AAM designated as well. He is currently on the Board of Directors for ASE and ASA Colorado, with past board involvement with CCPN and the TECHNET Automotive Council. He has had the added privilege of being designated as one of the Motor Age Top shops in the country. And hopes to continue to raise the awareness and importance of Independent automotive repair across the country. Brad's previous episodes HERE.
Scott Brown, Cardinal Plaza Shell, Springfield, VA. The second-generation owner of Cardinal Plaza Shell, a 2,700 square feet, 5 bay independent repair shop and LEVEL 5 Solutions, an automotive technology company. Celebrated 50 years in business during 2019. Scott is a Member & Past President of Virginia Automotive Association, Member of Car Care Professional Network through the ACA. and founding partner of the Blue Ocean Buying Group for independent repair shops. Listen to Scott's previous episodes HERE
Key Talking Points
What was the most rewarding experience in your career? Had already started scaling a virtual studio prior to COVID 19 shutdown and was able to launch virtual classrooms.

How did you start your Allstar network of surrounding people? Connected with people through internet groups at first. Listened intently to people's attitudes and passions. 

Advice- pay it forward, remember the basics, be servants in the industry for others 

How important is it to have personal relationships? Businesses grow through personal relationships. Don't be worried about hurting someone's feelings or being transparent when times are tough. Technology changes but you always have 24 hours in a day. Do the right things at the right time- manage that time well. 

Do you have any regrets? Ideas that weren't put into action but if you sit long enough you'll find regrets, don't sit on them.

Service ready shop- specialization is necessary for the future. The challenge is the critical need to ensure the technicians have the skills to be able to solve problems. Competency.

Technician shortage- creating a specialist/career path for the younger generation. Hold people to standard with training. Create a personal relationship with vocational school instructors and offer support. Offer to tell your story of how you started in the industry. Invest in the people you already have- growing with skills that meet your business model. Erosion of technicians- is this all there is? Is this all I'll ever do and be? Are you charging enough so you can pay your employees what they are worth?

Full EV disruption- CTI has created EV content for training (virtual and hands on), EV is a disruptor but where? Market location, and how you prepared prior (first Prius is 20 years old). Challenges- EV doesn't only mean battery electric vehicles, most will be hybrid. Infrastructure issues for charging and hydrogen.

What's next for Chris Chesney? He isn't leaving the industry
A special thanks to Chris Chesney for his contribution to the aftermarket.
Facebook   Twitter  LinkedIn   Instagram  Youtube   Email  
Join the Ecosystem – Subscribe to the INSIDER NEWSLETTER HERE.

This episode is brought to you by Shop-Ware Shop Management. It's time to run your business at its fullest potential with the industry's leading technology. Shop-Ware Shop Management will increase your efficiency with lightning-fast workflows, help your staff capture more sales every day, and create very happy customers who promote your business. Shops running Shop-Ware have More Time and generate More Profit—join them! Schedule a free live demonstration and find out how 30 minutes can transform your shop at getshopware.com

Are you seeing auto shops in your area get hundreds of 5-star Google reviews and are you feeling left behind because your shop only has a few?
Hey look, Broadly is your answer to getting more online reviews. With more reviews, your business will rank higher in search results — and that means more customers coming into your shop every day.
Broadly helps you automatically request reviews so that your customers can promote your business with just one click.
When you immediately ask for a review after service, when the experience is still fresh in their mind, you're more likely to get a 5-star positive review.
Plus, asking for feedback makes your customer feel valued and more connected to your business. Isn't that what you want a connected customer? See how Broadly can help grow your auto shop.  Visit www.getbroadly.com/chat to learn more.