Job Expectations: Boomers vs Millennials [RR 676]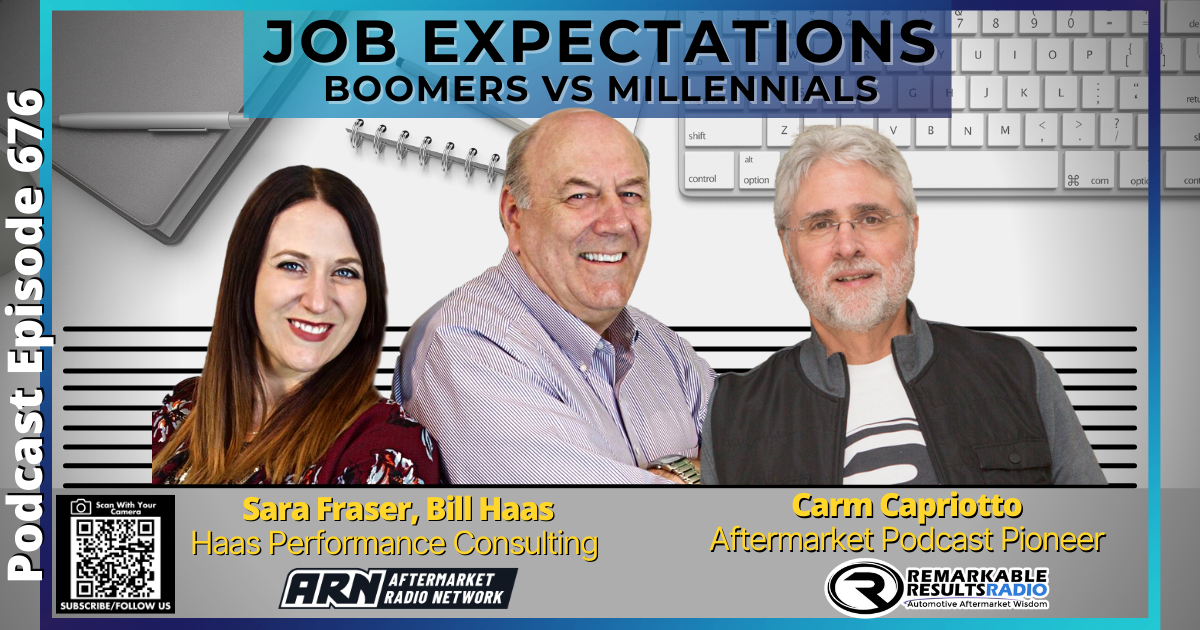 Sara Fraser is a millennial who has a love for life, travel, and connecting with other humans! She has over 15 years of retail management experience, the last 6 of them as an office manager for a used car sales and service center. To bring her customer service, marketing, and business knowledge to the automotive industry she has recently joined the team at Haas Performance Consulting.
Sara loves helping others grow and succeed and is excited to share her expertise on management and social media, her views on how and why the younger generations think and act, and how to work and manage a business within a multi-generational workforce. When she isn't working Sara spends her time traveling, attending theatrical productions, music festivals, concerts, advocating for human and animal rights, celebrating life in general and connecting with other people from all over the world. Look for Sara's previous episodes HERE.
Bill Haas, AAM, is the owner of Haas performance consulting LLC, with 40 years of experience in the automotive service and repair industry. Clients have access to Bill's solution-based focus, expertise, unique perspectives and in-depth knowledge of the industry.
Bill began his career working part-time at a full-service gasoline station in Appleton, Wisconsin. His career includes time as a technician, shop owner, technical trainer and on the staff of the automotive industry's oldest and largest association representing automotive service and collision repair businesses. While at the association Bill had the opportunity to work with all segments of the industry.
His knowledge of the industry has been shared on many occasions as he has been invited to speak at numerous industry events as well as providing testimony at hearings of the US Congress and several state legislatures on important legislation and regulation affecting the automotive industry.
Bill received the Accredited Automotive Manager (AAM) credential from the automotive management institute in 1996 and has been a member of the automotive management institute's faculty since 2002.
Bill is also the business manager for NACAT, the North American Council of Automotive Teachers. His services include business management seminar development and delivery, keynote presentations, business consulting, performance coaching, and strategic planning facilitation. Listen to Bill's previous episodes HERE.
Key Talking Points
Boomer's Perspective
Show up, shut up, get to work

Hard work means long hours

Why is this taking you so long?

Move out of the way, I will do it myself

I will let you know when you do anything wrong

The best employee will be just like me.
 Millennial Perspective:
I want to tell you about my weekend or night and hear about yours

Don't do my job for me, it tells me you don't think I know what I am doing or am incapable

I want to know what the business contributes to and donates to and supports in the community- does it have eco-friendly practices in place

I want to be paid enough and fairly

I want to be treated fairly regardless of gender, race, sexual orientation etc.

I want a strong leader, to guide but not do the work for me

I want a comfortable and safe working environment

I don't need a ton of supervision but like to be occasionally checked in on

I want flexible hours, and want to make enough money without working overtime

I want my voice, opinions, suggestions, to be heard and at least considered

I want to be part of the team- working together and building each other up, no competition amongst the employees
Boomers and Millennials Together
Don't judge what each other what they're doing, judge what they've done/produced- are they meeting deadlines? Getting work done? Meeting expectations?

Millennials want constant feedback and review, let them know when they do well and poorly- boomers never had constant reassurance and might not know how to give that feedback and how important it is. There are many things to be thankful for, make sure you voice it. 

Seeing someone struggling- boomers take over instead of teaching the employee and using it as a learning experience. Delegate jobs and tasks.

Happy and healthy business culture is more important than an increased dollar amount somewhere else. Giving unhappy employees more money is a short-term fix that wears off.

"Hard work is long hours" for boomers, work hours to millennials can be condensed down.

 "Nothing is more important to me than my job" Boomers vs "There are things more important than my job." Millennials 

Boomers will complain about an employee's shortcomings to everyone except the employee which will bring down the business culture. Millennials want to have conversations about issues and the leader should initiate teaching moments. Is the employee the problem or is the owner not setting clear expectations and training properly? 
Thanks to Sara Fraser and Bill Haas for their contribution to the aftermarket's premier podcast.
Link to the 'BOOKS' page, highlighting all books discussed in the podcast library HERE. Leaders are readers.
Listen for free on Apple Podcasts, Google Podcasts, Spreaker, iHeart Radio, Spotify, Podchaser, and many more. Mobile Listening APP's HERE
Find every podcast episode HERE.
Every episode is segmented by Series HERE.
Key Word Search HERE.
Be socially involved and in touch with the show:
Facebook   Twitter   Linked In   Email
Join the Ecosystem – Subscribe to the INSIDER NEWSLETTER HERE.

This episode is brought to you by AAPEX, the Automotive Aftermarket Products Expo. AAPEX represents the $740 billion global automotive aftermarket industry and has everything you need to stay ahead of the curve.  The Virtual AAPEX Experience 2020 is in the record books. Virtual AAPEX lived up to presenting leading-technical and business management training from some of the industry's best and brightest. Now set your sights on the homecoming in Las Vegas in 2021. Mark your calendar now … November 2-4, 2021, AAPEX // Now more than ever.

This episode is brought to you by Shop-Ware Shop Management. It's time to run your business at its fullest potential with the industry's leading technology. Shop-Ware Shop Management will increase your efficiency with lightning-fast workflows, help your staff capture more sales every day, and create very happy customers who promote your business. Shops running Shop-Ware have More Time and generate More Profit—join them! Schedule a free live demonstration and find out how 30 minutes can transform your shop at getshopware.com/carm