Wide Open Training Discussion with No Agenda [RR 741]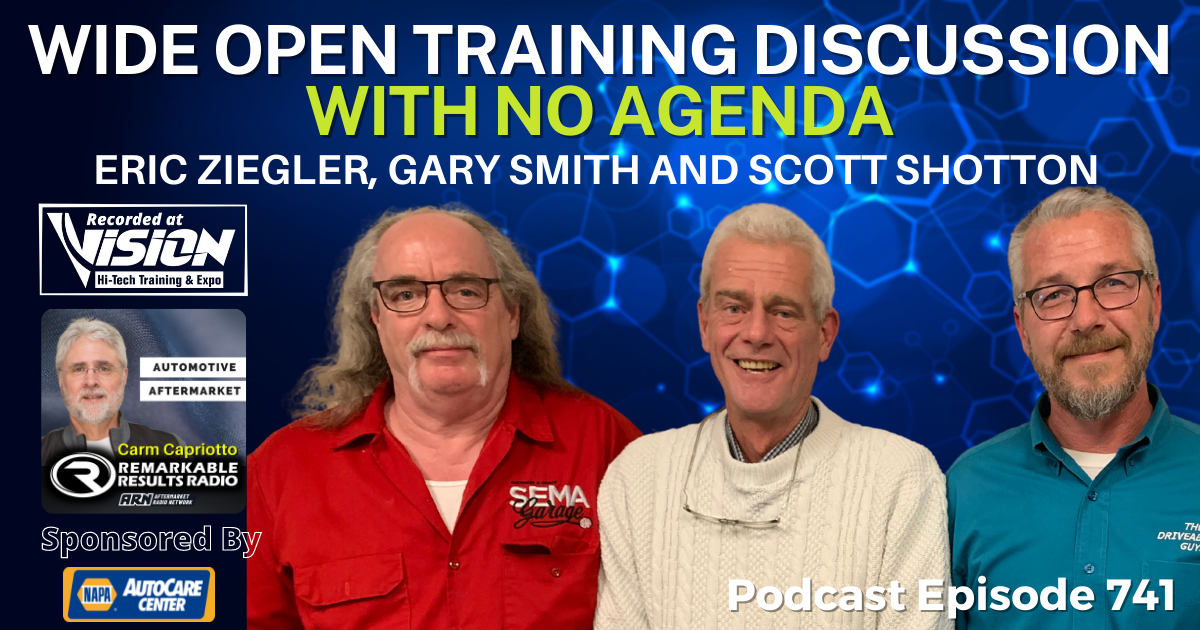 Dive into the minds of three incredible industry trainers in the studio of the 2022 Vision KC Hi Tech Training & Expo.  We had no agenda, just some friends chatting with a special dynamic and their passion for the advancement of the aftermarket. Some of what we covered: what are their perspectives on electrical theory, becoming a trainer, and training in general, you'll also hear talk about business culture, mentoring and so much more. Profound fun awaits you.
Gary Smith, DiagNation. Listen to Gary's previous episodes HERE
Eric Ziegler, EZ Diagnostic Solutions.  Eric's previous episodes HERE.
Scott Shotton, The Driveability Guys. Scott's previous episodes HERE.
Key Talking Points
"Coming to Vision was life-altering" Eric Ziegler

Electrical theory- 85% of high tech deep study cases have simple fixes routed in basic electricity. High resistance in the wire, missing fuse, broken wire, band ground. Don't 'out tech' yourself.

Becoming a trainer makes you better- when you teach you learn, and it forces you to research. Get what you give. Be humble and be present in the moment and be engaged. Using case studies and processes to train.

"Automotive Elmers"

Installing a culture of learning in your business- continuous training (with a blend of in-person and online/remote connect).

Tech mentoring/group of local shops hiring training together- the same top shops that want to train continue to train, where are the other shops? 

Is it just a job? Or is it your career and passion? Reaching the 'master craftsman'' in any position takes 68,000 hours, it's a journey

Eric Ziegler EZ Diagnostic Solutions and Trainer [RR 192] The Story of Stormi
Connect with the Podcast:
Check out today's partner:

Learn more about NAPA AutoCare and the benefits of being part of the NAPA family by visiting www.NAPAAutoCare.com