The Roadmap to Success: Work Smarter Not Harder [RR 884]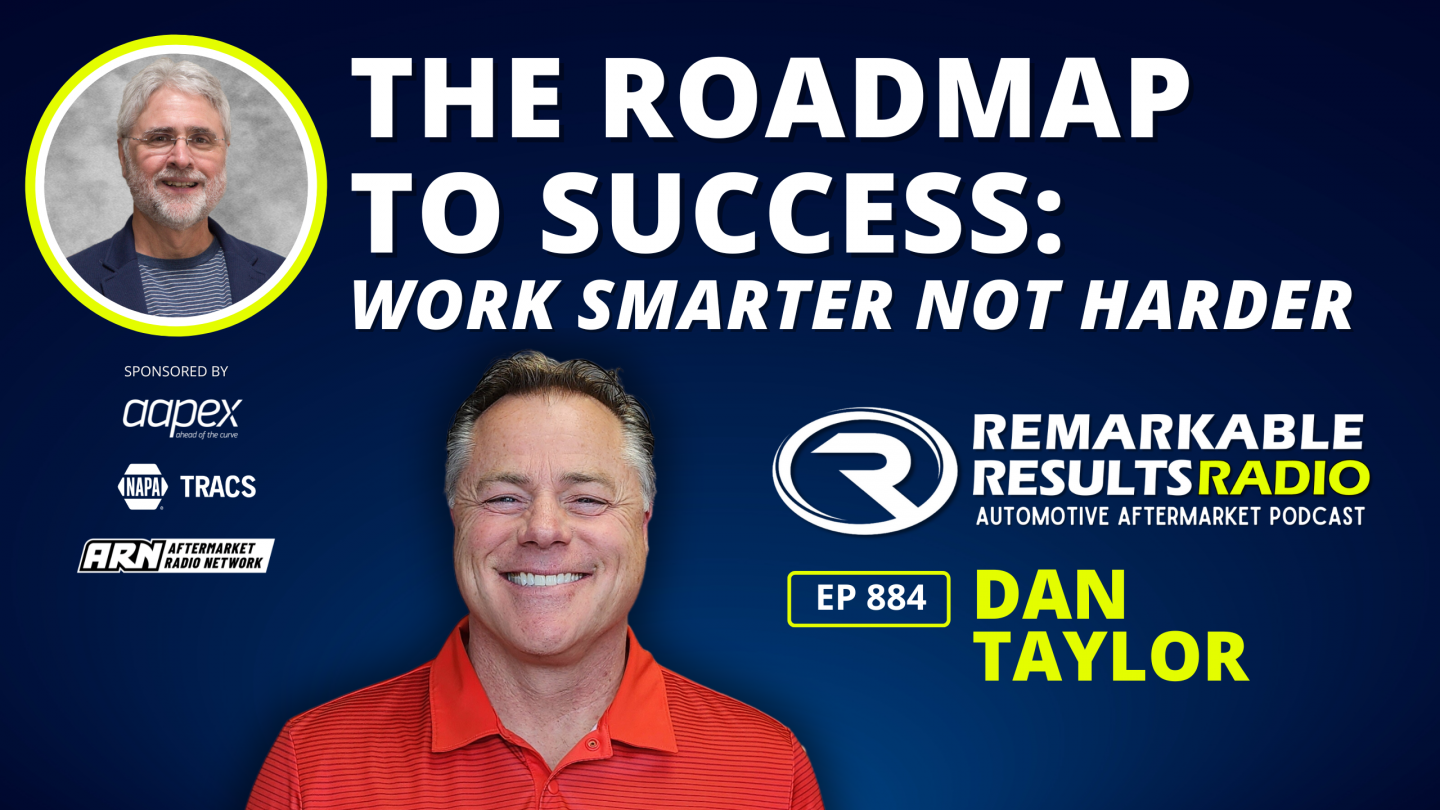 Dan Taylor discusses various aspects of running a successful automotive repair business. He emphasizes the importance of having a roadmap to success, repackaging information to resonate with different people, utilizing reliable shop management systems, client and employee retention, effective marketing strategies, well-defined processes and procedures, and artificial intelligence in the industry. The episode concludes with a discussion on the importance of making money in the automotive repair industry and the need for a paradigm shift towards maintenance and customer service.
Dan Taylor, Senior Business Advisor, Transformers Institute. Dan's previous episodes HERE
Show Notes
The roadmap to success (00:01:17) Discussion on the importance of having a roadmap to success, both personally and for your team.
Repackaging and giving things in a different light (00:02:22) Exploration of how repackaging messages can resonate differently with people and lead to success.
Major components for success (00:03:16) Introduction of seven major components that can guarantee success if followed, along with the need to reassess and upgrade strategies.
Retention and Point of Sale Systems (00:10:04) Discussion on the challenges of retaining customers and the limitations of point of sale systems.
Marketing and Client Retention (00:11:01) Importance of marketing efforts for client retention and the impact on business growth.
Team Retention and Processes (00:14:44) The significance of team retention, the need for processes and procedures, and the constant improvement of organizational systems.
The importance of presenting all information to clients (00:19:57) Explains how some shops present all the necessary repairs to clients and allow them to decide what to prioritize.
Challenges in service maintenance and inspections (00:20:56) Discusses the challenge of inspecting and recommending services that have already been done or are not needed.
Utilizing data and technology to improve operations (00:22:05) Highlights the importance of integrating data and technology to streamline operations, improve customer service, and gain trust and credibility.
Sales and Relationship Building (00:29:45) The importance of sales and building relationships with clients in the automotive industry, and the need to educate clients about the value of maintenance.
Operations and Productive Technicians (00:36:37) The need for productive technicians and efficient operations in order to maximize profitability and provide quality assurance to customers.
The forgotten child (00:39:54) Discussion about the importance of the admin role in a shop, including timely financials and prompt paperwork.
Monitoring KPIs (00:40:35) Exploration of key performance indicators (KPIs) such as opportunities, closed rate, and client retention.
Thanks to our Partners, AAPEX and NAPA TRACS.
Set your sights on Las Vegas in 2023. Mark your calendar now … October 31 – Nov 2, 2023, AAPEX – Now more than ever. And don't miss the next free AAPEX webinar. Register now at http://AAPEXSHOW.COM/WEBINAR
NAPA TRACS will move your shop into the SMS fast lane with onsite training and six days a week of support and local representation. Find NAPA TRACS on the Web at http://napatracs.com/
Connect with the Podcast:
-Join our Insider List: https://remarkableresults.biz/insider
-All books mentioned on our podcasts: https://remarkableresults.biz/books
-Our Classroom page for personal or team learning: https://remarkableresults.biz/classroom
-Buy Me a Coffee: https://www.buymeacoffee.com/carm
-The Aftermarket Radio Network: https://aftermarketradionetwork.com
-Special episode collections: https://remarkableresults.biz/collections