The Extreme Value of Shop Tours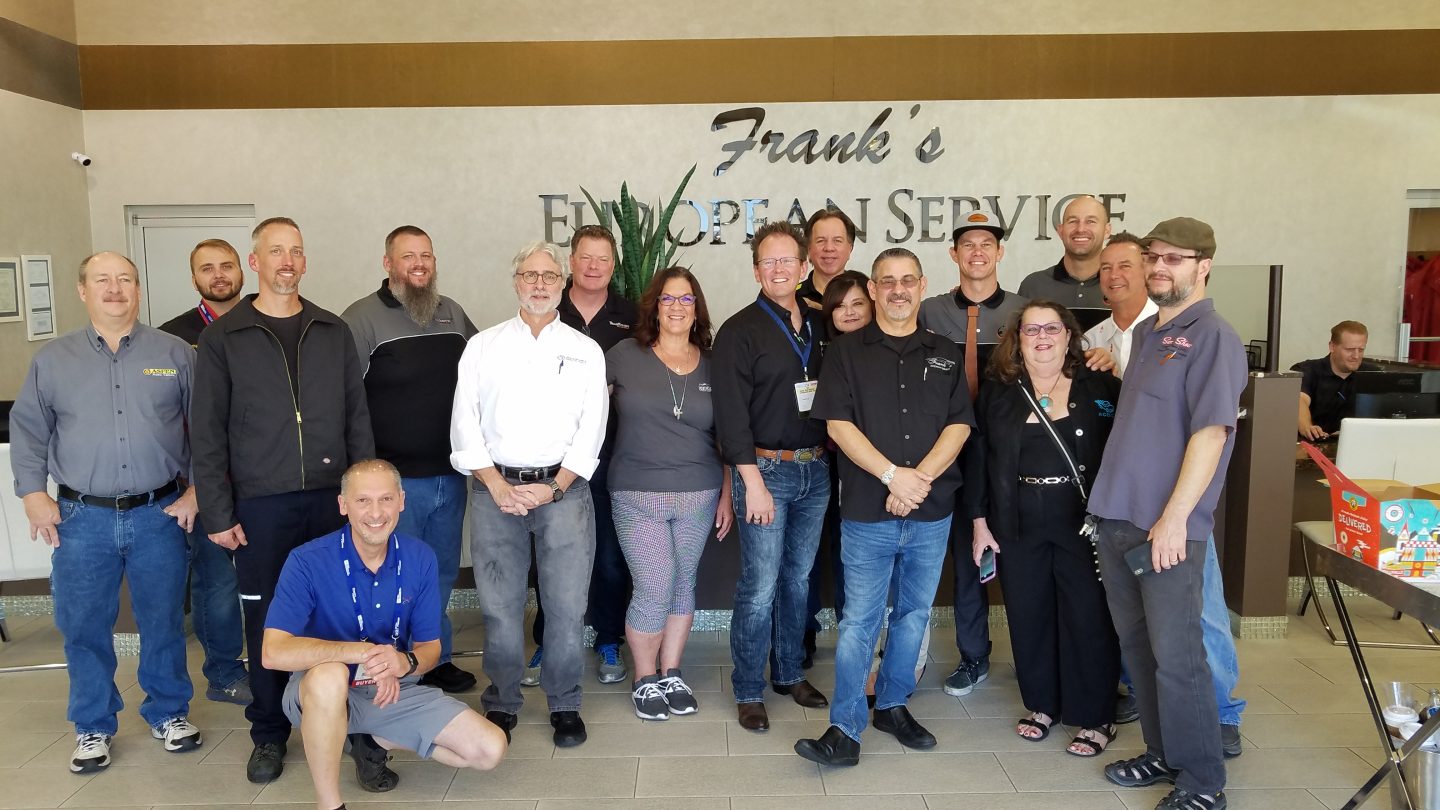 I will never forget putting a call out to shop owners who wanted to tour of Frank European in Las Vegas in November 2018. I was doing a live broadcast for Town Hall Academy from Franks highlighting the value of shop tours. Thirty shop owners showed up to not only give their input live, but to partake in the tour. This was during industry week in Las Vegas meaning AAPEX was over and it was SEMA's last day.
Frank Scandura, owner of Franks European, was as excited as I was, because, of the inherent give and take nature of shop tours. Frank was very interested in not only showing off his place but to also get feedback from other shop operators.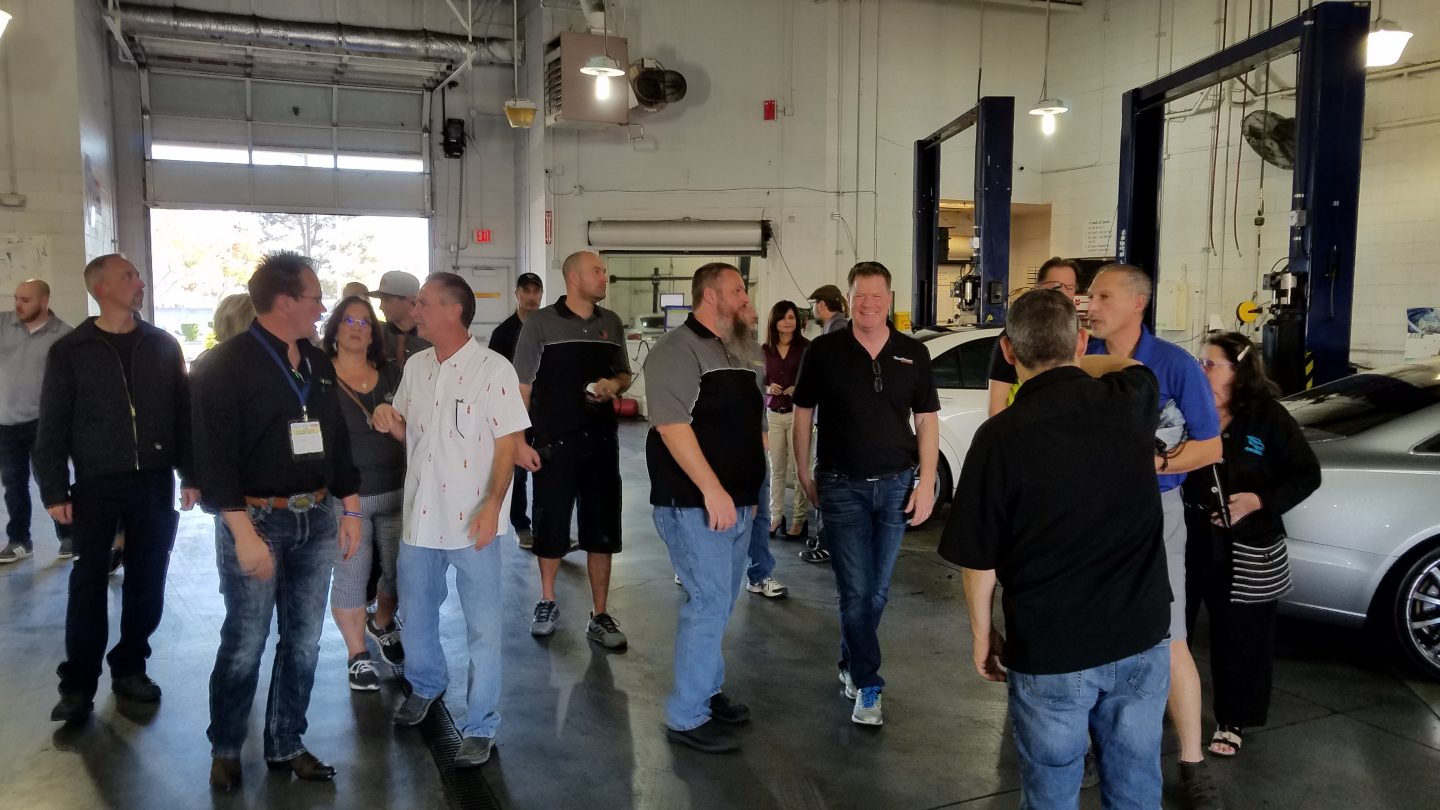 Therein lies the great value and objectivity of a good shop tour, learning being transferred in both directions. With different sets of eyes, the shop owner will receive new and/or fresh perspectives through different lenses. As owners, we get so close to our place that we sometimes forget that the old marketing sign from two years ago is still hanging in our front lobby or the broken ladder is propped up on a toolbox.
While the shop owner is giving the tour and explaining workflows and shop design, there is idea exchange happening at all levels; visual and verbal. When you add in a side discussion with the tour participants; there is a big cache of learning going on.
The shop owner who is giving the tour in many cases will have their own 'V8' moment as they realize the solution to a problem they have been working on. The phenomena that you 'learn when you teach' is alive during shop tours.
However, tour guides must be receptive to the bi-directional throughput. There is much to gain (learn) as your participants ask you to explain some of your why. Our industry has grown so much that shop operators are willing and encourage their peers to attend and give shop tours.
Participants must be willing to give and take as you see and question methods, processes, strategies and tactics of the entire operation. This is a no-stress way to do a comparative review of your operation. Do not hesitate to take notes and pictures for reference. There are many unique ways to solve a problem or improve a system or process. You must always be improving.
Frank Scandura told me a few years ago that he uses a business principle called R & D to improve his business. He says Rip-off and Duplicate (R & D) has been a strong strategy for him.
Whenever you get a chance to receive or give a shop tour, never turn down the offer. You are helping the industry grow and improve by the transference of concepts and ideas.
Imagine if all automotive service professionals worked to improve themselves, their businesses and in-turn the industry. We need more unity in the industry, and we need to create a community supporting each other by exchanging ideas.
Collaboration is the key, there is no secret sauce. You are the reason your business is different. The culture you bring to your business is what makes you unique. How you implement your systems and processes may differ from other shops. There are a thousand ways to run a business. None run alike, unless they are branches. Sharing will help other shop owners improve and therefore we all win. Ever heard the term 'There is enough business for everyone'?
Shop tours are one of the most unselfish contributions you can make to the industry. Participating in one gives you one the biggest opportunities as an entrepreneur to size up your operation with a colleague, ask a lot of questions and rush back to your shop to involve your team to help implement improvements that will improve your business.
If you have not been on a shop tour, start now. Offer up your place to colleagues in your area. Set the standard that if you come to theirs, every participant will offer up their shop for a tour. Watch how the local market elevates themselves to heights they never thought of before.
Listen to the shop tour episode of the Town Hall Academy www.remarkableresults.biz/a092/
Carm Capriotto
Aftermarket Influencer And Host Of Remarkable Results Radio and the Town Hall Academy Podcasts, Where the Business of the Aftermarket is Spoken.
www.remarkableresults.biz