THA 050: Finding The Right Business Coach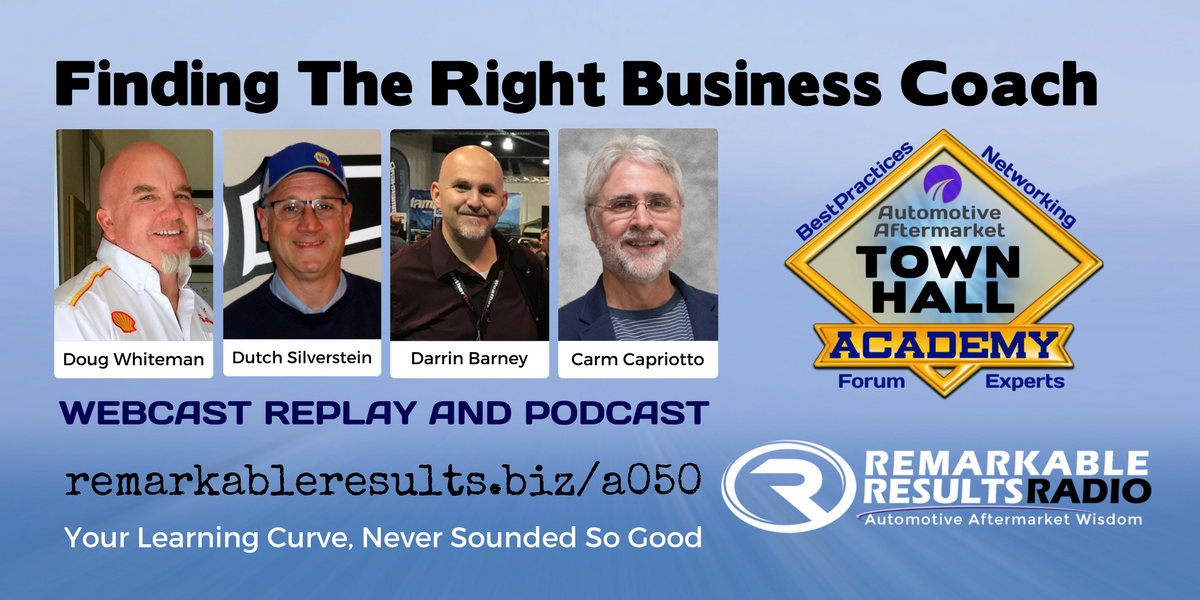 Your Learning Curve Never Sounded So Good!
Helping automotive aftermarket professionals improve; one lesson at a time.
Learn from your industry peers in a round-table forum. Get new ideas, perspectives, trends, insights, best practices and expertise from aftermarket professionals.
Watch like a DOCUMENTARY … Learn like a SEMINAR.
The Academy Panel:
Rob "Dutch" Silverstein started A&M Auto Service, in Pineville, NC, over 19 years ago. He started working part-time out of a rented single bay in the back of a body shop. At that time, he was also a Captain for a major airline.Because aviation is a cyclical business: when things are good, the airline grows, more pilots are hired and your career advances so that you may move up in seniority and achieve advancement in rank and pay. When things go badly, the reverse is true: loss of rank, seniority, and pay. Then insecurity abounds; after all your job might be the next to be eliminated.He had a backup plan.Someone once told Dutch that to succeed in business, it was necessary to do something that you love to do; something that gave you a great deal of satisfaction, something that you did really well. For him, that left just two things; flying and working with his hands repairing cars. Ever since he was a boy, the Good Lord gave Dutch the ability of understanding and repairing things mechanical.As his business continued to grow, Dutch soon recognized the public's need for an honest, integrity driven, low sales pressure repair facility. A shop that is motivated to educate each customer and address his/her automotive needs individually. One that is focused on doing the RIGHT thing, not some distant Corporate or Franchise Business Model idea of the right thing, but THE right thing for each customer. Listen to Dutch's episodes HERE.
Doug Whiteman, owner of George's Sierra Shell a successful 45 year old business in Fontana, CA, is Motor Age's TOP SHOP in 2014. Not only is he a strong operator and shares solid insight into his remarkable success, Doug and team are very involved in many philanthropic efforts in his community.A pinnacle to most awards is being chosen Motor Age's TOP SHOP in 2014, that's TOP SHOP.  Also recognized top 12 shop and the humanitarian award from ATI, the Kukui Humanitarian of the year recipient, Honored by the Fontana Chamber of Commerce for receiving the Small Business of the Year award, Recognized by the Susan Komen organizaton during the Breast Cancer awareness month, named ASE technician of the year 2008. Listen to Doug's Episodes HERE.
Darrin Barney, his wife and his younger brother, Chad, started the business 16 years ago with a background in fixing cars at home. Growing up, the rule in the Barney household was that when the boys earned their Eagle Scout rank, their parents would buy them a Jeep. "They were early Jeep CJs," Barney says. "And anyone who had an early CJ will tell you that if you drive it, you have to fix it. Darrin's parents' home in high school was known as the place where you could learn how to fix it." "The first couple of years were brutal," Barney recalls. "We barely made ends meet, and the lessons were hard. But we made it, and it helped us to fine-tune our customer skills and work habits.""Thankfully," Barney says, "we have customers who like the experience of dealing with us and like to support a local business. A customer can sense if you like them, or if you see them only as money. That's why if you make a mistake, own up to it and do what it takes to make it right."Education and training also play a major role in the Barney Brothers' business. Barney recently earned an Accredited Master Automotive Management Institute (AMi) and serves as a board member on ASA-Colorado's education committee, which recently held its first training event in Grand Junction. Listen to Darrin's Episodes

HERE

.
Talking Points:
Doug Whiteman: There are different stages of coaching.

First

– Your coach will Identify problems with t.p. productivity, training, marketing, pricing labor and parts, and you help fix it.

Second

– Your coach will teach you how to identify your problems and show you ways to fix it yourselves. This stage is helping us as business owners become reliant on our own selves and know how to solve problems as they arise.

Third

– This is where your coach will hold you accountable through a portal or weekly phone calls.

You don't know what you don't know.

Been there and done that experience help show you what is around the next corner.
You have gaps in your knowledge and need to find someone who can help fill that gap.
People in our industry don't ask for help. They do not want to show any weaknesses. Pride factor; get over it.
It is OK to ask for help and you are not weak when you ask for help. You are smart to ask.
Tell me straight up what I'm doing wrong.

A trait to look for in a coach.
He believes in me.
You must have a relationship so be sure when you go toe to toe be sure there is honesty in the relationship
Does he have a desire to see you succeed?
Start working with your coach with a goal in mind.

Bring your ideas to the table with your coach.

You want to look up to your coach.

You may have to let go and learn to trust. (let your guard down)

You may have to accept the fact that you are going to have to learn to run your business differently

Don't dismiss this. Don't be hard headed. You'll be wasting your money
Be willing to fail. If not, do not hire a coach.
Be open to ideas.

Look at your outside world to see if you cannot concentrate or commit time to work with your coach. Timing may not be right to get your mental focus right.

Ill family member.
Divorce.
Aging parents concern.

If you cannot do certain tasks (meet deadlines) for your coach, find someone to delegate to.
Some ideas that your coach may suggest to you may sound or be alien to you.

There is usually a strong reason to do them.

You'll know you have the right coach or coaching company when your integrity aligns.
There is no one thing, or silver bullet, that will fix your business. You will find an accumulation of many different things that will start your improvement plan.
Your coach/consultant will change you and hold you accountable. Be sure of it.

Don't waste that discipline.
Being lazy is easy. Don't make excuses.
Accountability makes things happen.
Don't confuse being busy with being productive.
Use accountability to get to the next level.

If you have the right coach, you'll start to see improvements right away.
Use your coach to hone the new skills you need help with.
Automotive Management Network has published a list of industry coaches,

Research their website.
Ask your peers.
Write down questions you must ask and information you need.
Find downloads to help guide your search.
Attend a coach 'boot camp' or seminar to get to know them.

Your current circumstances will not improve without a strong effort to change.

Hiring a coach is a perfect next step.

Invest in the hours working on your business not in it.
Be careful on investing in a coach and what you sign as a long-term agreement.
Business Coach Themed Podcasts HERE.
Be socially involved and in touch with the show:
Facebook   Twitter   Linked In   Email    Events    Speaking
This episode is brought to you by Jasper Engines & Transmissions. When a car's engine or transmission fails, it's

not the end of the road. A remanufactured drivetrain product from Jasper Engines & Transmissions will give your car a new lease on life. JASPER has over 2000 Associates, three manufacturing facilities, two distribution centers and 45 branch offices across the country. They're all working to produce, transport and deliver the perfect product. That's what they do best… keep customers happy. Visit jasperengines.com