RR 294: Jeff Buckley & Jeff Matt on Social Media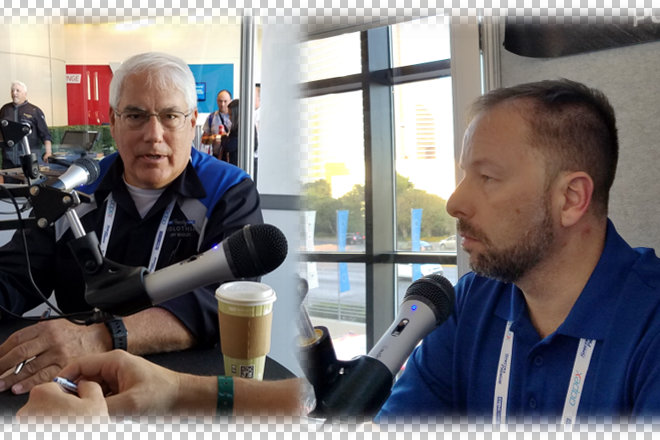 Pictured above, left to right is Jeff Buckley and Jeff Matt at the Podcast studio at AAPEX in November 2017. This is a contrast in social media strategies. Jeff Buckley has his style and methods and Jeff Matt is the polar opposite. Both great companies, both strategies work.
Jeff Buckley along with this wife Candace Buckley has been providing services to their customers in Midlothian, TX for over 20 years at their service business called 'My Fathers Shop'. Jeff Buckley believes it is very important to educate the consumer in easy to understand terms. He believes in providing quality repairs using quality parts. Candace supports Jeff with the process that makes his time in the shop productive. He has adopted social media as an important customer engagement tool as well as using Facebook to support local businesses in his town. Episodes that feature Jeff Buckley 

HERE

.
Jeff Matt from Victory Auto Service in Minneapolis and St. Petersburg, FLA, was featured in episode 48. Jeff owns six locations with one being in Florida. He has over 40 team members and has grown through acquisition. Jeff opened Victory in 1997 as a one-bay shop and has slow steady growth over the years. His growth offers up a great view of multi-shop ownership. Episodes Jeff Matt is featured in

HERE.
Talking points:
The power of social media as a marketing tool.
Consider engaging with the community you are in as Jeff Buckley does with his town of Midlothian, TX.
New technology in marketing will help you in educating the consumer.
Connecting with customers is the power of social media.
Jeff Matt does not want to be the face of his brand but puts his people out front. There are many ways to put your brand out front if it is not you personally.
Promote ASE Certifications in social and other people milestones that happen in your business.
Jeff Buckley will boost posts and spend on Facebook and will use his phone to record a video and do some light editing before he posts.
Facebook Live is another great option to let your followers know about a unique happening at your shop. Your posts could be a special vehicle, unique repair, celebration, etc.
Jeff Matt: Video can be a big challenge for many shop owners. Sharing inspirational content that is original is his preferred method. He is always looking for content that people will share. He wants to create interest.
The barrier to entry is very easy to get started with social media.
Jeff Matt wants his followers to get to know his team; what makes them tick, what they enjoy and what is going on in their world. He likes to share the personal side of the business.
What is your passion? Let it show.
Look out for your networks best interest.
Jeff Buckley does a lot to educate his customer and followers.
Jeff Matt drives the personal angle and reflects the culture of his business.
Jeff Buckley has created a social program for his hometown called 'Howdy Midlothian' where he showcases other businesses in the town.
Jeff Matt has a part-time person who oversees his social media.
Be socially involved and in touch with the show:
Facebook   Twitter   Linked In   Email    Events    Speaking
This episode is brought to you by Federal-Mogul

Motorparts and Garage Gurus. With brands like Moog, Felpro, Wagner Brake, Champion, Sealed Power, FP Diesel and more, they're the parts techs trust.  For serious technical training and support – online, onsite and on-demand – Garage Gurus is everything you need to know. Find out more at fmmotorparts.com  and fmgaragegurus.com
---
Download the Remarkable Results Radio listening APP for your smart device: