THA 069: Workshop – Service Advisor Roleplay – Part 1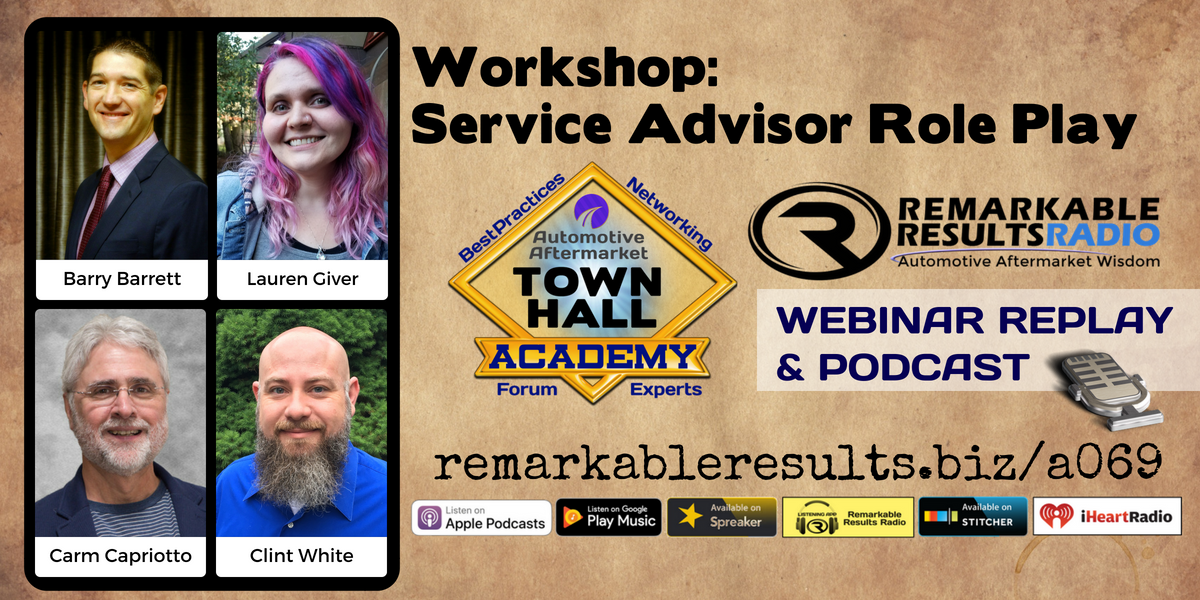 Your Learning Curve Never Sounded So Good
The Panel:
Lauren Giver started in the industry in July 2016 when she went to work for the repair shop that had been maintaining her vehicle for two years. She was hired as the Office Manager, but a big part of her job was talking to customers on the phone and at the counter. Lauren quickly found that this was the favorite part of her job, and truly why she wanted to work there in the first place. She had never received that level of customer service or felt valued as a customer at any other repair shop and she was excited to provide that experience from the other side of the counter.
After the shop manager challenged her to make a sale, when she had absolutely no technical or sales experience, she sold the job and found that she enjoyed writing service just as much. It allowed Lauren to help people, which is what she wanted to do. After nine months, she was informed that the owners were retiring and selling the building, but through the connections that she made, Lauren found a wonderful home at Los Gatos Auto Service in Campbell, California where she currently writes service, full-time. Listen to Lauren's previous episodes HERE.
Barry Barrett is an authority on sales and selling. He is the Director of Training for RLO. Barry's sales and training capabilities operate at full capacity in his dual roles as the lead salesperson and service manager trainer.
During Barry's career as a Service Manager and top salesperson, he honed his talents in communicating with people.
Barry is tireless in his pursuit of excellence in the automotive industry and in all that he does. His passion for providing tools to train owners and their teams to the next level is unlimited. Barry is a Ziglar Legacy Certified Coach. Listen to Barry's previous episodes HERE.
Clint White holds the ASE Master Tech, Under Car Specialist, & Service Writer Certifications. He started wrenching in 1995 and landed his first job via BBB chat room connection. Clint moved on to manage & tech at Midas and then at an independent shop. He moved to Idaho to get away from the overcrowded West Coast and worked as a Chevrolet/Cadillac tech.
Next, he managed another independent in Meridian Idaho. While there, the owner of the business sent me to shop owners training through RLO and ATI 2-3 times a year and he also took it upon himself, at the same time, to attend Bible College full time for 2 years and become a licensed Pastor (talk about being stretched!!!). His fire was lit !!
Clint found out quickly he has a passion to OWN his own shop and a passion to TRAIN/TEACH people. His world was rocked when his father (also a Pastor) was diagnosed with Parkinson's, Prostate Cancer, had neck surgery and a knee replacement all within a short span of time. Clint moved home to spend time with his Dad. It was a tough choice to leave what he had in Idaho but for him, family must come first.
Clint now manages one of two shops owned by a shop owner he teched with way back in the day. Coopers Auto Repair Specialists in Tacoma, WA. Listen to Clint's previous episodes HERE.
Talking Points:
Role Play One
Customer: Barry | Service Advisor: Lauren | Observer/Coach: Clint
Customer Broken Down on Road.
Smith called in to a local auto repair facility because her 2001 Dodge Grand Caravan died right after pulling out of the McDonalds drive-thru. He just picked up his 3 elementary aged kids from school and is stranded with no family/friends to call. He doesn't have a mechanic and usually takes his van to a local Speedy Lube when the oil light starts to come on.
Are you safe.
Look is a four-letter word. –Barry Barrett
Inspect and evaluate
Uber was offered instead of a ride in the tow truck (customer and three children) and was an investment in a future customer or sale. What would you pay to get a new customer?
Once at the counter: Would you share with me who referred you?
Get phone number upfront in the call.
Role Play Two
Customer: Lauren | Service Advisor: Clint | Observer/Coach: Barry
Customer Dissatisfied with Dealership.
Ms. Brown usually takes his 2012 Chevy Malibu to the local Chevy dealership for its "Free Oil Change" that was part of his vehicle purchase package. Her last few visits, the lack of personalized attention and aggressive sales tactics have left a bad taste in her mouth. His Chevy is due for an oil change today and he is looking to make a change in shop.
"If you don't mind" is being Southern Nice to the customer.
She is trying to trust.
Never refer to your style as 'No Push Sales'.
Your words are valuable to your customer.
The curse of knowledge can get in our way.
Customers only ask for the price because it is the only thing they know to ask.
"It is the most affordable oil change in town" (A future hesitator)
A future hesitator is something you know the customer is going to ask and you offer it up before they ask.
Lauren doesn't mind giving out prices on 'basic' services.
Idea from Clint: Pre-Inspection Service. He will offer it for free IF the customer isn't amazed by their report and service. He has yet to give one away. This is his answer to a price shopper for a pre-inspection.
Role Play Three
Customer: Clint | Service Advisor: Barry | Observer/Coach: Lauren
Customer Provided Parts.
Mr. Jones calls a local auto repair facility to inquire about having a part he purchased at a local parts store installed. Mr. Jones drives a 2007 Hyundai Elantra and the check engine light came on recently. The parts store performed a "diagnostic" in the parking lot and the fault code was P0441 and they happily advised him he needed a new purge valve…which they gladly sold him.
Phrases questions: 'Would you mind?', 'Would you be surprised?'
Zip Code analogy on pulling a code from the computer.
To the average consumer, they may not know about the magical box at the parts store could cost $12K. Which provides a place to look but not the exact answer until a trained technician does the diagnosis.
Role Play Four
Customer: Barry | Service Advisor: Lauren | Observer/Coach: Clint
Customer Googled Symptoms:
Mr. Wilson has a 2006 Ford F150 with a 5.4L engine. The check engine light has been on for a very long time and it recently started flashing and the engine runs rough and sounds bad. He has consulted Dr. Google regarding the 12 fault codes that are stored, and he is convinced that replacing the camshaft position sensors will cure what ails his truck.
Acknowledge the customer's research. Do not make them look stupid.
Never talk to a customer about time.
Don't give a price until you build extreme value.
Barry: Never give a price over the phone if you can help it.
If they ask you three times for a price is the only time to give a testing price.
Get away from price by asking calibrated questions you can get away from price shoppers.
Facebook Twitter Linked In Email
This episode is brought to you by Jasper Engines & Transmissions. When a car's engine or transmission fails, it's

not the end of the road. A remanufactured drivetrain product from Jasper Engines & Transmissions will give your car a new lease on life. JASPER has over 2000 Associates, three manufacturing facilities, two distribution centers and 45 branch offices across the country. They're all working to produce, transport and deliver the perfect product. That's what they do best… keep customers happy. Visit jasperengines.com