THA 072: Technician Training Strategies & Rewards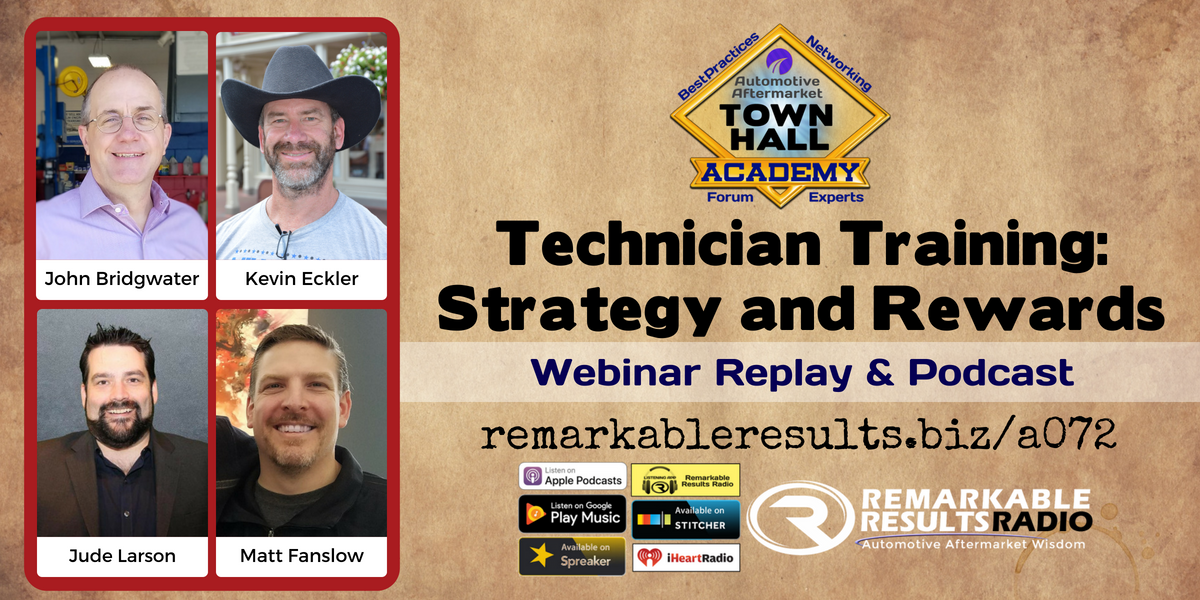 >
 Your Learning Curve Never Sounded So Good
The Panel:
John Bridgwater and his wife own Wright's Automotive Service in San Leandro, CA. John started to earn his ASE certifications early on and began networking with other technicians and shop owners. John was honored among eleven others as an Auto Care/ASE World Technician in 2015. In order to be considered for this award, you must hold at least 22 ASE certifications. John currently has 49 certifications and he is working on the 50th. John Bridgwater has a very interesting story on his rise to shop ownership. He started in 1987 and became a shop owner in January 2015. John actually was recruited by a shop in the bay area that he and his wife eventually purchased. He waited a long time for the right opportunity. John is also a technical trainer for an aftermarket company. Listen to John's previous episodes HERE.
Matt Fanslow is the diagnostic tech/shop manager at Riverside Automotive in Red Wing, MN.  His primary responsibilities are to diagnose driveability and electrical/electronic issues, and perform most all programming, coding, initializing, adaptions, etc. Basically, if it needs to be figured out or has wires, it goes to Matt. He's been a tech since 1996. Matt is also a subject matter expert for ASE and has instructed at Vision Hi-Tech Training and Expo. Matt has participated on 18 ASE technical committees for the ASE Practice Test, A6, A7, A8, and L1 tests. He's also done case studies for Standard Motor Products.
Fanslow's goal is to do everything in his power to improve the overall level of professionalism within the automotive and light truck repair trade and also raise the level of its public image. Hear Matt in these Remarkable Results Radio Episodes HERE.
Kevin Eckler is a native New Englander who moved to New York State's Hudson Valley with his parents back in the mid-1980's.  Kevin began his automotive career at the age of 14, pushing a broom in a mom and pop shop in Rhode Island, he attended trade school, graduating at the top of his class and went right to work as a tech in a prestigious Porsche/Audi dealership in Cape Cod.  Kevin continued his dealership work when he moved to NY and eventually came to work for two brothers who owned Foreign Car Specialists.  When the owners retired in 1995, Kevin bought the business and the rest is history. Kevin's previous episodes HERE.
Jude Larson is the Director of New Business Development for the ACT Group.  He is a frequent speaker and trainer at industry events. Jude has vast business experience including being a highly successful service advisor, the owner and operator of a hybrid online and print marketing company, a top performer in the financial industry, and had a record-setting career in retail management. Jude is also a shop owner, Valley Repair in Tenino, WA. Listen to Jude's Episodes HERE. Jude uses his rich experience and business success as he consults, trains and coaches results-focused solutions with clients. ACT Group website HERE.
Key Talking Points
Must create a learning culture in the business. This allows the entire team to understand the value of training. It doesn't end at 5 PM. There is an additional investment and the shop owner must invest.
Owners must lead the way by attending business management/CEO training.

If owners ask their technicians/diagnosticians to stay current so should the CEO. Lead by example.
Technicians must be involved in their training. Shared costs can be in order as you start to build your learning culture. If they show that they are getting value and using their new education the owner can take more costs off the technician as they show that they are willing to invest in their necessary education.
Training helps build a total career professional.
Understand the personal motivation of your technicians and support them to build a lifelong career of learning.

The business must earn the profit it takes to invest in training. Rally your team to help reach that goal.
Add $2 to your labor rate and carve out that revenue stream for training.
Create a monthly bonus related to training goals.
Trainers do not see enough new technicians coming to training.
Training is a retention tool.
Invest in local training. It will cost less than the big events where you have to travel.
Work with your suppliers to get the type of training, you need, on their local/regional training schedules. Look for areas of struggle inside the shop and find the training that will help.
Associations bring training to their members and are a great source for training and networking.
Consider a move to daytime training that allows for a better transfer of knowledge.
Training Tactics: During and after training.

You do not have to remember every fact you learn. Jot notes in the margin of the manual. Dog ear a page. Carry post it notes to flag special pages.
Put them into the situation from the training they just had.
Teach their peers in the shop what they just learned.
Reach out to your instructor if need be. Be sure you've reviewed the training material before you make the call. You may find the information you need in the manual.
Shop owners need to have a monthly requirement of X number of training hours from their technicians. All types qualify.
Keep a spreadsheet or 'brag board' on every training class each technician and service advisor is getting. Build a training resume for each team member.
Weekly meetings allow for a discussion on sharing the learning of the week or month.

Pay plan at Kevin Ecklers Shop:

Each month that they complete at least 4 hours of training, they earn a bonus of $1 /hr more for the following month, for every hour worked/billed.
We pay hourly with a bonus structure: 4 hours approved education = $1 more per hour
Hold 4 or more ASE's = $1 additional
Holding a current New York State inspectors license – $1
Productivity over 100% = $1,
Less than 1% comeback rate in the previous quarter = $2
Bonus's at 35, 40, and 45 billed hours at $1, $2, and $2 each increment.
ASE master tech = $1, ASE L1 =$1,
Tenure with the business over 3 Years = $1 over 5 years = $1

We are up against talent that could look to other industries because they provide paid training.
Work with our local competition to expand the pie/share for the independents. Stop devaluing each other. Help each other with knowledge.
Facebook Twitter Linked In Email
---
This episode is brought to you by Jasper Engines & Transmissions. When a car's engine or transmission fails, it's

not the end of the road. A remanufactured drivetrain product from Jasper Engines & Transmissions will give your car a new lease on life. JASPER has over 2000 Associates, three manufacturing facilities, two distribution centers and 45 branch offices across the country. They're all working to produce, transport and deliver the perfect product. That's what they do best… keep customers happy. Visit jasperengines.com
Download the Remarkable Results Radio listening APP for your smart device: