THA 079: What Drives Your Parts Buying Decisions?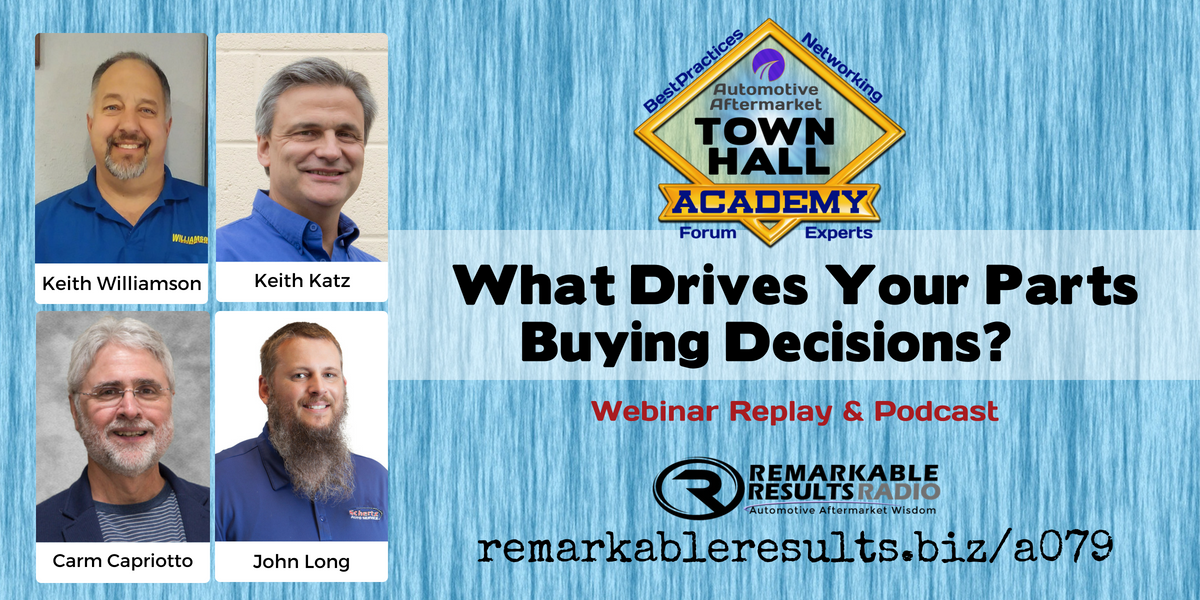 Your Learning Curve Never Sounded So Good
The Panel:
Keith Katz is owner of Quality Service Center in York, PA for the last twenty years and an industry veteran of thirty-seven years. His 7 bay shop has 6 lifts and supports 3 technicians with one service advisor. He is involved with the NAPA Advisory Board and supports the Bridge of Hope organization that helps local homeless mothers find employment and housing for their families.
He is a member of AASP in Pennsylvania and engages ATI as a support partner. Listen to Keith Katz's previous episodes HERE.
In January of 2017, John Long purchased an interest in Total True Automotive dba Schertz Auto Service, Schertz, TX,  for which he worked since July of 2005.
Growing up John was not interested in vehicles even though his father had always fixed their cars.  John's passion was sports especially hockey.  John played anything and everything growing up.  He is still a huge sports fan and sports numbers junkie.
In his late teens, John started to gain more interest in vehicles and just after his 21stbirthday he accepted a position working at National Tire & Battery as a service advisor.  He knew nothing about tires or vehicle systems and how they worked, but he learned as much as he could.
In 2005, John and his wife decided it was time for a move. He arrived in San Antonio late on a Friday night after driving 24 hours straight and interviewed with Mark Roberts on Saturday morning.  Mark hired John, and for the next several years he helped grow the new mechanical repair shop business. Listen to John's previous episodes HERE.
Keith Williamson is the owner of Williamson's Repair and Tire in Bondurant, IA for over 20 years. He is a member of ASA Midwest where he leads the Shop Owner Support Group (an amazing group of shops) in Iowa. He and his team focus on the customer experience, as well as Hybrid, Electric and emerging vehicle Technologies. He recently added a solar array to his building and uses a Toyota Prius and Chevrolet Volt as shuttle vehicles and plans to add more hybrid and electric vehicles as they continually update their loaner fleet. He is a member of RLO Training's Bottom Line Impact Group for 4 years. Listen to Keith's previous episodes HERE.
Key Talking Points:
Quality parts support your reputation and will minimize comebacks.

O/E aftermarket parts from OE suppliers

If a part fails they go to their supplier for support.

The good relationship with your supplier supports a new product and the possibility of labor.

Communicate with your supplier if you find a rash of bad units.

Supplier relationships are key

Visit with his sales rep for John Long is not that important

Will have lunch monthly with his supplier owner

Keith Katz wants to see his first call supplier on a weekly basis. That is where he builds his relationship.

He likes to see new products

Keith Williamson wants to see training.

Been on a cruise with his supplier owner

Beating them up for price may get you out of favor with a supplier

This panel likes to see improvements happen from suggestions offered.

Service. What is good service?

Having the part there when you need it. What is the expectation:

Keith Williamson is getting a part in 18-20 minutes

He doesn't need it rush all the time. We'll tell them if we have time.

Keith Katz

If they don't put on the e-comm ticket their time frame his supplier will call them to ask their time frame.

It is not a perfect science especially when a part needs to come from another store, the time frame goes up. But we know.

Sometimes he orders parts based on the fact that he will sell the job.

John Long

Time frames not met put a crunch on his workflow.

Availability

Suppliers tell their service professional how large their inventory is.

Suppliers are carrying more inventory than ever.

They want it when they want it.

Labor Claims

For the most part, they are happy.

Salesperson takes care of the claims

They will have a person inside the shop track the claim and the credit.

Warranty

They would like to see a longer warranty because the shops are offering a longer warranty to their customers.

Many suppliers are supporting

Non-traditional supplier (like Amazon)

This panel is not tempted to buy them.

Who are you going to call if something happens?

They have looked at pricing and wonder how it can be done versus their local suppliers. It is not hard to understand why the local need to get more money.

Cash Discounts Volume Rebate

Paying with a credit card

Premium and second lines

If their experience with a second line product is good they will include the second line part in their mix.

Keith Williamson will offer two different quotes, at times, for customers but offer different customers.

Keith Katz prefers to sell top quality but he does offer an option. Most customers will pick the premium product.

Some customers are tight on money and they will work with them on product choice.

Credit Assurance/Returns

Critical is to have a process/system.

The process must be managed

Keith Katz gets his credits the majority of the time in 24 hours.

He has confidence in this system. A person inside the shop manages the process.

Suppliers do not like to have too many returns.

You want your supplier to have a good relationship with you and having a smart or low return rate is important.  

Price

Keith W will not be the lowest in his market and will not beat up his supplier for every nickel and dime.

Keith Katz doesn't want his customer nit-picking his quotes. Relationship with his customer and supplier make his customer work.

When the occasional need arises they are willing to help

Are e-com portals or other vendors have the same brand and quality when comparing price.

My supplier is giving me value in service, warranty, returns, availability I'll pay a premium

Time is money when it comes to comparing price.

They will tell their supplier when they are not competitive. They want to buy from their 1st call and gives them a chance to help dial them in. But not beat them up on every transaction. It is an overall program they want.
Facebook   Twitter    Linked In    Email
---
This episode is brought to you by Jasper Engines & Transmissions. When a car's engine or transmission fails, it's

not the end of the road. A remanufactured drivetrain product from Jasper Engines & Transmissions will give your car a new lease on life. JASPER has over 2000 Associates, three manufacturing facilities, two distribution centers and 45 branch offices across the country. They're all working to produce, transport and deliver the perfect product. That's what they do best… keep customers happy. Visit jasperengines.com