THA 089: Open Four, Five or Six Days a Week. You Decide.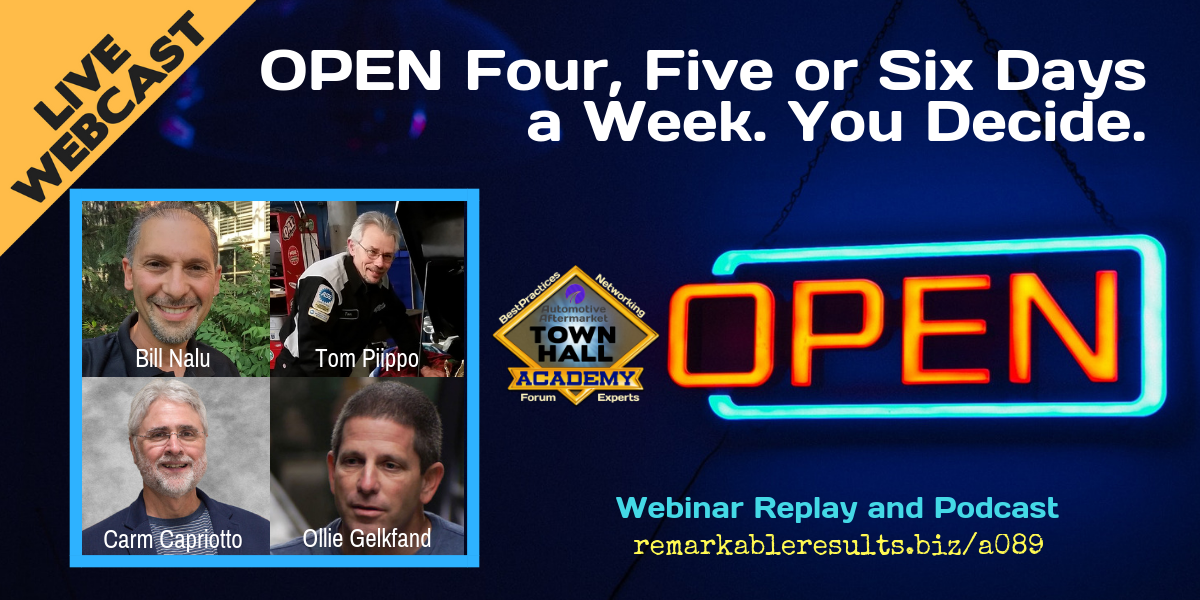 Your Learning Curve Never Sounded So Good

The Panel:
Bill Nalu is President of Interstate Auto Care in Madison Heights, Michigan and has been in business for 30 years.  Bill collaborates with industry professionals, in building today's "high-tech/old-fashioned" customer service system. Bill has been a big contributor to the podcast and he currently serves on several industries and educational advisory councils including AutoValue/Bumper to Bumper, Dorman Industries, and Cardone. Listen to Bill's previous episodes HERE.
Tom Piippo a three-time recognized ASE Technician of the Year and owner of Tri-County Motors, Rudyard, Michigan. Tom was honored by ASA as their 2017 Alpha award winner for his generous and far-reaching contributions to the automotive service industry.
Tri-County Motors is equipped to handle most anything that rolls in the door, from Alpha's to Windrowers. Tom and Kris instill a caring, learning culture within the business. Employee's know that training is mandatory when they are hired. Attending all local training events is required along with most major state and national training events. Listen to Tom's previous episodes HERE.
Alan "Ollie" Gelfand is the founder and driving force behind German Car Depot, and a former professional skateboarder and developer of the "Ollie" skateboarding trick.
A few years after injuries ended his professional skateboarding career, Alan begins competing in Sports Car Club of America (SCCA) road racing events.
Building and driving his own VW race cars, Alan went on to win several national competitions including four 24-hour endurance races. Alan discontinued racing in 2002, this allowed him more time to focus his efforts on building German Car Depot into what it is today, South Florida's dealer alternative for expert German car auto repair.
From Skateboarding legend to autocross state champion to repair shop owner Alan 'Ollie' Gelfand has a great story and he is not bashful to tell it. Listen to Ollie's previous episodes HERE.
Key Talking Points:
A four day work week always gives you a 3 day weekend and it takes a bit to fire up the Monday coming off a long weekend.

Will your customer respond to a change to fewer days.

Challenge to find a tech to work six days.

Workaround your techs schedules to give them some time.

Customers and techs have a seven day a week life.

Bill would like to go to a 5 day a week but bring up a great argument to stay at 6.

He provides flexibility in his schedule to help his people accommodate their life.

Scheduling creativity, if you have enough techs could work 4 ten hour days.

Alan is using Craigslist for hiring with rewards.

Alan is a 6 day a week shop doing 20-25% of his weekly volume on Saturday. His guys can turn a lot of hours on a Saturday.

In his ads to find techs he always talks about a four day work week.

He has different pay plans for techs depending on what works best for them.

He needs 160 hours per week to earn a great living.

Alan does not work on Saturday.

Saturdays are a lot of oil changes and maintenance.

They have six loaner cars. Never have enough.

He would go to 5 if he could find the techs to knock out the work.

Has 50% – 70% appointments

German dealers are open on Saturday and one if open on Sunday.

Parts is not an issue on Saturday.

Earns 21% new customers each month.

New customers come in on Saturday. They drive by the shop before deciding.

Curb appeal and a nice waiting room is a must.

If you stay good on Yelp you are great in South Florida.

Bill is looking to convert his 6-day shop into different workpieces to create a four day work week for techs.

You have to outrun your expenses so you need to have production in the shop.

Your overhead is eating up 75% of your gross margin.

Bill is an installer for Cosco whose busiest day is Saturday/Weekend.

His new customers come from these relationships.

He doesn't advertise because his new clients come from these club alignments.

His Saturday is feeding Monday and Tuesday.

Bill can work a four day a week if he hired his replacement.

Saturday's for Bill is a staging time for Monday and Tuesday.

Tom's 4-day shop:

He's hicking on Saturday and camping and doing other family things.

He is in a small town with competition only 20 miles away.

100% appointments

His shop culture evolves around him. People want to talk to or see Tom.

Metro areas need a careful review to see which competitors are open on what days.
---
Resources:
Books Page HERE
Tri-County Motors Rudyard, Michigan link HERE.
Leave me an honest review on iTunes. Your ratings and reviews really help and I read each one of them.
A special thanks to Bill Nalu, Tom Piippo, and Ollie Gelfand.
Facebook   Twitter    Linked In    Email
---
This episode is brought to you by Jasper Engines & Transmissions. When a car's engine or transmission fails, it's

not the end of the road. A remanufactured drivetrain product from Jasper Engines & Transmissions will give your car a new lease on life. JASPER has over 2000 Associates, three manufacturing facilities, two distribution centers, and 45 branch offices across the country. They're all working to produce, transport and deliver the perfect product. That's what they do best… keep customers happy. Visit jasperengines.com