THA 105: Catering to the Millennial Customer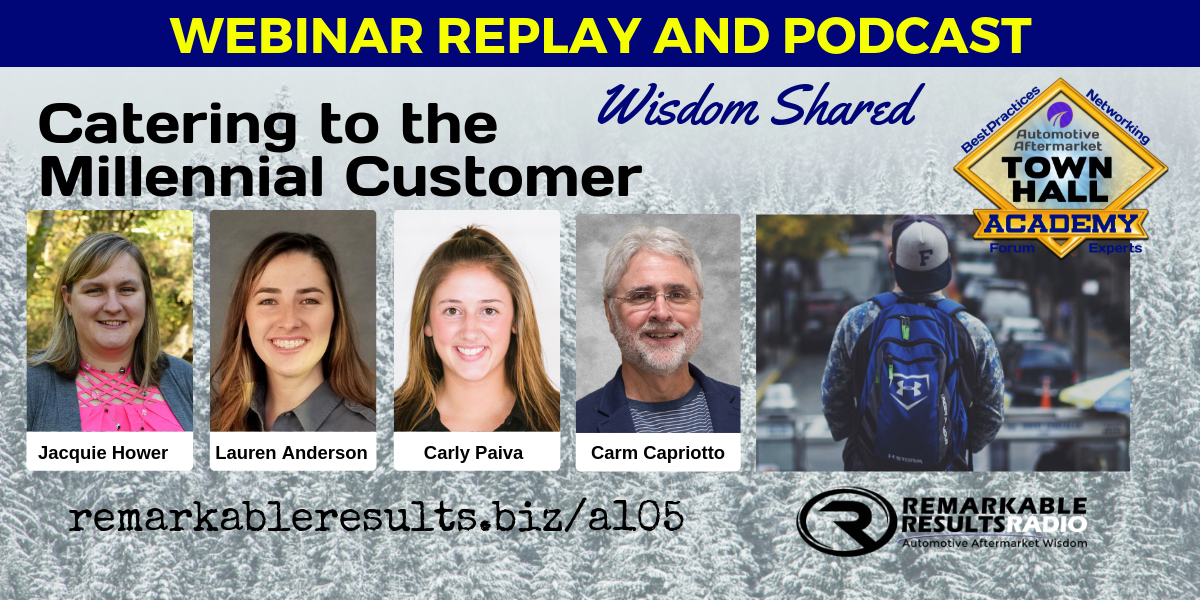 Your Learning Curve Never Sounded So Good
Jacquie Walter Hower is the Director of Operations and 3rd generation at her family's business, Zimmerman's Automotive, in Mechanicsburg, PA. During high school and into college, Jacquie worked part-time for the company working in the Quick Lube department as a technician changing oil and maintaining customer vehicles. After her sophomore year of college, she was given the chance to become a manager for a new Quick Lube location for the company. Since then Jacquie's love for the industry grew into a passion. As director of operations, she handles a number of different jobs such as customer service, service auditing, daily accounting, training, and community involvement/events. In the summer of 2016, Jacquie began the Aftermarket Management program at Northwood University where she hopes to complete her bachelor's degree in two years. Jacquie is involved with the Car Care Women's Board and sits on the board of directors at the Mechanicsburg Chamber of Commerce.  She resides in Mechanicsburg, PA with her husband, Dan, and their two young boys, Brantley (4) and Mason (2). Hear Jacquie's Previous Episode HERE.
Carly Paiva is 22 years old and she has always been around the automotive business since she was 2 years old. Her parents opened Elite Auto Repair April of '98. Due to them both trying to start a new business, she was always at the shop. She started working in the business as soon as she could. Her mom would bring home office work such as filing, making new folders for new customers, mailers and a lot of other stuff. Once she could drive, she would go after school. She went to college full time and worked around her school schedule. She attended a community college in RI where she received an associates degree in business. The longer she worked there, the more responsibilities she had. She did office work, bookkeeping, and was even a driver for awhile picking up customers, washing cars, picking up parts etc. It wasn't just up until this year where she started writing service. Three years ago their shop joined Cecil's Smart Group and Carly have attended many of his classes. She is currently attending one. Listen to Carly's previous episodes HERE.
Lauren Anderson is an Executive Assistant to her dad. In her position, she gets the opportunity to learn all aspects of the business, through her dad's experience and perspective. She also takes care of anything that her dad asks her to.
She is responsible for the management of the company's security including keys, alarm codes, login information, online presence and completing monthly reports. Her dad gave her the Freedom to speak up on any subject at any time either to make suggestions or to ask questions. Freedom to manage her own calendar, schedule, tasks, and responsibilities.
Lauren is finding solutions to setting their staff for success. Listen to Lauren's previous episodes HERE.
Key Talking Points:
Millennials are looking for transparency in their relationship with you.

They want to know if you have the same values as you.

Some millennials do like to get mail.

Facebook ads need to be attractive.

Millennials have a short attention span.

The focus should be on video content and simplifying the message in a way that they would understand.

Instagram is up and coming. In fact getting very important.

Millennials prefer texting vs phone calls.

There is a need to train the service advisor to embrace the generations on how to engage with them as a customer. Their preferences.

Your public image must meet your real image. Millennials will see a gap if your website pictures do not match your actual environment when they walk in the door.

Community outreach is important to millennials. They like causes. If you are doing them you must share the story of your contribution to the community.

Be humble to a point, but not humble to a fault.

Don't be afraid to share your heart. You should brag when you are doing great things in your community.

Millennials have no patience. They want it now!

They will research how long it takes.

Digital inspections is important when doing business with millennials.

They like to see the evidence of the problem. Proof and assurance.

A picture tells a thousand words.

Every time you take a picture or video you know you have content to share with your customer especially your millennial.

They like short.

Lauren did a short video called rocking chair that showed the importance of changing your air filter. Was a minute long. Had a strong response.

Pictures of customers can be posted in the shop on a TV.

Your smartphone is a business tool because it has a camera that helps you tell the story. Continually

Build a library of content of actual events that happen at your shop that you can pull from any time.

Look for social posts that would be interesting to a millennial.

Post pics and ask is anyone knows if they know what it is!

Don't change your focus and just market to millennials you need to connect with your customers, all of them.

Facebook gives you a broad spectrum of generations don't necessarily create posts for one generation only, however, respect what the millennial likes.

Millennials want a great experience and want you to see your reply to your Google reviews.

Be creative on all your approaches to social media posting and campaigns.

Create events at your business to attract community and customers.

Instagram is a strong millennial outlet.

Simplify your waiting room and lobby. Create customer service pods instead of your full counter.
Resources:
A special thanks to  Jacquie Hower, Lauren Anderson, and Carly Paiva for their contribution to the aftermarket.
Books Page HERE
Zimmerman's Automotive website HERE.
Leave me an honest review on iTunes. Your ratings and reviews really help and I read each one of them.
Facebook   Twitter   Linked In   Email
---
This episode is brought to you by Jasper Engines & Transmissions. When a car's engine or transmission fails, it's

not the end of the road. A remanufactured drivetrain product from Jasper Engines & Transmissions will give your car a new lease on life. JASPER has over 2000 Associates, three manufacturing facilities, two distribution centers, and 45 branch offices across the country. They're all working to produce, transport and deliver the perfect product. That's what they do best… keep customers happy. Visit jasperengines.com
Subscribe to a mobile listening app HERE.