THA 120: How Can We Provide Our Technicians a $100K Yearly Pay Package?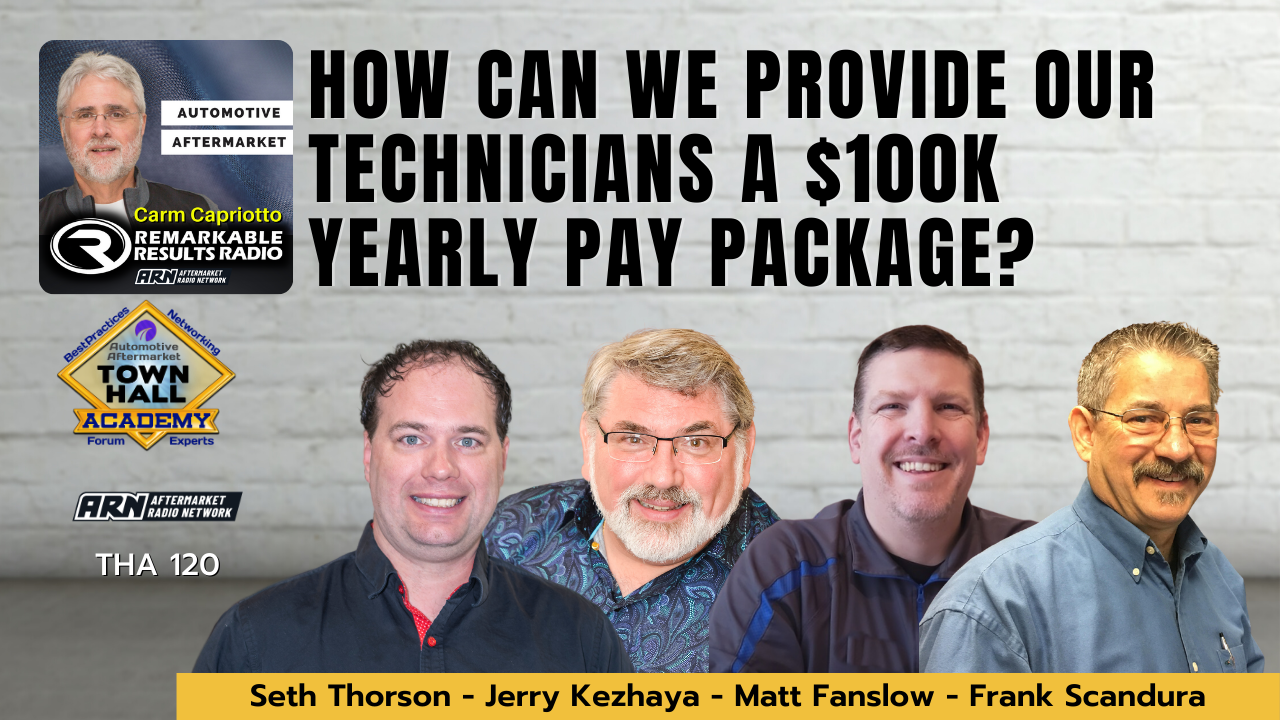 Seth Thorson was educated at a UTI in Chicago where he was at the top of his class. He then went to BMW Step to finish the master's program. Thorson was hired in at a BMW dealership in Bloomfield Hills, Michigan. From there he moved to an independent shop in Waterford Michigan and learned VW Audi. Seth's passion remained with BMW and he was offered a chance to buy an existing shop in New Brighton, Minnesota near where he grew up.
He is the owner of Eurotech which specializes in BMW, Mercedes, and Audi cars. He is a firm believer in using factory tools to ensure proper repairs and coding. His team of highly trained and certified technicians are able to diagnose today's complex vehicle systems! His second location, Green Garage, works on all makes and models.
Seth also owns and runs a BMW tech support company called LMV Bavarian that provides support and programming to a growing network of over 200 shops via remote diagnostics. He also teaches national seminars on BMW diagnostics. Seth has also partnered with SSF auto parts in their unique 'hands-on' training program.
Seth belongs to AASP in MN, BIMRS as well as NASTEF. He is also a member of Cecil Bullards (Institute for Automotive Business Excellence) 20 group. He believes idea sharing and networking with other shop owners has helped grow his business. Listen to Seth's previous episodes HERE.
Jerry Kezhaya from The Auto Shop in Plano Texas has been in business since 1981. Plano is a northern suburb of Dallas with a population on 280,000. According to Jerry, it is the top growing county in the US. His 35,000 sq ft shop has 21 lifts with two flats per lift.
Jerry is a business coach and prides himself for getting out of the shop between 80 and 120 days a year to work with clients, attends seminars and enjoys wine. Listen to Jerry previous episodes HERE.
Matt Fanslow is the diagnostic tech/shop manager at Riverside Automotive in Red Wing, MN. His primary responsibilities are to diagnose driveability and electrical/electronic issues, and perform most all programming, coding, initializing, adoptions, etc. Basically, if it needs to be figured out or has wires, it goes to Matt. He's been a tech since 1996.
Matt is also a subject matter expert for ASE and has instructed at Vision Hi-Tech Training and Expo.
Matt has participated on 18 ASE technical committees for the ASE Practice Test, A6, A7, A8, and L1 tests. He's also done case studies for Standard Motor Products.
Fanslow's goal is to do everything in his power to improve the overall level of professionalism within the automotive and light truck repair trade and also raise the level of its public image. Hear Matt in previous episodes HERE.
Frank Scandura from Franks European in Las Vegas, NV started working on cars as a teenager in upstate New York and moved to Las Vegas in 1988. After years writing service for Mercedes, he opened Frank's European service in 2001 and grew to a 12,000-square foot, 10 bay shop in the northwest part of Las Vegas, not far from the famous Strip! He has 15 team members and is partnered with his wife Deborah. From his first immersion, in the business, pumping gas at 15 years old in Orange County New York, to writing service at a Mercedes dealer in Las Vegas Frank Scandura shares his business acumen and offers insights and trends on leadership as a business coach. Frank's previous episodes HERE.
Key Talking Points
Raise your labor rate today. Charge (get paid) for what you are worth
Get a business coach
Start networking
Join a group/association
It starts with the owner to get their business into a high-profit zone
Treat your business as a business.It is an entity
The majority of shops are not charging enough
Fear is the biggest reason why shops won't charge for what they are worthFEAR: False Evidence Appearing Real
Are we charging the proper labor rate so we can pay for top-level technicians
Shop owners do not understand business and they need to break through and become a CEO
Cannot run a great business if you are racing to the bottom.You need cash to create uncompromising success
Minimum entry into this business is fixing the car right the first time.
We are using bad reference points in how we set our labor rate and pay scale
Entities are poaching our talent and those entities do not require the skill that we doWe are losing higher skilled people to lower skilled jobs
Techs are leaving for all the reasons we have covered in this Academy
Frank is charging more per hour for working on 24 years and older cars
Being independent can be a curse
Tesla charges $250/hour as a shop rate.Just as much computing power in a Cadillac as in a Tesla
Is moonlighting hurting the industry?Is it pay?
Most technicians cannot see past their next paycheck.Financial support is necessary to understand their financial need.
Many say they are not making enough money are really saying that they are spending too much
They need a budget and you can help with that
It is what you keep not what you make. A lesson we all need to face
You need to show your team members what their total compensation isInvisible paycheck shows the entire compensation package.
Health Care, Retirement, Paid Training, Paid ASE Tests, Tools, FICA, Dental, PTO (Time Off), Uniform, Vacation, and more
You have intelligence and emotion to deal with in life. It is a balance you need to be aware of.
Create your organization chart with roles and responsibility
It is simple math to figure out what to pay your techniciansCost of living, demographics come into play
Put your numbers to paper. Consider the service writers and technicians pay.
If you can't pay what you feel you can, you may be in the wrong market to generate the revenue and margins necessary.
Start now to make changes to your businessImproved margins
Increased labor rates
It is a process and will not happen overnight
Jerry looks at his business as a factoryIn one side is a broken car
At the end of the 'line', you have a happy customer
The factory efficiency must be tweaked all the time
Many reasons you cannot keep great talent can be because of a lack of:Training
Systems
Procedures
Profitability
Unorganized, unkept facility
Marketing
Tools/equipment
Environment
Culture
Ideas on compensation elementsASE Testing
Training
Efficiency
Comebacks
Years of Service
Training hours per year
Layout a compensation plan so your people know where they can be when milestones happen
Listen to where your people want to be in their life and work with them to help them reach those goals which will include the right compensation plan
Seth is using a coaching process to align personal goals to the companyIf he has to pay for a Dave Ramsey class to help them budget and manage their debt
Frank will provide financial training in his yearly 40-hour requirement for his peopleYour housing should be no more than 25% of your take-home (Dave Ramsey)
Your people need to earn their keep and you need to evaluate
Go on shop tours
Resources:
A special thanks to Seth Thorson, Frank Scandura, Jerry Kezhaya, and Matt Fanslow for their contribution to the aftermarket.
Books Page HERE
Leave me an honest review on iTunes. Your ratings and reviews really help and I read each one of them.
Facebook Twitter Linked In Email
This episode is brought to you by Jasper Engines & Transmissions. When a car's engine or transmission fails, it's

not the end of the road. A remanufactured drivetrain product from Jasper Engines & Transmissions will give your car a new lease on life. JASPER has over 2000 Associates, three manufacturing facilities, two distribution centers, and 45 branch offices across the country. They're all working to produce, transport and deliver the perfect product. That's what they do best… keep customers happy. Visit jasperengines.com
Subscribe to a mobile listening app HERE.