THA 140: Interview Tactics for a Cultural Fit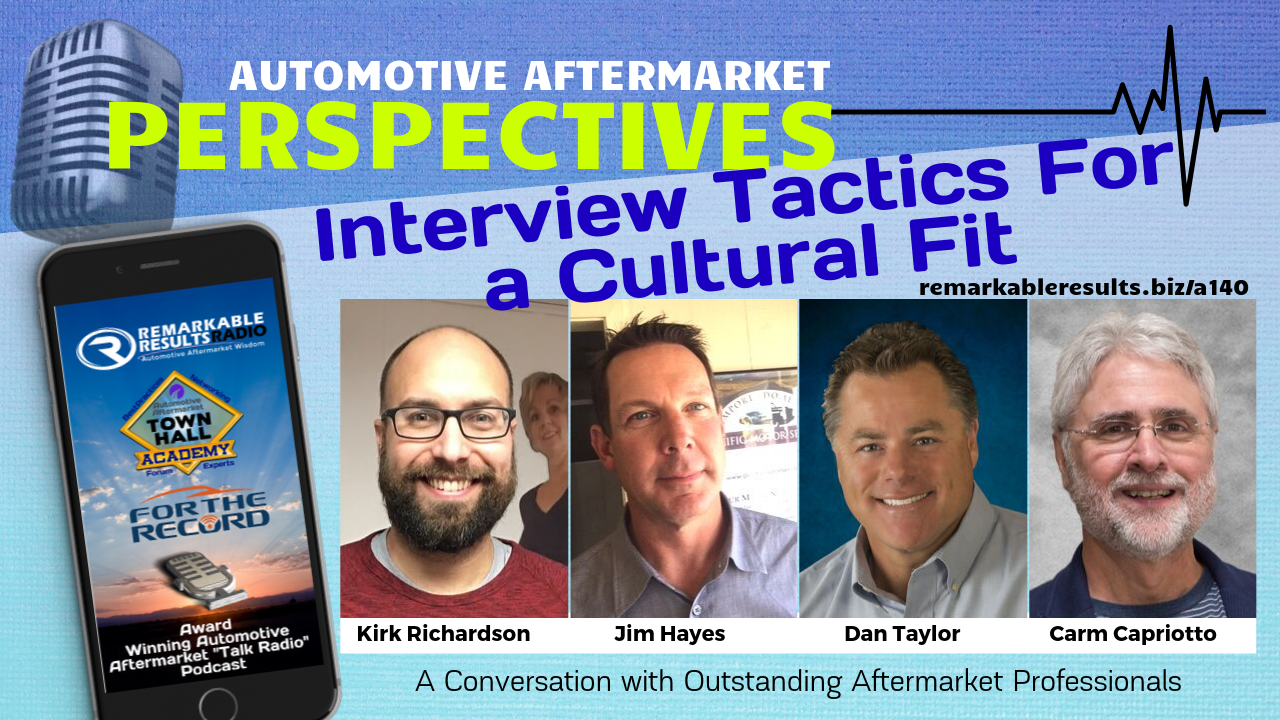 Kirk Richardson is a young and successful entrepreneur. Born into a blue-collar, hard-working family, he was a below-average student in high school and college. At the age of 22, he left school and started his first business. He bought his first three-bay shop at the age of 24. Seven years later he bought his second shop, South Street Auto Care in Rochester, MI.
Richardson really prides himself on his ability to create a family culture within his businesses. The culture is a blend of hard work, accountability, fun, and hi-jinx, which combine to make loyal and dedicated coworkers. Kirk loves business and people in general and will talk for hours about business! Listen to Kirk's previous episodes HERE.
Jim Hayes is originally from North Carolina, but spent time in various places growing up and has lived in the Monterey Bay area for the past 23 years. He grew up playing sports and spending as much time as possible in the outdoors; hunting and camping are among his favorite pastimes. After high school, Jim joined the United States Army where he served with elements of the Intelligence and Special Forces communities.
After completing his goals in the Army, he moved to the Monterey Peninsula where he turned his focus toward becoming a golf professional. As a member of the PGA, Jim held the title of Manager of Instruction for the Pebble Beach Golf Academy, where he taught golf to individuals from around the world. True to form, after achieving what he set out to accomplish in the world of golf, Jim made a transition to the automotive industry where he currently serves as General Manager of Pacific Motor Service.
His background keeps him dedicated to the building and development of the most important asset any company has: its team. With a strong desire to maximize the potential of those around him, Jim has created a leadership and personal development course that is attended on a volunteer basis by 90% of the company's staff. Jim's goal for the business is to optimize performance and maximize efficient profitability by using the fundamentals of business finance, strategic planning and by creating a culture built on a foundation of principle-centered leadership. Check out Jim's other episode HERE!
Dan Taylor has nearly 35 years of executive management, consulting and coaching, business development and entrepreneurial experience.
Mr. Taylor has spent the majority of the last 18 years as a Business Consultant and Coach – Helping business owners and managers evaluate their current situation and future plans. Implementing comprehensive business plans through business diagnostics, education, management review, and strategic analysis all focused on results and sustainability.
Mr. Taylor has worked across a wide spectrum of industries from healthcare, manufacturing, retail services, data collection, sports equipment to educational conferences and recruiting services. One area of concentration has been in the automotive repair industry with hundreds of independent repair stores, specialty shops and automotive dealerships. Most notably he worked for a management company that served 13 states serving this group with shop equipment, management and administrative tools. Additionally, he spent time in fleet services and operations to municipalities, counties, utilities, school districts and larger independent industrial fleets.
Mr. Taylor earned a Baccalaureate in Business Administration and Marketing with a minor in Economics from the University of Northern Colorado. He also holds certifications as a Business Coach, Business Analyst, Six Sigma Green Belt, Human Resources, Time Management and Life Coach.
Dan serves on his neighborhood HOA board and has held multiple board positions with the Porsche Club of America. His passion is road course racing with his Big Mission Motorsports teammates raising funds for the Cancer Foundation, Semper Fi Fund and Salvation Army. He is married and has a son who is a civil engineer and a daughter-in-law who is a teacher. Check out Dan's other episode HERE!
Key Talking Points:

The starting point is always going to be defining and understanding your own culture.

Company Culture includes:
The personality of the company (usually follows the owner of the company (their personality)
The environment of the company (examples: clean, organized, care-free, chaos, energy level, etc.)
Company Mission Statement – what do we come to work every day to do? The why?
Guiding values/principles of the company – respect, integrity, teamwork, communications, learning, etc. – but maybe more important than the word – WHAT does that mean, what does that look like within the organization?

Interviewing techniques

Avoid the mistakes of interviewing

You talk less, they talk more
Set the tone with the candidate, this is a 'conversation'

Purpose/Process/Payoff (what's in it for them)
The questions to ask during an interview ('Conversation')
Here are some great questions to get things rolling in the conversation, you'll have additional questions that just come to mind as you go along:

If you had a perfect (as close to perfect) environment for work, what would that look like? Communication, Culture, Atmosphere, Types of work, etc. – Drill down on answers, tell me more…. especially if they have worked at a bunch of places, what did you like best, what was a negative about each place?
What part of this job do you take the most pride in?
How do you like to receive constructive criticism?
Describe a situation where you worked with someone you did not like or respect. How did you cope with the relationship?
Describe what the terms "integrity" and "ethics" mean to you. Tell me about a time when your integrity or ethics were challenged. What did you do?
What are the characteristics exhibited by the best boss you have ever had – or shih that you have had?
Describe the leadership style that will bring out the best work and effort from you?
What are the positive aspects of your current job and work environment? Or conversely what were the negative aspects of previous work environments that you'd just as soon leave behind?

Questioning tactics

Ask questions that produce anecdotal responses

Tell me about a time or experience when…

Ask values-based questions as follow up for responses

Don't be afraid to drill down

Outlier proclamations

Make it very clear that the culture is not typical.

We are weirdos; we are different from the others; it is our goal to set ourselves apart from the competition from a cultural perspective.
"…we made you a part of this team so you could become more like us, not so we can become more like you." -Lou Holtz

Discuss values
Discuss standards
Discuss culture

Give them every opportunity to disqualify us as an employer and themselves as a viable teammate.
Write your initial interview questions around your core values (yes write your own questions). Kirk uses very few questions our interviewees have ever received in the past.

If you use canned questions they are prepared for you will get bullshit canned answers that they learned at tech school 15 years ago.

Encourage questions at the beginning of the interview.
Always ask a question on a question. When an interviewee asks a question answer the question but also ask "why do you ask".
Interviews should look something like what it is going to look like working for your company.
Structure the flow of the questions to make the interviewee comfortable. The more comfortable they are the more they will show what they really are.

Use personal interest questions to make the interviewee comfortable. If you are talking about their favorite movie, or music they like, or television shows they watch the interviewee can get comfortable and will be willing to open up.

The first interview is only cultural fit questions. Do not get into technical questions. I do not want to be dazzled with an interviewee's skills, I want to be dazzled with "I want to spend 45 hours a week with this person" or "this person actually gives a shit about other humans".

This really drives home the idea that culture matters in your business

Tailor your stories to the candidate. If it is a young tech talk about the development of other young techs. DO NOT BE AFRAID TO PUT A TECH IN THE INTERVIEW WITH YOU AND LET THE INTERVIEWEE ASK ALL THE QUESTIONS THEY WANT YOUR STAFF!
Kirk Richardson Interview Questions
Please understand the context of the interview before using this verbatim. These can serve as a guide for a good cultural fit.
What do you know about us?

What do you want to know about us?

What kind of work schedule do you like?
Tell me about a leader/manager you admire? Why? We want someone you personally know.
Do you consider yourself to be lucky? Unlucky? Fortunate?
Is having an ego good or bad? (Egoless Teamwork)
Does your ego get in the way of teamwork?
Can you define the word empathy? (People Business)

How does this aid you in doing your job well?

Do you have "fun" with people? Example? (People Business)
Will you clean the toilet if we needed you to? (Egoless Teamwork)
Define integrity? (Right Thing)

When have you failed to show integrity?

Have you ever been convicted of a crime? Have you ever committed a crime?
Have you ever been on a team? (Egoless Teamwork)

What do you like about being on a team?
What do you dislike about being on a team?

What makes you happiest and most effective when working with others?

How do you contribute to that? (Egoless Teamwork)
What pisses you off about working with others?

What's the last book you read?
What is the last thing you geeked out on? (Being Great)

Do you ever geek out on things associated with our industry?

How hard is it to be a service advisor/tech? (Being Great)

How do you aid the SA/tech in being great at their job?

What television/motion picture shows do you watch?
What kind of music do you listen to?
What is your favorite movie?
What are your hobbies?
What was your biggest challenge in childhood? (People Business)
Tell us about a time you wanted something so badly nothing would stop you? What obstacles did you overcome? (Results)
What do you do when you have nothing to do? (Results) We want them to say they are a busy body or fix shit around the shop.
How would you rate your work ethic on the 1-5 scale? 1 is I'm a lazy bum, 5 is I'm the hardest worker I have ever been around. (Results) They always say 4 and follow up with "you watch other people work harder than you? You're ok with that?"
How do you encourage your coworkers? (People Business)
What role does urgency play in our business? (People Business)
How is this interview going?
Any questions for us?
Resources:
A special thanks to Kirk Richardson, Jim Hayes,  and Dan Taylor for their contribution to the aftermarket.
Books Page HERE
Leave me an honest review on iTunes. Your ratings and reviews really help and I read each one of them.
Facebook   Twitter   Linked In   Email


Subscribe to a mobile listening app HERE.
---
This episode is brought to you by Jasper Engines & Transmissions. When a car's engine or transmission fails, it's

not the end of the road. A re-manufactured drive-train product from Jasper Engines & Transmissions will give your car a new lease on life. JASPER has over 2000 Associates, three manufacturing facilities, two distribution centers, and 45 branch offices across the country. They're all working to produce, transport and deliver the perfect product. That's what they do best… keep customers happy. Visit jasperengines.com