THA 141: Selling Your Business – Valuation Strategies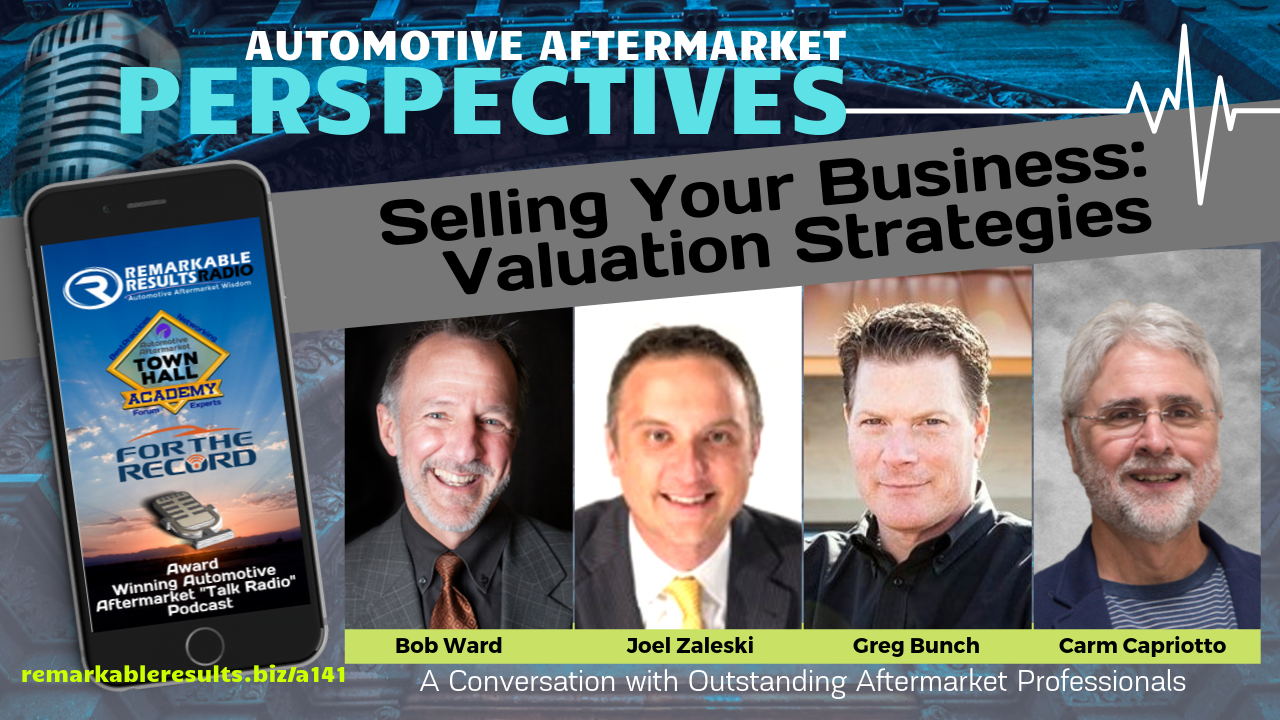 Academy Panel:
Bob Ward
Bob Ward is the President of Wardden LLC, Bob began his business career at a franchised car dealership, overcoming obstacles to learn and earn the required skills to become Controller, General Manager and then, a minority owner of Tacoma Dodge in Washington.
A native of Seattle, Bob serves as a financial advisor and consultant to small business owners throughout the United States.  He believes that your business should always be ready for expansion or sale, you should get paid for what you built and, when you decide to leave it, your company should continue to prosper. He believes in a Perpetual Business where there is Value, Continuity and Legacy. Look for Bob's Previous Episode HERE.  Warden LLC website HERE.
Joel Zaleski
Joel started his career at PriceWaterhouseCoopers before joining Monro, Inc. as the Vice President of Acquisitions and Operations Support, responsible for leading the company's acquisition strategy and supporting the operations of Monro's nearly 1,200 auto service and tire locations.  During his time at Monro, Joel oversaw the company's commercial and wholesale operations, as well as various corporate support functions including, pricing, customer service, facilities, and training.
Joel's experience in leading the acquisition strategy at the tire and automotive service industry's largest strategic buyer, Monro, Inc., gives him the credibility and expertise to represent sellers during the sale process.
Joel is a CPA and member of the International Business Brokers Association.
Listen to Joel's previous episodes HERE.  Cardinal Brokers HERE
Greg Bunch
Greg Bunch is the owner of Aspen Auto Clinic, a five-location automotive and service business in Colorado. Greg started his passion for cars at 15 when he began rebuilding a 1966 Volkswagen Bug. Greg has moved from a Volkswagen mechanic to ASE Master Technician, to Management, to starting his shop 18 years ago in his garage, to an award-winning multi-location business.
Greg is currently a board member for the STEM-based charter school call "Automotive Institute of Science & Technology" and on the Advisory board of Ratchet and Wrench Magazine. Greg is also a board member of the Autocare organization and a certified instructor for the Worldpac Training Institute and Carquest Technical Institute. Greg's unwavering passion for the industry has also led him to form a company called Transformers Institute, a coaching and training company dedicated to transforming the automotive industry.
Listen to Greg's previous episodes HERE.  Transformers Institute HERE.
Key Talking Points:
Resources:
A special thanks to Bob Ward, Joel Zaleski, and Greg Bunch for their contribution to the aftermarket.
Books Page HERE
Leave me an honest review on iTunes. Your ratings and reviews really help and I read each one of them.
Facebook   Twitter   Linked In   Email


Subscribe to a mobile listening app HERE.
---
This episode is brought to you by Jasper Engines & Transmissions. When a car's engine or transmission fails, it's

not the end of the road. A re-manufactured drive-train product from Jasper Engines & Transmissions will give your car a new lease on life. JASPER has over 2000 Associates, three manufacturing facilities, two distribution centers, and 45 branch offices across the country. They're all working to produce, transport and deliver the perfect product. That's what they do best… keep customers happy. Visit jasperengines.com