RR 362: Technician Round Table – Part 6 – Heipp – Landry – Fanslow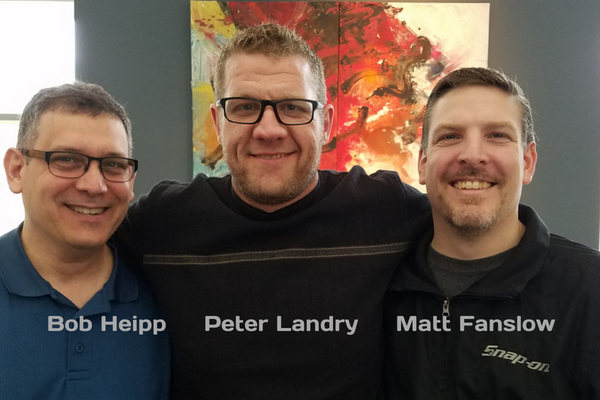 The PANEL:
Matt Fanslow is the diagnostic tech/shop manager at Riverside Automotive in Red Wing, MN.  His primary responsibilities are to diagnose driveability and electrical/electronic issues, and perform most all programming, coding, initializing, adaptions, etc. Basically, if it needs to be figured out or has wires, it goes to Matt. He's been a tech since 1996.
Matt is also a subject matter expert for ASE and has instructed at Vision Hi-Tech Training and Expo.
Matt has participated on 18 ASE technical committees for the ASE Practice Test, A6, A7, A8, and L1 tests. He's also done case studies for Standard Motor Products.
Fanslow's goal is to do everything in his power to improve the overall level of professionalism within the automotive and light truck repair trade and also raise the level of its public image. Hear Matt in these Remarkable Results Radio Episodes HERE.
Bob Heipp works for Mobile Auto Solutions, LLC as lead tech and Technician Manager in the Chicago metropolitan area and northwest Indiana.
Having accepted a job that required passing an IM240 emission class, he was introduced to new alternatives for diagnostic testing.  This spurred a quest for learning.
Bob believes his desire to learn is what opened doors to meeting technicians around the world.  Hoping to help so others could have the same opportunities, he partnered with ASA-IL and initiated the CAN Conference after one of his favorite conferences (the Linder Conference) was no longer being presented.  He considers these experiences have led him to the opportunity to work for Mobile Auto Solutions. Bob is also a dedicated Vision High Tech Training and Expo attendee. Hear Bob in his own interview and the roundtables HERE.
Peter Landry is an ASE L1 Master Automotive Technician from Brookfield, WI. Peter has a strong automotive background in electronics, network, and driveability diagnostics. His prowess for fixing problem vehicles and passion for staying up on emerging technologies led him from Landry's Mobile Diagnostics, a mobile diagnostics and module programming business servicing the Milwaukee Metro area to working for Mobile Auto Solutions Hear Peter's interviews HERE.
Key Talking Points:

Speaking of NACE/Automechanika we have a participation problem when it comes to valuing technician and management training.

Just the local shops in the greater Atlanta region should have sold out every class.

First class trainers with first class content.

Why are technicians demanding training from their owners.
Why are owners not sending their techs to training.
Imagine very affordable training, highest quality training available in the 9th largest metropolitan city in the US with 5.8 million people. How many shop owners and technicians do you think earn their livings there?

The power of building your personal network when you attend training, local, regional or national. It is the most valuable

Concept of a training mentor to help get max benefit from training events.

A path to improve your diagnostics skills may be stifled in shops because management is not investing in the proper equipment or software. Some techs who are not encouraged with training and equipment support will just want to do ball joints and brakes because that is where the money is.

The financial burden to purchase diagnostics equipment is too great on a technician.

A shop with heavy diagnostic capabilities can market themselves to other independent shops in the area. Everyone makes money and customers get satisfied.

Working with shops in your market to support each other's capabilities.

Are you enabling a shop who does not do diagnostics?

A fine line among this group.

ADAS.

Discussion on a Subaru blind spot calibration.

ADAS education for Bob Heipp is coming from classes but mostly from reading service information, by performing the task while reading the service information.

ADAS will pose a challenge in mechanical shops if and when a bumper or grill needs to come off to do a particular job.

ADAS aftermarket installs. A future in add-ons??

Windshield replacements need calibrations.

ROI on diagnostic equipment and a diagnostician
A special thanks to Bob, Peter and Matt for bringing their A game to the series.
Previous Technician Round Tables:
Resources mentioned in the Episode:  (a must listen)
G Truglia's For the Record Episode 1
Other Resources:
Link to the 'BOOKS' page highlighting all books discussed in the podcast library. Leaders are readers.
Leave me an honest review on iTunes. Your ratings and reviews really help and I read each one of them.

Be socially involved and in touch with the show:
Facebook   Twitter   Linked In   Email    Events    Speaking
This episode is brought to you by Federal-Mogul

Motorparts and Garage Gurus. With brands like Moog, Felpro, Wagner Brake, Champion, Sealed Power, FP Diesel and more, they're the parts techs trust.  For serious technical training and support – online, onsite and on-demand – Garage Gurus is everything you need to know. Find out more at fmmotorparts.com  and fmgaragegurus.com