Scan Tools Part 1 [RR 629]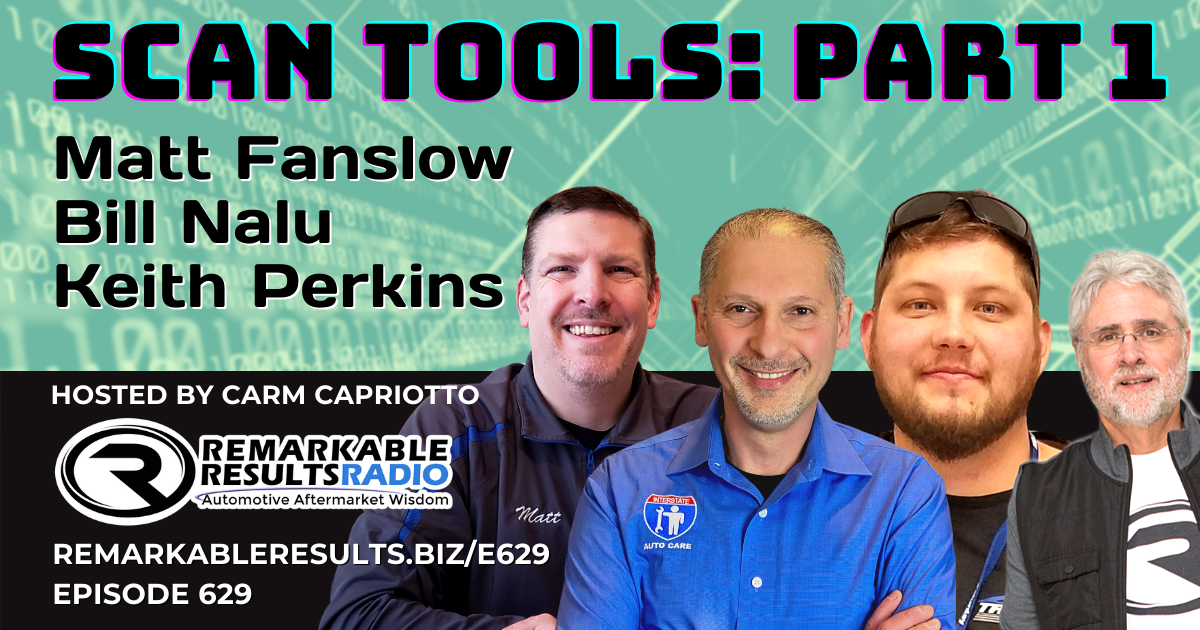 Matt Fanslow is the diagnostic tech/shop manager at Riverside Automotive in Red Wing, MN. His primary responsibilities are to diagnose driveability and electrical/electronic issues, and perform most all programming, coding, initializing, adoptions, etc. Basically, if it needs to be figured out or has wires, it goes to Matt. He's been a tech since 1996.
Matt is also a subject matter expert for ASE and has instructed at Vision Hi-Tech Training and Expo.
Matt has participated on 18 ASE technical committees for the ASE Practice Test, A6, A7, A8, and L1 tests. He's also done case studies for Standard Motor Products.
Fanslow's goal is to do everything in his power to improve the overall level of professionalism within the automotive and light truck repair trade and also raise the level of its public image. Matt Fanslow's Previous Episodes HERE.
Bill Nalu is President of Interstate Auto Care in Madison Heights, Michigan and has been in business for 30 years. He collaborates with industry professionals, in building today's "high-tech/old-fashioned" customer service system. Bill has been a big contributor to the podcast and he currently serves on several industries and educational advisory councils including AutoValue/Bumper to Bumper, Dorman Industries, and Cardone. Listen to Bill's previous episodes HERE.
Keith Perkins has been in the industry over 15 years, serving in various capacities, including; engine machinist and assembler, dyno tuner, diagnostic technician, instructor, technical information specialist, and many more roles through the years. He currently operates L1 Automotive Diagnostics and Programming LLC a mobile module programming, diagnostic, immobilizer solution company, Keith also operates the L1 Automotive Training company that offers advanced level automotive training on-site and online at www.L1Training.com. Keith holds the title of ASE Master Certified L1 Technician, holding ASE certifications: A1-A9, L1, L2, L3, X1, P2 and various other industry certifications, he also serves as a Subject Matter Expert for ASE. Listen to Keith's previous episode HERE
Key Talking Points
Scan toolsCapability aspect- leads to stronger marketing and sales with the added capability to have a full-service repair
Cost per use- tools being used daily vs tools purchased with intent on 'attacking' certain market/getting a reputation that can get it done (accepting collision jobs, need factory tools)
Buying tools- who should buy them? The owner or technician? When the owner buys the tools they are essentially giving their employees a raise and allows access for every employee to use. The owner needs to invest in shop equipment that their employees need to have to generate profit
Technician retention when an owner buys tools
The owner must include tools on their insurance policy
Training- most shops are underusing their toolsResearch and also read the service information because there is a learning curve with each one
Consider doing once a week training with everyone involved
Specialization- car lines vs certain specialized technicians
Thanks to Matt Fanslow, Keith Perkins and Bill Nalu for their contribution to the aftermarket's premier podcast.
Link to the 'BOOKS' page, highlighting all books discussed in the podcast library HERE. Leaders are readers.
Listen for free on Apple Podcasts, Google Podcasts, Spreaker, iHeart Radio, Spotify, Podchaser, and many more. Mobile Listening APP's HERE
Find every podcast episode HERE.
Every episode is segmented by Series HERE.
Key Word Search HERE.
Be socially involved and in touch with the show:
Facebook Twitter LinkedIn Instagram Youtube Email
Join the Ecosystem – Subscribe to the INSIDER NEWSLETTER HERE.

As a member of the NAPA family, AutoCare Center owners can take advantage of the NAPA National Health Program from the NAPA Insurance Center. This "NAPA only" program gives you and your employees access to national "large group" rates on medical insurance with premiums discounted up to 30 percent. These rates are based on the collective purchasing potential of 22,500 NAPA locations including both NAPA AUTO PARTS stores and NAPA AutoCare Centers.
The NAPA Insurance Center can help you with a variety of other insurance benefits too. For more information about The NAPA National Health Benefits program as well as all of the insurance benefits available to your AutoCare Center and your employees, visit the NAPA Benefits Center, at www.napabenefitscenter.com or call the NAPA Benefits Center at 844-627-2123.