The Ebb and Flow of Being a Wife and Business Partner [RR 834]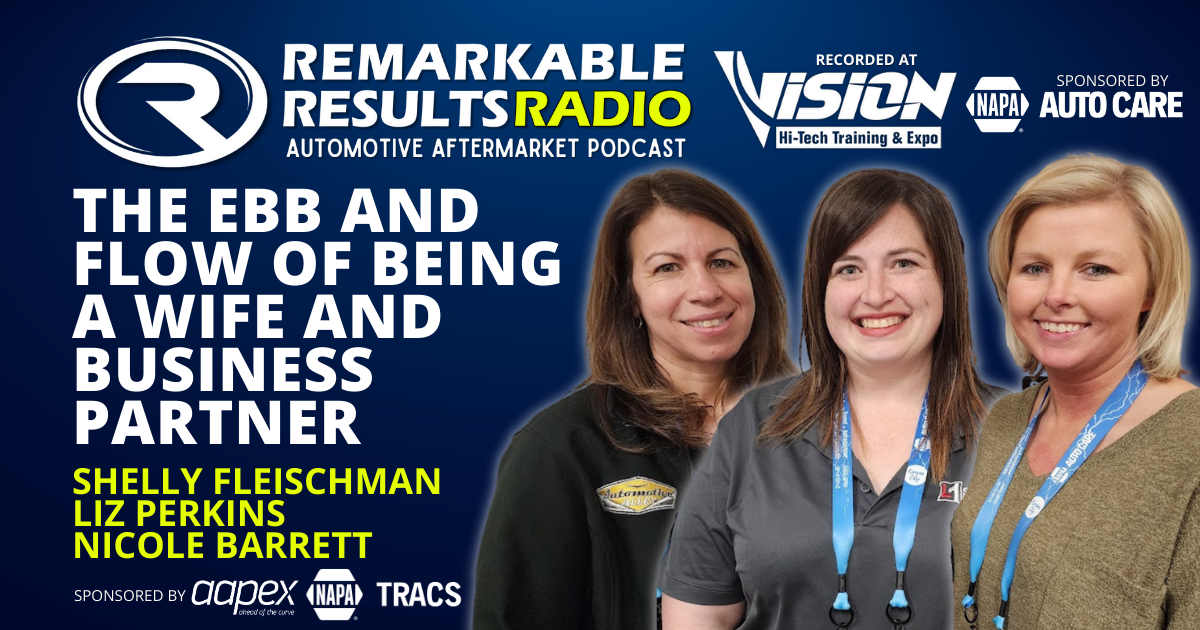 Recorded Live at Vision 2023, the wives tell all! Find out what it's like being a wife, mom, and business partner with their husbands.
Shelly Fleischman, Automotive Alley, Arcade, NY. Listen to Jim's previous episodes HERE.
Liz Perkins, L1 Automotive Diagnostics and Program, L1 Automotive Training.
Nicole Barrett, Barrett Automotive, Cornelia, Georgia.
Show Notes
How did you get involved in the business? What is your role?

How do you re-energize? 

What is your awesome news?

Are you a rule maker or rule breaker?

Implementing EOS (Entrepreneurial Operating System)

Implementing systems and procedures

Work-life balance, how do you juggle the business and your family?
Additional links about EOS
Thanks to our Partners, AAPEX and NAPA TRACS.
Set your sights on Las Vegas in 2023. Mark your calendar now … October 31 – Nov 2, 2023, AAPEX – Now more than ever. And don't miss the next free AAPEX webinar. Register now at AAPEXSHOW.COM
NAPA TRACS will move your shop into the SMS fast lane with onsite training and six days a week of support and local representation. Find NAPA TRACS on the Web at NAPATRACS.com
Connect with the Podcast:
-Join our Insider List: https://remarkableresults.biz/insider
-All books mentioned on our podcasts: https://remarkableresults.biz/books
-Our Classroom page for personal or team learning: https://remarkableresults.biz/classroom
-Buy Me a Coffee: https://www.buymeacoffee.com/carm
-The Aftermarket Radio Network: https://aftermarketradionetwork.com
-Special episode collections: https://remarkableresults.biz/collections