THA 053: Improve Communication Between the Service Advisor & Technician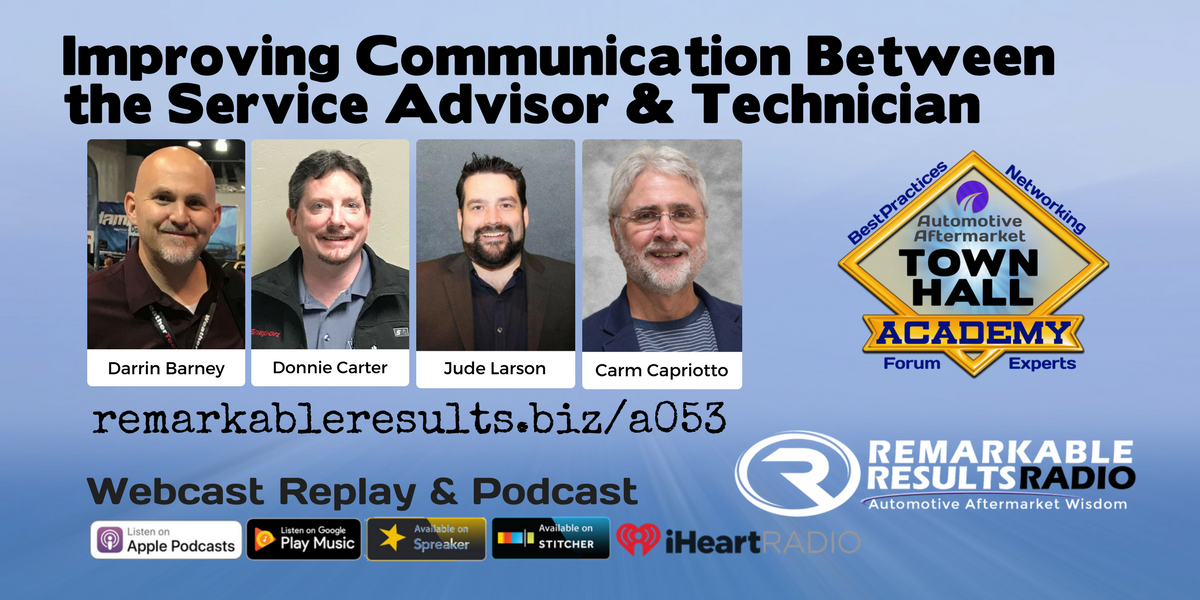 Your Learning Curve Never Sounded So Good!
Helping automotive aftermarket professionals improve; one lesson at a time.
Learn from your industry peers in a round-table forum. Get new ideas, perspectives, trends, insights, best practices and expertise from aftermarket professionals.
Watch like a DOCUMENTARY … Learn like a SEMINAR.
The Academy Panel:
Jude Larson is the president, owner and lead consultant for JML Real Solutions. He is a frequent speaker and trainer at industry events. Jude has vast business experience including being a highly successful service advisor, the owner and operator of a hybrid online and print marketing company, a top performer in the financial industry, and a record-setting career in retail management. Jude uses his rich experience and business success as he consults, trains and coaches results-focused solutions with clients. Jude is also a shop owner, Valley Repair in Tenino, WA. Listen to Jude's Episodes HERE.
Darrin Barney, his wife and his younger brother, Chad, started the business 16 years ago with a background in fixing cars at home. Growing up, the rule in the Barney household was that when the boys earned their Eagle Scout rank, their parents would buy them a Jeep. "They were early Jeep CJs," Barney says. "And anyone who had an early CJ will tell you that if you drive it, you have to fix it. Darrin's parents' home in high school was known as the place where you could learn how to fix it." "The first couple of years were brutal," Barney recalls. "We barely made ends meet, and the lessons were hard. But we made it, and it helped us to fine-tune our customer skills and work habits." "Thankfully," Barney says, "we have customers who like the experience of dealing with us and like to support a local business. A customer can sense if you like them, or if you see them only as money. That's why if you make a mistake, own up to it and do what it takes to make it right."Education and training also play a major role in the Barney Brothers' business. Barney recently earned an Accredited Master Automotive Management Institute (AMi) and serves as a board member of ASA-Colorado's education committee, which recently held its first training event in Grand Junction. Listen to Darrin's Episodes HERE.
Donnie Carter is the Service Manager at Little Wolf Automotive in Waupaca, WI  and has been in the automotive service business for 33 years.  Donnie has had extensive training in customer service and service management. His extensive training consists of ATI, Automotive Profit Pros, and RLO Training. Donnie has been apart of a strong service team that was recognized by ATI.  He is proud of his many years of quality customer service for thousands of Northeast Wisconsin customers. Donnie's Episodes HERE.
---
Carm mentioned shop owner who has a sound page on his website.  Rick Bilger's Podcast Episode # 044 HERE.  The page on Rick Bilger's website with the sounds is HERE.
---
Talking points:
Make your Repair Orders a masterpiece. Don't be lazy by writing the words 'Advise'. The word 'Advise' helps no one.
Everyone is there to serve the customer. Service Advisor and the tech are there to serve each other. There is an accountability to each other.
It is up to the service advisor to bring the 'novel' to the technician. Listen hard to the customer and write down the details of their issue or concern.

Technicians results are dependent on getting a good path to follow. Give them a great opportunity to succeed with clear in-depth information.

Morning meeting with entire team improves communication.

Let the technicians see the game plan of the day.

Digital inspections will help improve communication because the disciplines are strong and thorough.
Listening is a key component of communication.

Pay attention to the other person's eye color. That eye contact is a key to listening.
Pause before you answer, at least 3 seconds.
Don't listen to answer, listen to learn.

Good communications can prevent comebacks.

Many problems are found in lack of communications.

Good quality controls are about accountability and good communications. Everyone onboard to deliver a quality product.
Good communication includes all levels of the organization.
Don't place blame unless you are certain blame is due.
How do you get your techs and advisors to work with each other?
Book: The Five Dysfunctions of a Team. Patrick Lencioni.
5 Behavior Pyramid. Starts with:

Trust.
Conflict.
Commitment.
Accountability.
Results (top)

Whoever you are talking to right now is the most important person to you.
Active listening pointers from Barry Barrett:

Effective Pauses.
Minimal encouragers.
Mirroring.
Paraphrasing.
Summarizing.
Labeling.

Good communication can help you manage your bays.
Everything on planet earth works because of relationships.

If things are working for you then thank the quality of your relationships.

Focusing on the numbers will not get you there. Focus on your people and relationships and the numbers will be there.
General interest and the goals of your technicians is critical. Find the time to build your relationships.

You need to know likes and dislikes and opinions of your technicians. What makes them tick?

Sometimes, and those days do happen, it is like herding cats.

You've got to know the personalities and communication styles of your techs.
In the shop, you can mix the flow and bay assignments of your shop based on their personalities.
You may have to train your team on how to relate to each other based on their given communication style. (their behavior)

For a great Academy on understanding observable behavior go HERE.
The service writer must be very descriptive when getting information from the customer. Time is wasted if you don't' write down all the information you heard. It is critical to get every bit of information.

Write the Novel. (As said above; turn in a masterpiece R/O)

Play the silent game.

For one day. All you have to do is communicate with each other with NO verbal communication.

Example no texting, it is all in the RO.

You'll learn quickly how important your notes and 'novel' is.

Some people will work just hard enough not to get fired. Bosses will pay you just enough, so you don't quit. Minimum standards at each end.
Be socially involved and in touch with the show:
Facebook   Twitter   Linked In   Email    Events    Speaking
This episode is brought to you by Jasper Engines & Transmissions. When a car's engine or transmission fails, it's

not the end of the road. A remanufactured drivetrain product from Jasper Engines & Transmissions will give your car a new lease on life. JASPER has over 2000 Associates, three manufacturing facilities, two distribution centers and 45 branch offices across the country. They're all working to produce, transport and deliver the perfect product. That's what they do best… keep customers happy. Visit jasperengines.com