THA 062: Come Backs – Prevention, Reputation and the Cost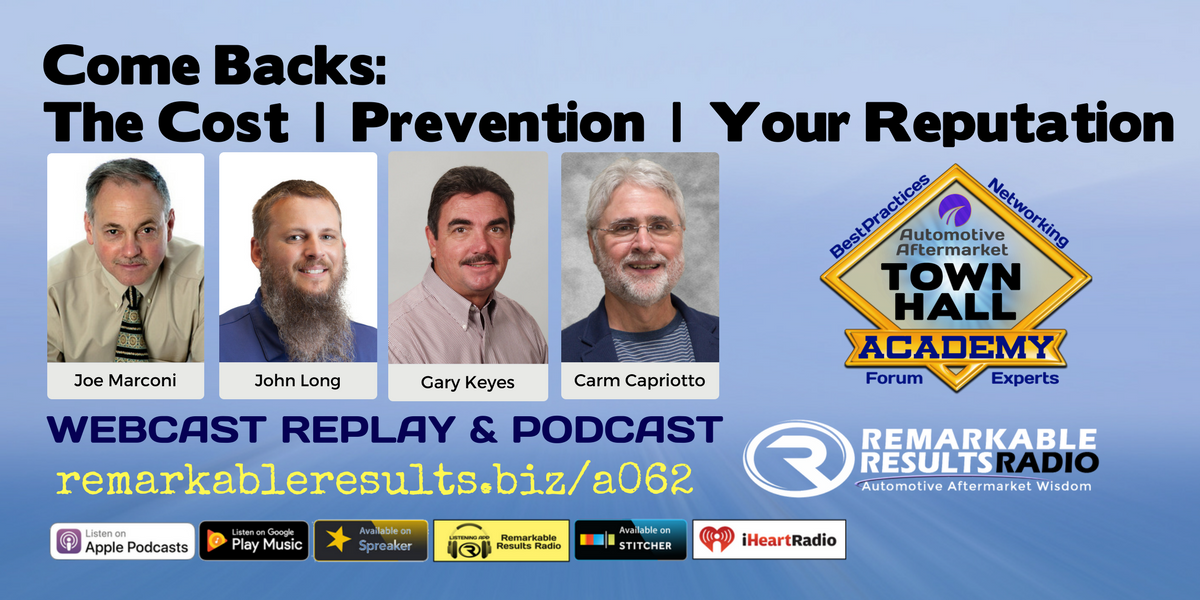 Your Learning Curve Never Sounded So Good!
Helping automotive aftermarket professionals improve; one lesson at a time.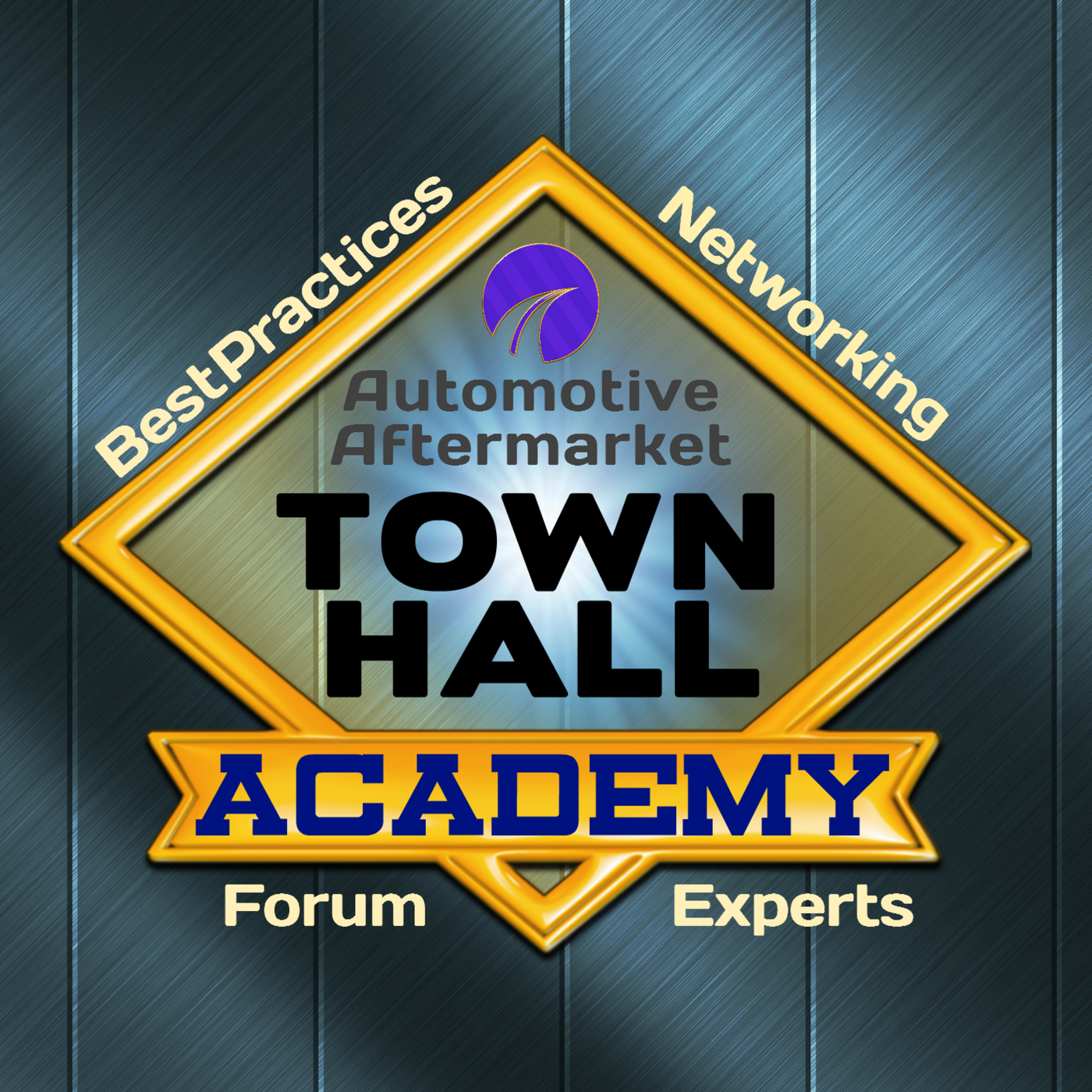 Learn from your industry peers in a round-table forum. Get new ideas,  
perspectives, trends, insights, best-practices and expertise from aftermarket professionals.
It's often said that if you choose a job you love you will never have to work a day in your life. Joe Marconi can say that with sincerity, Joe owns multi-branch operation Osceola Garage in Baldwin Place and Croton Falls, NY. His dream after graduating high school was to someday open up his own automotive repair business and that dream became a reality on October 1, 1980.
Joe was born and raised in the Bronx; he relocated to Putnam County, NY and founded his company on the culture and philosophy that he was taught growing up: Treat people with respect, take care of your customers as family and always go the extra mile. These principles quickly became the secret to Joe's continued success.
Joe is also a part-time business coach and trainer for Elite Worldwide and co-founder of autoshopowner.com. Listen to Joe's previous episodes HERE.
In January of 2017, John Long purchased an interest in Total True Automotive dba Schertz Auto Service, Schertz, TX,  for which he worked since July of 2005.
Growing up John was not interested in vehicles even though his father had always fixed their cars.  John's passion was sports especially hockey.  John played anything and everything growing up.  He is still a huge sports fan and sports numbers junkie.
In his late teens, John started to gain more interest in vehicles and just after his 21st birthday he accepted a position working at National Tire & Battery as a service advisor.  He knew nothing about tires or vehicle systems and how they worked, but he learned as much as he could.
In 2005, John and his wife decided it was time for a move. He arrived in San Antonio late on a Friday night after driving 24 hours straight and interviewed with Mark Roberts on Saturday morning.  Mark hired John, and for the next several years he helped grow the new mechanical repair shop business. Listen to John's previous episodes HERE.
Gary Keyes is the owner of E & M Motors Auto Service in Stuart, Florida.  Gary started as a tech, right out of high school back in the service station days in Miami. He also worked in a Toyota dealership for 10 years and decided he was smart enough to open a shop himself. He says he is still learning.
Through the value of networking, as a member of ASA, he found and purchased E & M motors.   Networking with peers, he says, is one of the most powerful benefits of association membership.
Gary is also a trustee of AMi and earned his AMAM (Accredited Master Automotive Manager) certification. Gary is also an ASE Certified Master Technician Since 1978. Listen to Gary's previous episodes HERE.
Talking Points:
To improve the end product and to reduce comebacks, you must build quality into the repair process. Quality control checklists at the end of the repair can only do so much.
Quality, not quota, is the strategy you need to adopt to reduce comebacks.
You have to Slow Down in order to Speed Up.

You need the ability to throw down the STOP card

Comeback prevention starts at the front door.
It is all about communication. Writing enough information to the technician will make for a better diagnosis.

You cannot accept a work order that says 'Check Engine Light', or 'Dead Battery'.

Instead of Quota (production), it needs to be Quality. You need a culture of caring and quality that will go a long way to manage comebacks.
You should always be looking to improve. Your processes will drive a well-managed quality program.
You must log every comeback and discover if it was communication, process, part quality or training, among other come back reasons.

Must log where the part was purchase and brand. You need to be able to spot trends.
What were the costs up to and including a rental car etc. See below link for a comeback cost analysis download.

If failure rates are too high on a product line, this group would change parts brands. But they would let the supplier know that they were having a problem.
Quality of parts today is in question and you need to pay attention to comebacks so your costs and reputation are managed.
Top failures that can lead to comebacks in order of the experience of the panel.

Communication. 50%
Part Failures. 40%
Technician Errors. 10%.

They take their jobs seriously and do not ever want a comeback.

Do the math on comebacks. See the cost report (link below) that shows an example of the cost of a steering rack comeback.
In the eyes of the customer, no matter what type or kind, even if a missed oil change sticker, shows a breakdown in the process. The customer may think what else did they miss?
You need to follow up with each customer on each job. Probe the customer and understand the post-transaction. So important for first-time customers because their anxiety level is high. This helps to ease it when you call back 48 – 72 hours after the repair.
Your overall reputation of quality, honesty and integrity can lessen the blow of comebacks.
A bad review or experience can snowball and get out of control if you don't manage.
A good Quality Control process after the repair is important to tighten up the quality of the repair process. Many times the person who does it should not be the tech who worked on the car.
To repeat the right behavior, give the tech a high five and praising when there is a perfect QC done on the vehicle. This will reinforce the type of behaviors you are looking for.
Spend a lot of time on internal procedures and processes so that post repair quality control is nearly perfect every time. Follow the procedures 100% of the time. No exceptions.
Vince Lombardi Quote: "Perfection is not attainable, but if you chase perfection we can catch excellence."
It starts from the top and the culture you determine for your company. Every team member is a key component to the success of the company.
Put the emphasis on quality not quota. Success is in the details.
Your quality will be determined on how you lead others. People will want to be praised and be included in how the company functions.
Referenced in the episode:
Concierge Service – The Next Frontier. Town Hall Academy Episode 008

Bobby Bassett from Gates on Cooling System Come Backs

Download the AASA and ASA Joint Task Force: The Cost of a Come-Back
---
This episode is brought to you by Jasper Engines & Transmissions. When a car's engine or transmission fails, it's

not the end of the road. A remanufactured drivetrain product from Jasper Engines & Transmissions will give your car a new lease on life. JASPER has over 2000 Associates, three manufacturing facilities, two distribution centers and 45 branch offices across the country. They're all working to produce, transport and deliver the perfect product. That's what they do best… keep customers happy. Visit jasperengines.com