Scan Tools Part 3 [RR 678]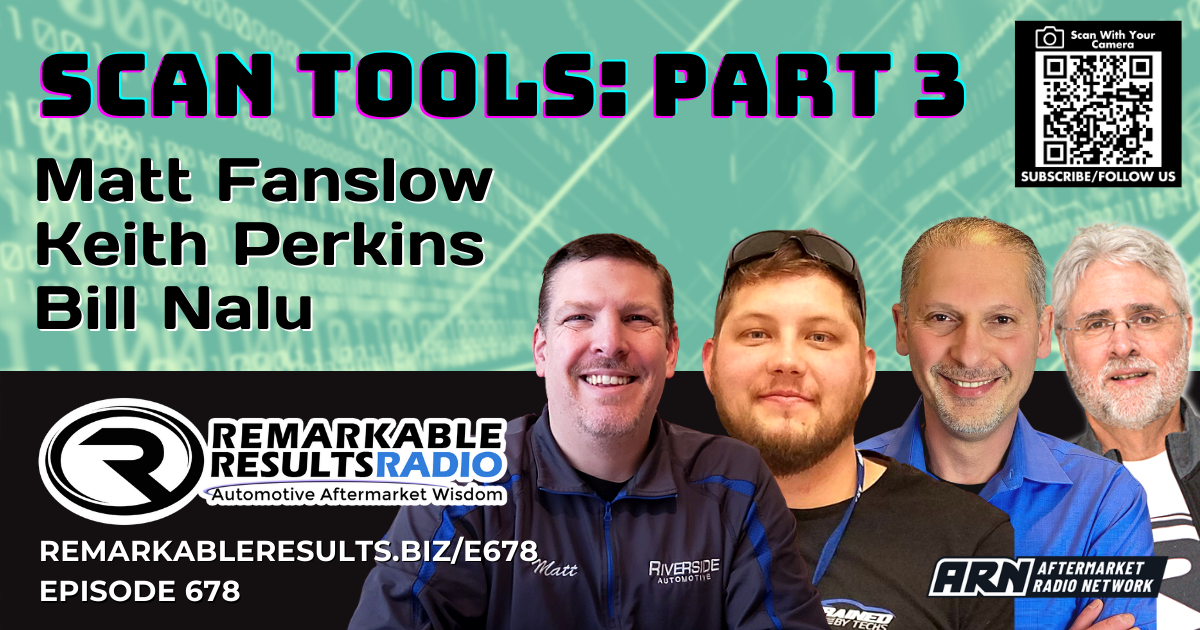 Matt Fanslow is the diagnostic tech/shop manager at Riverside Automotive in Red Wing, MN. His primary responsibilities are to diagnose driveability and electrical/electronic issues, and perform most all programming, coding, initializing, adoptions, etc. Basically, if it needs to be figured out or has wires, it goes to Matt. He's been a tech since 1996. Matt is also a subject matter expert for ASE and has instructed at Vision Hi-Tech Training and Expo. Matt has participated on 18 ASE technical committees for the ASE Practice Test, A6, A7, A8, and L1 tests. He's also done case studies for Standard Motor Products. Fanslow's goal is to do everything in his power to improve the overall level of professionalism within the automotive and light truck repair trade and also raise the level of its public image. Matt Fanslow's Previous Episodes HERE.
Keith Perkins has been in the industry over 15 years, serving in various capacities, including; engine machinist and assembler, dyno tuner, diagnostic technician, instructor, technical information specialist, and many more roles through the years. He currently operates L1 Automotive Diagnostics and Programming LLC a mobile module programming, diagnostic, immobilizer solution company, Keith also operates the L1 Automotive Training company that offers advanced level automotive training on-site and online at www.L1Training.com. Keith holds the title of ASE Master Certified L1 Technician, holding ASE certifications: A1-A9, L1, L2, L3, X1, P2 and various other industry certifications, he also serves as a Subject Matter Expert for ASE. Listen to Keith's previous episode HERE
Bill Nalu is President of Interstate Auto Care in Madison Heights, Michigan and has been in business for 30 years. He collaborates with industry professionals, in building today's "high-tech/old-fashioned" customer service system. Bill has been a big contributor to the podcast and he currently serves on several industries and educational advisory councils including AutoValue/Bumper to Bumper, Dorman Industries, and Cardone. Listen to Bill's previous episodes HERE.
Key Talking Points
Your favorite scan tool(s)

Keith Perkins Web site:  l1training.com

Keith's and Matt's preferences on scan tool by platform

Shops need to support their team with an investment in scan tools and subscriptions to sites to help support their use and application of them in diagnostic work and challenges

Scan tools in general do not program.

There is a difference between a scan tool and a diagnostic platform
Connect with the show:
Check out today's partners:

This episode is brought to you by AAPEX, the Automotive Aftermarket Products Expo. AAPEX represents the $740 billion global automotive aftermarket industry and has everything you need to stay ahead of the curve.  The Virtual AAPEX Experience 2020 is in the record books. Virtual AAPEX lived up to presenting leading-technical and business management training from some of the industry's best and brightest. Now set your sights on the homecoming in Las Vegas in 2021. Mark your calendar now … November 2-4, 2021, AAPEX // Now more than ever.

This episode is brought to you by Shop-Ware Shop Management. It's time to run your business at its fullest potential with the industry's leading technology. Shop-Ware Shop Management will increase your efficiency with lightning-fast workflows, help your staff capture more sales every day, and create very happy customers who promote your business. Shops running Shop-Ware have More Time and generate More Profit—join them! Schedule a free live demonstration and find out how 30 minutes can transform your shop at getshopware.com/carm