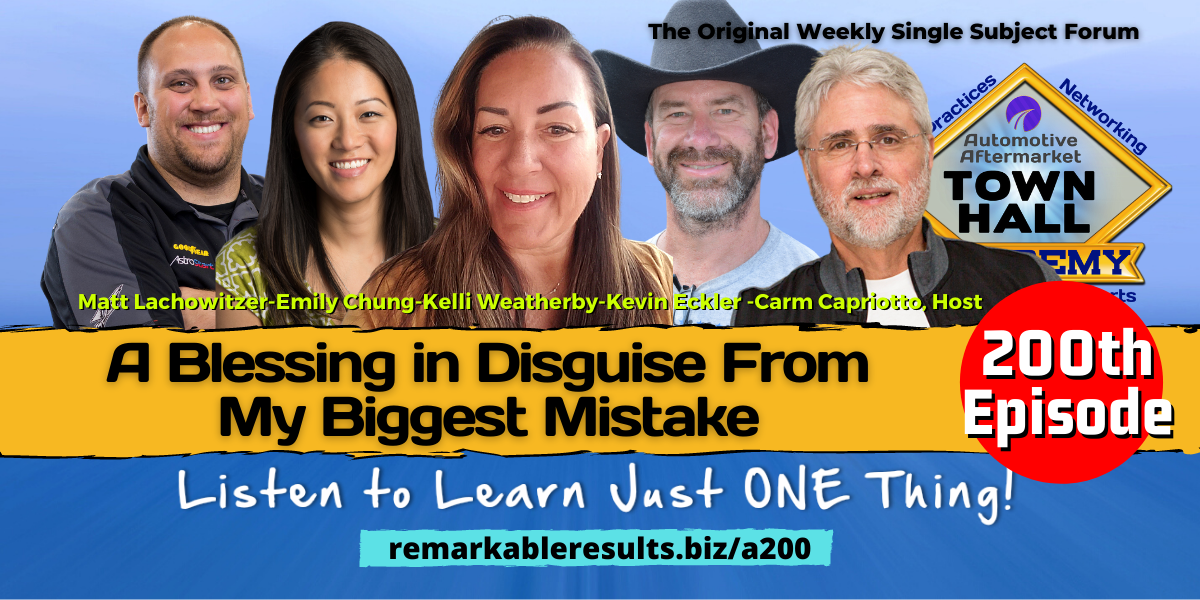 A Blessing in Disguise From My Biggest Mistake [THA 200]
Welcome to the 200th milestone episode of the Town Hall Academy. The industry's premiere and original single subject forum. Thank you for your support in listening and watching the forum and making it a staple of information and insights for our automotive service industry.
Wisdom comes from many sources. If you think about the many mistakes you've made there are hundreds. But the blessing that can come from failure is to think of the challenge you faced and the outcome. Your panel today digs deep in their heart and shares with you the triumphs that came from some tough and low spots in their careers. I thank Emily Chung, Kelli Weatherby, Matthew Lachowitzer and Kevin Eckler for their transparent and emotional rendering on how they overcame a huge mistake and found blessings in their decision to act.
Matt Lachowitzer owns and founded Matt's Automotive Service Center, Emily Chung owns and operates AutoNiche auto repair shop in Markham, Kelli Weatherby co-owner, with husband Lee, co-owns Accurate Automotive in Mesa, AZ., and Kevin Eckler, along with wife Lisa, owns Foreign Car Specialists.
The key talking points from this episode are already done for you on the show notes page at remarkableresults.biz/a200.
Listen and view episode notes