Customer Perceptions Part 1 – Bob Cooper and Bill Greeno [RR 773]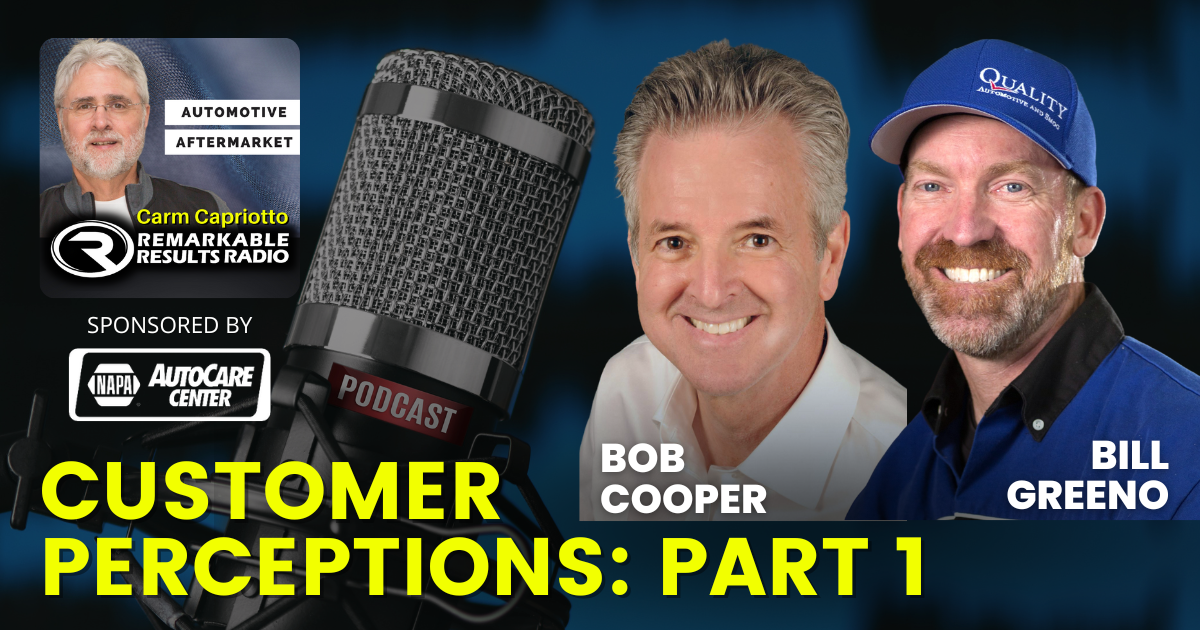 In this episode, we are jumping into the mind of your customer. From their perspective, do they prefer to use the term mechanic or technician? Ask a customer … How much do they think a mechanic/technician earns? What is your customer's opinion on a service advisor having visible tattoos or smelling like cigarettes? Bob Cooper asked these questions to a panel of consumers at the 2022 Elite Invitational in San Diego, and their answers will certainly surprise you. And more importantly, what should you do in your business having this knowledge?
Bob Cooper, Founder/President Elite Worldwide. Complimentary Elite Customer Care Guide Template HERE. Listen to Bob's other episodes HERE
Bill Greeno, Quality Automotive Servicing, Truckee, CA. Bill's previous episodes HERE
Key Talking Points
The consumer panel- you're ideal customers, 3 from the dealership, 3 from independent  

No matter how well your customers love you, they could love you like a rainbow, but there are some things that they will never ever tell you.

How do we get inside of their minds and how do we learn? What's really important to them?

How much a technician mechanic makes per hour?

We need to get the perception and reality that people need to know you can earn a really good income in this industry 

Be aware that you're gonna have a lot of customers that come in and may never come back if they smell smoke on your advisor or on any of your people and in their car.

It's all marketing- a

lign your image. U

se surveys and programs to tell you what is important to customers

Would you say mechanic, or would you say a technician? 

Both of those terms, mechanic and technician, have a role in our industry. 

A technician is a person employed to look after technical equipment or do practical work in a laboratory, an expert in a practical application of science or a person skilled in the technique of an art or craft technician. Examples of technicians are theatrical technicians, school, laboratory technicians, engineering technicians, laboratory technicians, electronics technicians, x-ray technicians.

Mechanic is defined as an artisan skilled tradesperson who uses tools to build, maintain, or repair machinery

The more we could bring the, the communication and the understanding between the customers and the technicians and the industry closer together, the more successful we'll be, and when it comes to SEO, just imagine what's gonna happen to the shop owners that start embedding mechanic

What are some of the things that you could do to really. Make that customer go, you know what? I'm in the right place. I'm dealing with the right people

Complimentary Elite Customer Care Guide Template HERE
Link to actual customer video HERE.
Connect with the Podcast:
Check out today's partner:

Learn more about NAPA AutoCare and the benefits of being part of the NAPA family by visiting www.NAPAAutoCare.com