RR 041: Jim Murphy from Elite Worldwide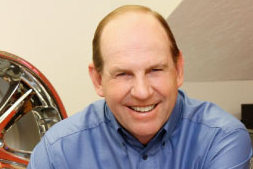 Jim Murphy prefers to use only one word when describing himself: coach, "That's all I am, and honestly, that's all I want to be," he says.
In nearly every position Murphy has held throughout his 30-plus-year career in the repair industry, his work has revolved around shop improvement. After graduating from Oregon State University, Murphy took a position as a service advisor for a Chrysler dealership … quickly, Chrysler took notice of Murphy's achievements and recruited him to work for its corporate service and parts division. The new position put him in a role similar to a business consultant, as he'd travel to various dealerships in the Pacific Northwest to evaluate and work to improve their processes.
"That was the best part of the job for me," he says. "In my 20s, I learned a ton about how a shop operates and needs to operate. I'd go in and have to find problems and make changes. I really developed a knack for identifying where problems are and finding a path to fix them." He says.
After opening two repair-related business of his own in his 30s, Murphy jumped back into coaching full time. In 2007, Murphy partnered with Bob Cooper at Elite Worldwide Inc. to found Pro Service, a select 90-member network of some of the country's top shops. The network, which operates under the Elite umbrella, is Murphy's baby. He facilitates all group meetings and conferences, and he works as a personal, one-on-one business coach for each member of the network.
From thoughts on success planning, goals, why shops choose to have a business coach and a discussion of why some choose not to. Jim talks about putting people ahead of money and the money will flow … that's all about purpose. Many great take-a-ways in this episode including a great a challenge to service professionals to 'Learn How To Dream Again'.