Pay Attention To Your Health – Jerry Holcom [RR 738]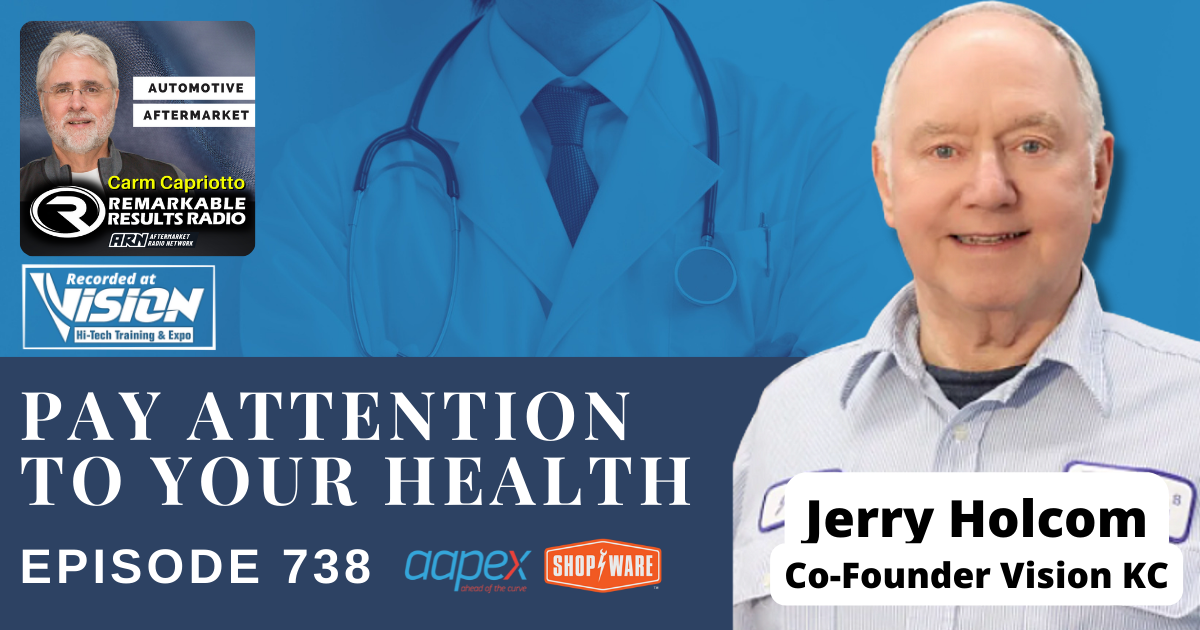 10 years ago, Jerry Holcom, one of the founders of Vision Hi-Tech Training Expo, self-diagnosed himself with Parkinson's. Learn how Jerry has lived with it and through it. This episode may hit home for you. The more you know the better. Let this episode be an inspiration to you.
Jerry Holcom, S & S Service, Kansas City, MO and Co-Founder of Vision and this year Co-chairman and Past President of MWACA. Listen to Jerry's previous episodes HERE
Key Talking Points
30-year Anniversary for Vision- saw the need for technician/manager training for an entire shop to come. Formed a Management Peer Group in 1992. Needed $10,000 upfront to book a venue, Jerry and Doug used their own money to start the event called 'Vision 2000′

10 years ago Jerry self-diagnosed with Parkinson's. Started noticing he was walking slow, customers asked if something was wrong, and his primary doctor didn't know what was wrong. Noticed when he wrote his name in cursive would get smaller and smaller at the end, took a quiz in a magazine about Parkinson's. Continues to work in the shop which has helped his mobility. 

In the early 1980's he started dabbling with integrating floppy discs and computers in his shop

Over 140 pages of scholarship submissions for Vision

Roughly 80% of attendees for Vision KC are from outside the area

"Vision is more than training"
Connect with the Podcast:
Check out today's partners:

Set your sights on Las Vegas in 2022. Mark your calendar now … November 1-3, 2022, AAPEX – Now more than ever. And don't miss the next free AAPEX webinar. Register now at AAPEXSHOW.COM/WEBINAR.

More Time. More Profit. Transform your shop at getshopware.com/carm