THA 030: Nine Reasons Why Labor Rates Need To Increase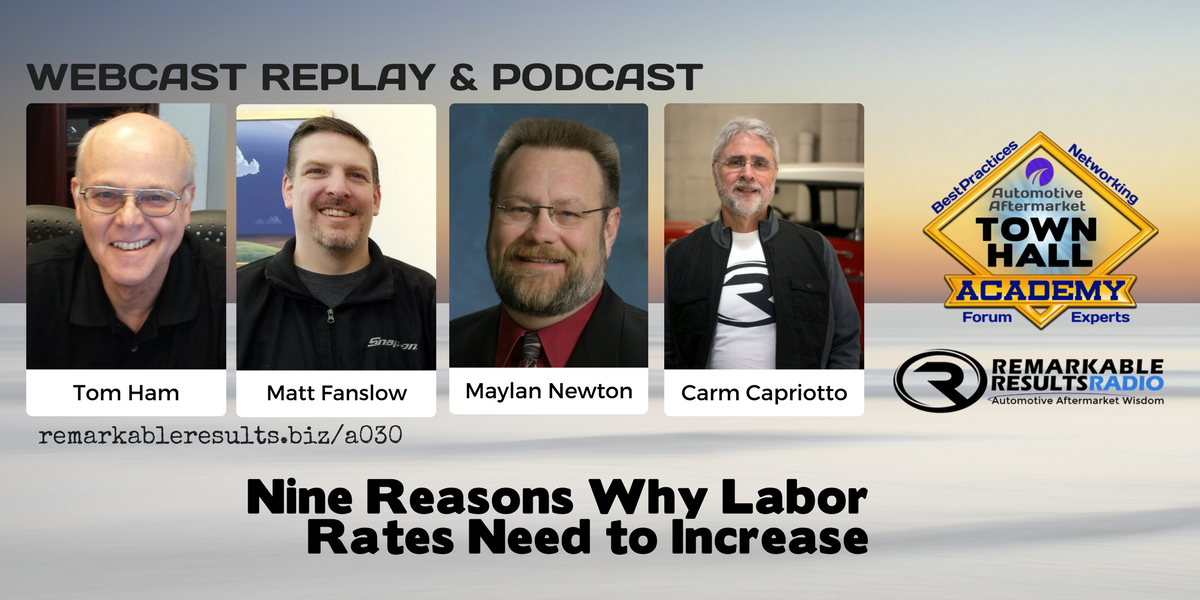 Learn from your industry peers in a round-table forum. Get new ideas, perspectives, trends, insights, best-practices and expertise from aftermarket professionals.
Watch like a DOCUMENTARY … Learn like a SEMINAR.
Helping automotive aftermarket professionals improve; one lesson at a time.
Academy Panel:
Maylan Newton from ESI – Educational Seminars Institute is a business coach and trainer. Maylan is no stranger to the power of the customer as he speaks and trains on Professional Business Development, Service Writers School of America and In Shop Training and Support.  He is an approved AMI Trainer.
He is a much sought our speaker at industry events. Maylan is no stranger to the podcast having paid it forward in episodes … 108 and 140 and on Town Hall Academy's 14 on Customer Retention and in Academy 25  on Disaster Planning.
Matt Fanslow is the diagnostic tech/shop manager for Riverside Automotive in Red Wing, MN. His primary responsibilities are to diagnose drive-ability and electrical/electronic issues, and perform most all programming, coding, initializing, adaptions, etc. Basically, if it needs to be figured out or has wires, it goes to Matt. He's been a tech since 1996. Matt is also a subject matter expert for ASE and a trainer.
Matt has participated on 18 ASE technical committees for the ASE Practice Test, A6, A7, A8, and L1 tests. He's also done case studies for Standard Motor Products.  Matt is no stranger to the podcast. Episode 122 on ASE Test Uncovered, 146 (one on one) and two technician roundtables (206 & 230) and in Academy 5 on best training events in 2017.
Tom Ham, with the help of his wife Deb, is the creator and owner of Automotive Management Network an 11,000 plus member website dedicated to the exchange of vehicle service management information.
Tom got his start in the auto service industry pumping gas in the late 60's. Tom and his wife operate Auto Centric, an import specialty shop in Grand Rapids. Tom and Deb have five children including two sons and a daughter who served in the Iraq War as U.S. Marines.  He writes extensively on industry topics. Listen to Tom in Episode 62 one on one and THA 022 Hiring For Team Dynamics.
Talking Points:
Too many shops not making enough money.
A race to the bottom.
Everyone gets what they pay for. Shop owners get the quality they can afford.
Customers get what they pay for based on quality employed at the shop.
There are too many shops. Many not qualified and there are a staggering number of underground shops.
Shop owners are not buying the best parts or buying the best labor and sell it for what it is worth.
We don't pay a doctor to cut us we pay him for what he knows where to cut us.
Part of setting your hourly rate will be based on your plans for next year. Your investment in technician training is one factor.

Your rate should be checked quarterly, and at the minimum raised each year at the cost of living.

Be entrepreneurial. You must work on your business, not on cars.
To understand the depth of what it takes to calculate your effective labor rate will engage owners to pay attention to the other critical numbers on the financial statement.
Multiple labor rates are very important.

If we put our highest paid tech, using our most expensive equipment with expensive information, who is continually training, we need to have a rate for this.
Because we are spending more on our A Technician the labor rate must be higher because of the size of the investment.

We need to pay for top talent. Average wage for mechanics, according to the federal government, is $36,000
Old fashion, simple way to look at your financial statement distribution:

25/25/25/25 Rule of the Auto Repair Dollar. A very simple way to look at

25¢ for parts, 25¢ for expenses, 25¢ for payroll, 25¢ for you.

Shop owners set their pricing based on the lowest 15% of their customers base. They are catering to the lowest level customers. This should not be a strategy because the other 85% of your customers will pay less and will hurt your profitability.
People don't come to us because of price. They come to us for what we do. We tend to undervalue ourselves.
We need top talent that other industries are looking for.
We need to sell the hours we have available.
We need to provide:

Improved Working Conditions and Benefits.
Investment in Tools, Equipment & Training.
Investment in IT/Infrastructure.
Investment in our facilities.

We devalue ourselves by giving away our expertise. Doctors charge for every visit and for every diagnosis.

Our customers come to us for what we do; not for price.
We don't fix cars we fix people. We provide freedom.
Stop thinking about what we do and think about what we provide.

Business management training is as important as technical training.
Special offer from Maylan Newton. Find the Business Analysis Sheet HERE. Complete the form, all the yellow fields. Email or fax to Maylan. Maylan@esiseninarscom, or fax 8055-526-3254    It is very important that you include your name and contact number.
Tom Ham's Automotive Management Network Website
Be socially involved and in touch with the show:
Facebook   Twitter   Linked In   Email
This episode is brought to you by Jasper Engines & Transmissions. When a car's engine or transmission fails, it's

not the end of the road. A remanufactured drivetrain product from Jasper Engines & Transmissions will give your car a new lease on life. JASPER has over 2000 Associates, three manufacturing facilities, two distribution centers and 45 branch offices across the country. They're all working to produce, transport and deliver the perfect product. That's what they do best… keep customers happy. Visit jasperengines.com