THA 113: Taking Care of Your Most Valuable Asset – YOU!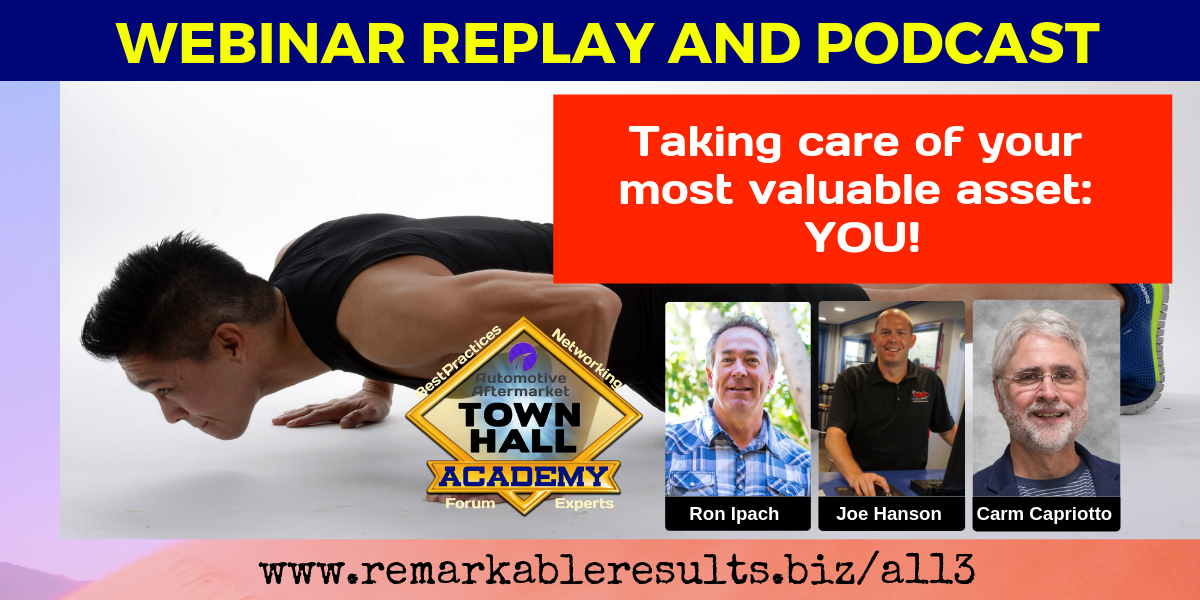 Your Learning Curve Never Sounded So Good
Ron Ipach, co-founder or Repair Shop Coach, has helped over 5536 auto repair shop owners to get and keep all the top-quality customers they can handle.
Marketing auto repair services are all he does. He lives, eats, and breathes it every day. He has seen, heard, and tested practically every kind of marketing there is out there today. He's examined the results. He's tweaked and tested dozens of strategies over and over in order to maximize their results.
Because Ron has personally worked with so many shop owners over the years, he has the distinction of being the only person in the world that knows exactly what marketing works, and what doesn't work for auto repair shops in today's economy. He finds passion in amplifying time & freedom for his clients while helping them take back control of their businesses. Find other episodes that feature Ron HERE.
Joe Hanson owns Gordie's Garage. Joe has attended Management Success, NAPA training, Lawrence Tech University and most recently he is a member of the RLO 20 Group 13. He has earned his ASE C1: Automobile Service Consultant Certification.  Under his father's leadership, he has seen what it really takes to make a business like this work. Listen to Joe's Episodes HERE.
Key Talking Points:
No panelists are experts on exercise. This discussion is meant to provide their point of view on the value they receive from exercise. Consult with your doctor before you ever start an exercise regiment. Consult with a professional coach or trainer before you ever start an exercise regiment.

According to the World Health Organization — 80% of premature heart disease, stroke, and diabetes is self-inflicted. 40% of cancer is self-inflicted (Only 10% is hereditary and the rest is environmental)

Many health issues can be prevented

Exercise can become a way of life. Involve a community to motivate you.

Exercise can become a habit if you have the desire to get it done.

Cardo is healthy for your inside. Another benefit for exercising is the external benefit like losing weight and fitting in your clothes.

When you lift weights you are burying fat for days as your muscles work to retain their training.

There can be a big benefit to the energy you have at work and at home.

You can find a competitive nature while you are working out with friends, family or a team.

If you know your WHY you'll have more success committing to exercise.

Think of your hereditary makeup.

Find a new lifestyle to be healthy.

Having a coach or trainer to keep you accountable is important. You can also use a friend at the gym or a workout buddy to keep you going and doing.

Know your goals.

Get up early. For Joe going to the gym is like an energy drink!

As of this recording, Ron Ipach has been to the gym for 453 days in a row.

If Ron skips a day he has to start his counter at 1.

Staying healthy is an example to your family. You are who you hang out with.

You only have one chance to take care of yourself.

We are busy, so find a slow easy way to build your regiment.

You can exercise during commercials of your favorite TV show. Do push ups! Let it become an exercise break.

The act of getting of the coach if personal motivation.

Taking a walk or hiking can be included in your exercise regiment.

There are many opportunities to be healthy today. We fall into society's acceptance by eating fast food every day.

Ron loves having had worked out not working out. He loves the results.

Never overdo your workout so you are not hurting too long and lose your motivation to go.

You didn't get unhealthy overnight so your regiment must be long term also.

Set short term and long term goals. Reward yourself for getting there.

Set goals in your twenty group. Joe did it.

Eat from smaller plates. You'll eat less.

Resist the temptation to stop at the donut box.

A trainer helped Ron get started.

First step from Joe Hanson

You aren't doing it for anyone else but you.

Get an accountability partner. Not your spouse.

An accountability partner should be male if you are male. Female if you are a female

Set reasonable goals of two to three days a week.

Have fun

First step from Ron Ipach

A compounding effect

Give me one start decision a day on your food choices and your exercises.

Take the stairs not the elevator. Take a walk

Start timing your self.

Do better than the day before.

A walk may be your best first choice depending on so many factors in your life.
Resources:
A special thanks to  Ron Ipach and Joe Hanson for their contribution to the aftermarket.
Books Page HERE
Leave me an honest review on iTunes. Your ratings and reviews really help and I read each one of them.
Facebook   Twitter   Linked In   Email


Subscribe to a mobile listening app HERE.

---
This episode is brought to you by Jasper Engines & Transmissions. When a car's engine or transmission fails, it's

not the end of the road. A remanufactured drivetrain product from Jasper Engines & Transmissions will give your car a new lease on life. JASPER has over 2000 Associates, three manufacturing facilities, two distribution centers, and 45 branch offices across the country. They're all working to produce, transport and deliver the perfect product. That's what they do best… keep customers happy. Visit jasperengines.com
Subscribe to a mobile listening app HERE.