Succession Strategies – A Real World Example [THA 233]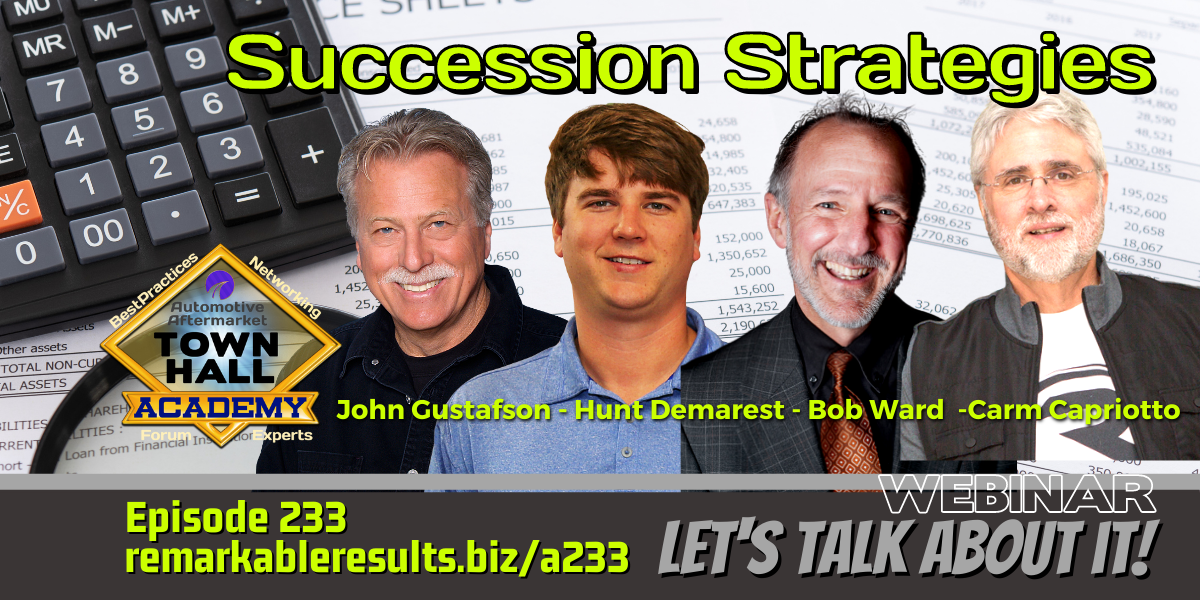 Fresh out of High School, John Gustafson and his brother, Frank, took their passion for fixing cars and made it a career. In 1971 the brothers specialized in Volkswagen which were very popular in that era, since then the shop has flourished. John is the president and CEO of Gustafson Brothers, Inc. an auto service center in Huntington Beach, California. The company specializes in customer service and performs auto service work, collision repair, and paintwork along with other auto-related services for the community.
John is a Certified ASE Master Technical, Bureau of Automotive Repair Certified Instructor, Continuing Education Insurance Instructor licensed by the State of California, and a certified I-CAR instructor.
In addition to growing a shop from two employees to the 60+ strong it is today, John has been recognized with the Alumni Pillar of Achievement Award from Golden West College for his contributions in the automotive industry. Listen to John's previous episodes HERE
Hunt Demarest, CPA Paar-Melis. Hunt is Accredited in Business Valuation and a licensed Certified Public Accountant that has been with the firm since 2006. He specializes in business taxes, valuations, and does consult work with our clients all across the country. When he's not in the office, Hunt enjoys spending time with his family, golfing, working on and racing his cars. Look for Hunt's other episodes HERE.
Bob Ward is the President of Wardden LLC, Bob began his business career at a franchised car dealership, overcoming obstacles to learn and earn the required skills to become Controller, General Manager and then, a minority owner of Tacoma Dodge in Washington.
A native of Seattle, Bob serves as a financial advisor and consultant to small business owners throughout the United States. He believes that your business should always be ready for expansion or sale, you should get paid for what you built and, when you decide to leave it, your company should continue to prosper. He believes in a Perpetual Business where there is Value, Continuity and Legacy. Look for Bob's Previous Episode HERE. Warden LLC website HERE.
Key Talking Points
John Gustafson. 50-year business- what are the options for successions with no heirs in the family? 3 entities (mechanical, collision, satellite) produce $11.5 million per year

What does the owner want the legacy to be? Zero in on what's most important, oftentimes it's not about the money.  John's answer- 2 scenarios: a gross amount of money and hand keys and walk or process to shift business to select employees

When do you want to do this? 5-6 years? 20 year? Right now? 

Who will it get sold to? Internal (family or employee) How many employees actually want to be a business owner? Narrow down to a small inside pool. Stockholder potential, shareholders, multiple owners?

How many internal employees want to be business owners?

What are you selling? Real estate? What piece?

Value business or gift to a relative?

Partnership reality- akin to marriage, can be difficult with separate forces to combine on same path. Potential successful partnerships can be service advisor and lead technician- powerful synergy together 

Surviving shops with land ownership- in many cities you can't go and buy locations because they arent available 

Owner

partnership in practice

on paper as a trial- all owner responsibilities except asset ownership and liability

What you can do right now- how do you want to personally leave, how do you want to leave the business? Have conversations with employees.

A special thanks to John Gustafson, Hunt Demarest and Bob Ward for their contribution to the aftermarket.
Facebook   Twitter  LinkedIn   Instagram  Youtube   Email  
Join the Ecosystem – Subscribe to the INSIDER NEWSLETTER HERE.

This episode is brought to you by Shop-Ware Shop Management. It's time to run your business at its fullest potential with the industry's leading technology. Shop-Ware Shop Management will increase your efficiency with lightning-fast workflows, help your staff capture more sales every day, and create very happy customers who promote your business. Shops running Shop-Ware have More Time and generate More Profit—join them! Schedule a free live demonstration and find out how 30 minutes can transform your shop at getshopware.com

This episode is brought to you by Shop Marketing Pros. Your guides are Kim and Brian Walker with a rich history as shop owners and industry veterans. When someone searches for a shop, who are they finding? Your competitors? It should be you! The good people over at Shop Marketing Pros know how to drive website traffic and make Google work for you! www.shopmarketingpros.com