The Leap From Employment to Ownership [THA 263]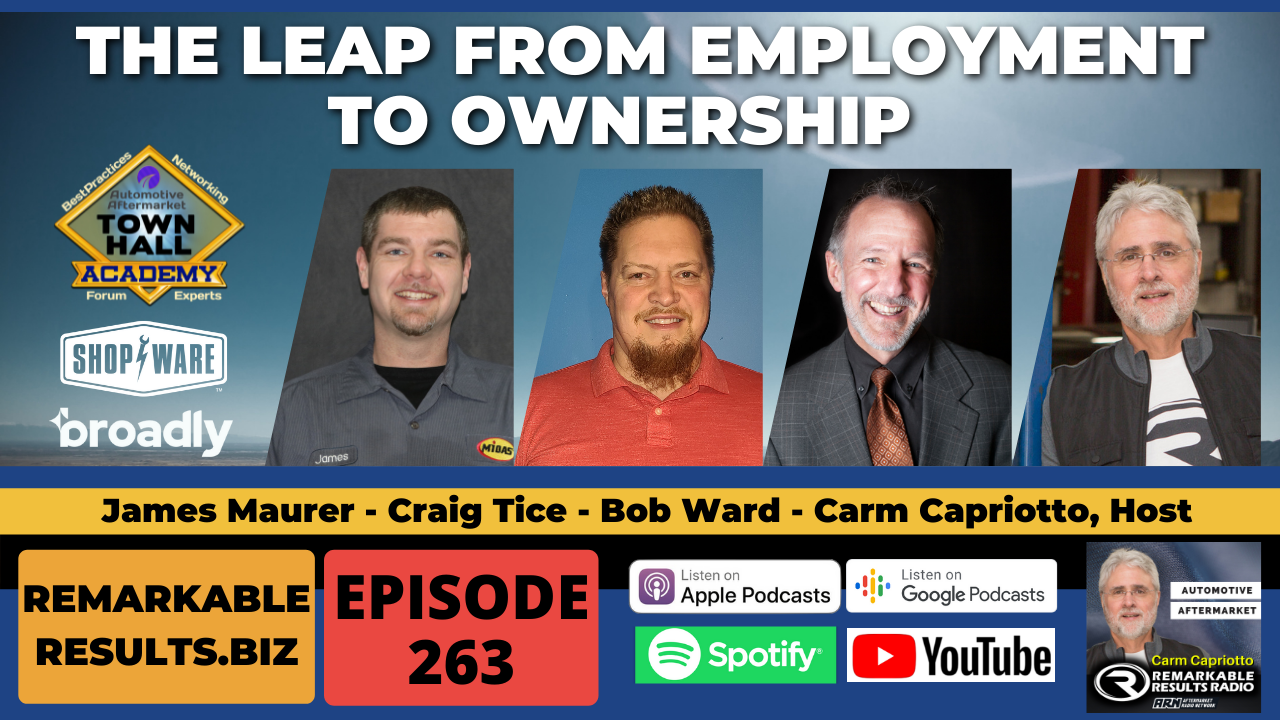 100% of business owners leave their business, either by design or due to unfortunate circumstances. The dialogue between the owner and potential successor needs to happen as soon as possible. But how do you start that conversation as an employee? In this episode, we role-play that discussion with Bob Ward, financial advisor and consultant from Wardden LLC. We also hear from James Maurer, a former service advisor and now an owner in transition, and Craig Tice, a 20-year technician looking to become a business owner. Let this episode be your blueprint to get the ball rolling.
Watch Episode on YouTube
James Maurer, GM and owner in transition Midas of Kalkaska, MI
Craig Tice, Technician
Bob Ward, President of Wardden LLC, Look for Bob's Previous Episode HERE. Perpetual Business Co website HERE.
Key Talking Points
What is the difference between being an employee vs. being an Owner? Every owner started by taking a leap with little to no money. 

"Only as we develop others, that we will permanently succeed"

Craig worked at a honda dealership, started his own business. Realized fixing cars is the easiest part of the business. It was open for 7.5 years in total. Went bankrupt, went back to working for someone else. Still has the 'ownership' passion/drive. It starts with passion.  

Hire for passion, not pedigree.

Everyone owner is going to leave their business 

'Marriage' between owner and successor

James started working at the business in 2015, started the conversation in 2016. Took progressive steps to earn equity

85% of all business are liquidated after the departure of the owner

Team dynamics- everyone is unified, "we are all one," everyone has buy-in for decisions 

Start the conversation- brainstorm, don't focus on the timeline, it isn't an event it is a process. 

"Everything can be solved if you have the talent"

Ultimate leadership- develop people so you can leave and they can succeed.
Check out today's partners:

More Time. More Profit. Shop-Ware Shop Management getshopware.com

See how Broadly can help YOU grow your auto shop. getbroadly.com/chat