Diagnostic Processes – Matt Fanslow and Scott Shotton – Part 2 [RR 578]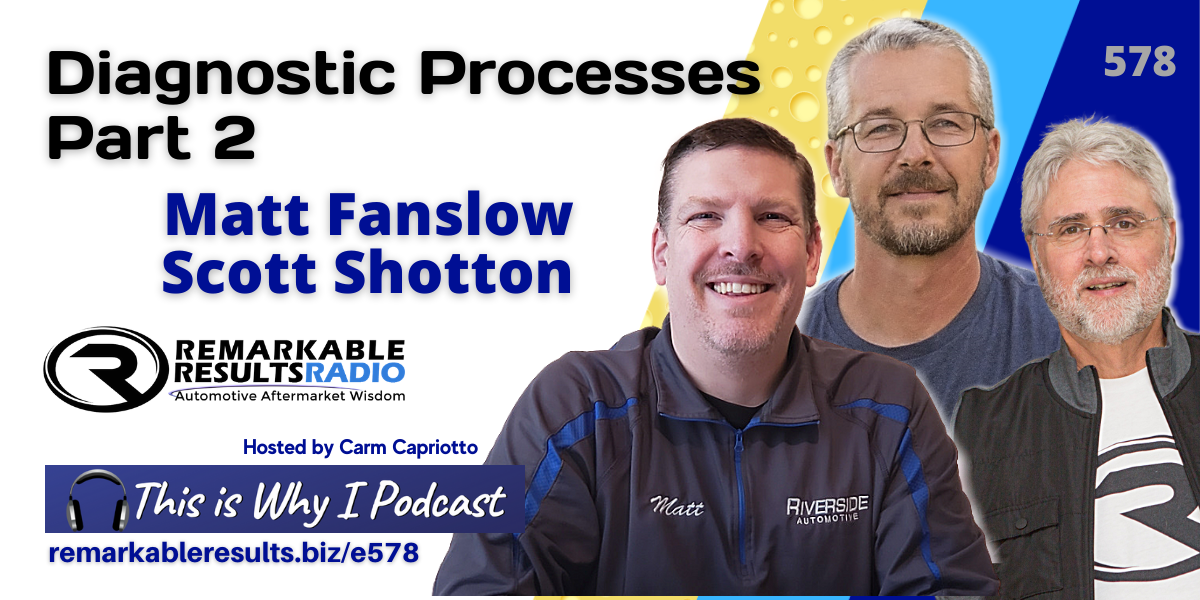 Scott Shotton has over 25 years of technical experience in automotive repair shops. As the owner of The Driveability Guys, Scott performs mobile diagnostics and reprogramming for local repair shops in the DeKalb Illinois area as well as industry training around the United States and Canada. He was also one of the four trainers for the Illinois EPA's vehicle emissions testing program.
Scott has been an automotive instructor at Kishwaukee College since 2009. Prior to Kishwaukee College, Scott was adjunct faculty at the College of DuPage for 7 years. He has a degree in Automotive Service Technology as well as many hours of training by manufacturers and independent training entities.
Scott is also recognized as an Illinois state emissions repair technician. He was also a technical trainer during his 8 year Army career. Scott has written many technical articles for Motor Age and Gears magazines. Scott became an ASE Subject Matter Expert (SME) in 2017.
Scott currently maintains 21 ASE certifications including Master Automotive Technician, Master Truck Technician, A9, L1, L2, L3, Alternate Fuels and more. Scott's previous episodes HERE.
Matt Fanslow is the diagnostic tech/shop manager at Riverside Automotive in Red Wing, MN. His primary responsibilities are to diagnose driveability and electrical/electronic issues, and perform most all programming, coding, initializing, adoptions, etc. Basically, if it needs to be figured out or has wires, it goes to Matt. He's been a tech since 1996.
Matt is also a subject matter expert for ASE and has instructed at Vision Hi-Tech Training and Expo.
Matt has participated on 18 ASE technical committees for the ASE Practice Test, A6, A7, A8, and L1 tests. He's also done case studies for Standard Motor Products.
Fanslow's goal is to do everything in his power to improve the overall level of professionalism within the automotive and light truck repair trade and also raise the level of its public image. Matt Fanslow's Previous Episodes HERE.
Key Talking Points:
OEMs charts are not perfect
Diagnostic pathways Process of elimination
Experience and training bring is relied on
Misfire- certain feel and sounds to vehicles
Verify problem- plug a scan tool into the car, pull codes, gather data, module scan, drive vehicle-based on customer's complaint
If the network is done then use the scope
Always start basic then choose a path based on data you receive
Service consultant needs to have write-ups in full detail from the customer
Experienced diagnosticians can self diagnose 60% of the time
Need a good resource database – "playing field levelers"
Use all your senses to help narrow down the problem
A diagnostic process should not be rigid and shouldn't be Can be like poker or chess
A scientific method as well
Your hand (your idea). What are other hands telling you.
A move in chess from your opponent changes your strategy
The customer supplies important data. The service consultant must write it all down so the tech has as much information
Diagnostics is a puzzle that you are always refining your strategy for completion
You need to know how to use the tools you have to organically be over 60% in discovering the real problem
Matt says some luck does play into solutions.
Importance of scan toolsScan tools should be in every bay and in every technician's hands
Scan tools are required more and more
Don't drive the car without a scantool plugged ini
Divide and conquer
Online training- invest in yourself and in your employeesCOVID-19 brought more virtual training, you are now able to learn from the best of the best without having to travel to attend
Will diagnostics get easier or harder with more and more technology? BothDiagnosing misfires is a lot easier
Parasitic drains- different causes has gone up significantly
Databases are playing field levelers
Some conditions are easier to diagnose like misfiresParasitic draw is getting harder
Augmented reality seriously on the future of training and support
Resources:
Thanks to Matt Fanslow and Scott Shotton for their contribution to the aftermarket's premier podcast.
Link to the 'BOOKS' page highlighting all books discussed in the podcast library HERE. Leaders are readers.
Find every podcast episode HERE.
Every episode segmented by Series HERE.
Key Word Search HERE.
Be socially involved and in touch with the show:
Facebook Twitter Linked In Email
Listen for free on Apple Podcasts, Google Podcasts, Spreaker, iHeart Radio, Spotify, Podchaser and many more. Mobile Listening APP's HERE
Join the Ecosystem – Subscribe to the INSIDER NEWSLETTER HERE.
This episode is brought to you by AAPEX, the Automotive Aftermarket Products Expo. AAPEX represents the $740 billion global automotive aftermarket industry and has everything you need to stay ahead of the curve. With 2,500 exhibiting companies, you'll see the latest products, parts, and technologies for your business. As a result, the event also offers advanced training for shop owners, technicians, warehouse distributors (WDs) and auto parts retailers, as well as networking opportunities to grow your business. AAPEX 2020 will take place Tuesday, Nov. 3 through Thursday, Nov. 5, at the Sands Expo in Las Vegas. Therefore, more than 48,000 targeted buyers are expected to attend, and approximately 162,000 automotive aftermarket professionals. They will be from 135 countries which are projected to be in Las Vegas during AAPEX 2020. For information, visit aapexshow.com/register

This episode is brought to you by Shop-Ware Shop Management. It's time to run your business at its fullest potential with the industry's leading technology. Shop-Ware Shop Management will increase your efficiency with lightning-fast workflows, help your staff capture more sales every day, and create very happy customers who promote your business. Shops running Shop-Ware have More Time and generate More Profit—join them! Schedule a free live demonstration and find out how 30 minutes can transform your shop at getshopware.com/carm