New Technology – Finding Out How it Works – Dave Hobbs Part 3 [RR 615]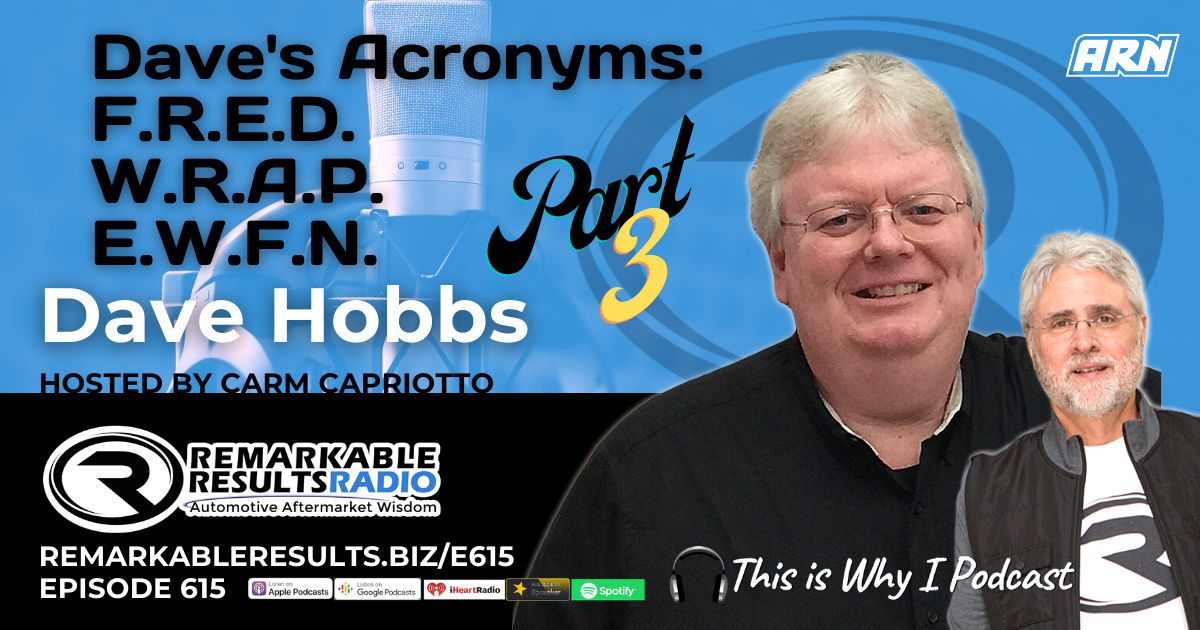 Dave Hobbs automotive service experience spans 40 plus years in the industry, starting out as a technician and then as a service manager working in his family's repair shop (Hobbs Auto Electric) in Kokomo, Indiana. After leaving Hobbs Auto Electric, Dave began working as a hotline advisor and field engineer at GM's Delco Electronics. Those roles eventually led to becoming an electronics systems instructor for thousands of Delco Electronics / Delphi engineers throughout North American and Asia.
Dave is currently the lead technical trainer and course developer for Delphi Product and Service Solutions. In addition, he serves part-time as a contributor to Motor Age Magazine and as a field correspondent for MACS Worldwide (Mobile AC Society). Dave's previous episodes HERE.
Key Talking Points:
New technologyFirst challenge- finding out how it works. Service information isn't always the easiest to read and understand.
Validate information and see what makes it work
Field case studies
Training- never quit learning
Dave's acronyms Data acronym FRED- frustrating ridiculous electronic device
WRAP- we replace all parts
EWFN – everything working fine now
Automotive innovationsADAS and calibrating radar when doing repairs
Technicians and shop owners have to be in the education business for customers- customers will think their car is a robotic autopilot vehicle
Brainstorm ADAS class for customers- educate how ADAS systems work and respect the safety functions in place to avoid customer turning them off
Automotive industry IS deemed an essential business
Resources:
Thanks to Dave Hobbs for his contribution to the aftermarket's premier podcast.
Link to the 'BOOKS' page, highlighting all books discussed in the podcast library HERE. Leaders are readers.
Listen for free on Apple Podcasts, Google Podcasts, Spreaker, iHeart Radio, Spotify, Podchaser, and many more. Mobile Listening APP's HERE
Find every podcast episode HERE.
Every episode is segmented by Series HERE.
Key Word Search HERE.
Be socially involved and in touch with the show:
Facebook Twitter Linked In Email
Join the Ecosystem – Subscribe to the INSIDER NEWSLETTER HERE.

NAPA Autotech Training helps your technicians keep their skills sharp and their NAPA Know How up to date. It's the highest quality technical training that covers almost every vehicle system and every make and model. NAPA Autotech is presented by experienced instructors who are ASE master certified technicians. Even after a class is over, techs can access course information online with ClassPass. So when questions come up later they can get the answers. AutoCare Center owners who have taken advantage of Autotech Training say that well-trained technicians are helping to increase their shop's repair capability and raise bay productivity. That results in fewer comebacks, more satisfied shop customers, and reduced technician turnover.
Learn more about NAPA AutoCare, NAPA Autotech Training, and the hundreds of other benefits the NAPA family has to offer by talking with your servicing NAPA store or Visit the NAPA Benefits Center, at www.napabenefitscenter.com or call the NAPA Benefits Center at 844-627-2123.