RR 220: Barry Barrett & Tom Ziglar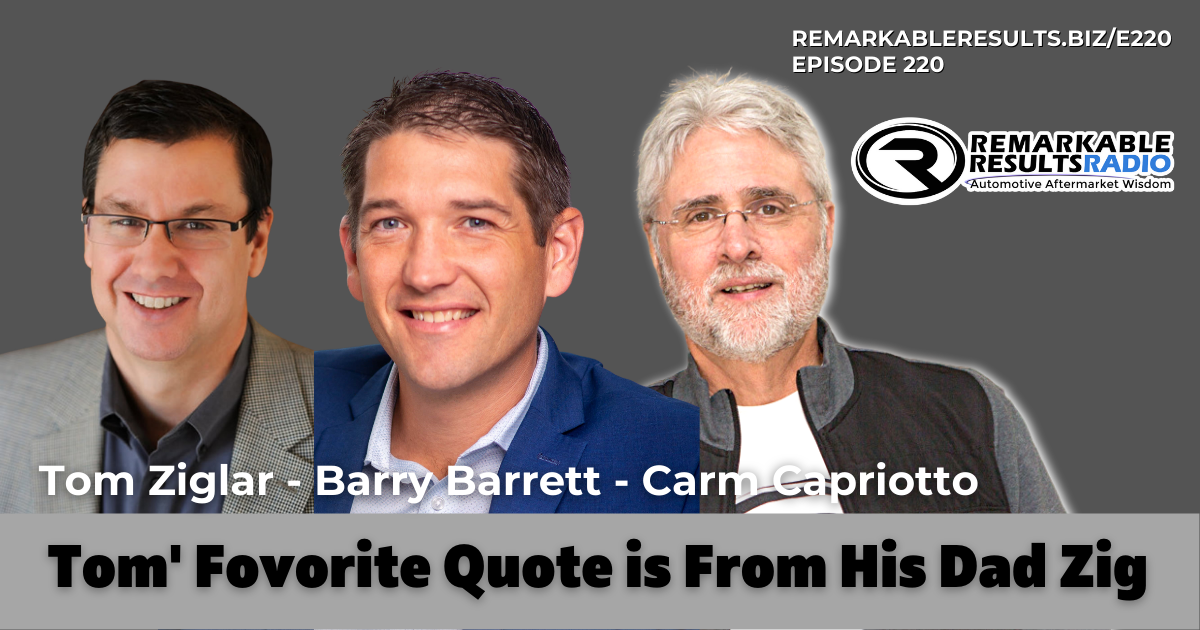 Tom Ziglar in his own words.
I have been working here 50 years (my whole life, but "officially" only 28 years)! Dad made sure I learned the business from front door to back, so I started in the warehouse, then on to production, sales, sales

management, seminar promotion, and then as CEO for the last 20 years. Now I work with the best team in the world with the best customers in the world, and if you're not careful, when you come by the offices you will find yourself officially adopted into the Ziglar family! I have a beautiful wife and daughter. I enjoy social media and I love speaking to people all over the world.
My personal mission statement: "My mission is to help you become significant by equipping you to help others become significant." This mission is why I love our Ziglar Legacy Certification program. My favorite Zig quote: "Son, God don't make no junk, and thanks to your mother, neither do I!" I hope to meet you someday, and if you are ever in Plano, Texas, on a Monday morning, I invite you to join us at our Monday Morning Devotionals. I am proud to say our guests always outnumber us, so you will fit right in.
As so many have known Zig Ziglar one of America's most influential and beloved encourager and believer that everyone could be, do and have more, founded the Zig Ziglar Corporation in 1977. He influenced an estimated quarter of a billion individuals through his 33 books, including the bestseller See You at the Top, which has sold almost two million copies.
As CEO of Ziglar, Inc., Tom Ziglar carries on the Ziglar philosophy: "You can have everything in life you want if you will just help enough other people get what they want."
Barry Barrett, a Certified EOS Implementer. As an EOS Implementor in his company, Business With Purpose, brings dedicated support to Leadership and Sales teams in all types of organizations, helping them structure the six key components of their business to make it operate with the best processes for their specific industry, using the EOS Model. Barry's energy is contagious no matter if he is in a session with a client, giving a keynote address, or rolling up his sleeves in a workshop. Barry is a business coach with his positive mental attitude, incredible work ethic, and determination for excellence, his results-oriented approach is matchless. Barry is driven, caring, and passionate; traits that he uses to help his clients grow their businesses in a positive way. Find Barry's other episodes HERE.
Episode Talking Points:
Barry Barrett explains, with passion, 'The Wheel of Life. Mind, Spiritual, Family, Health, Personal, Financial and Career.
Tom Ziglar calls himself an intellectual engineer.
When we're selling and doing it right we are looking at the potential of a prospect,solving a problem and prevent pain and problems in the future.
People don't like to be sold but they love help in buying.
Customers can save time and money with what the aftermarket sells. We help people extend the life of their car and prevent $480 average monthly car payment.
A good selling program will help explain to your customer that they will save 45% on vehicle ownership if you do the maintenance and repairs. That is saving 50% on the operating costs of your 2nd highest expense next to your home.
"You are the average of the 5 people you spend the most time with". Jim Rohn
Barry grew up in a single wide trailer, with a single mom and shares how he overcame grades in school and learned to love reading.
Barry is a Marine Corp veteran.
Tom Ziglar says, "The fastest way to success. Is to replace a bad habit with a good habit.

Zig Zilar's Termite philosophy: Hurricanes and tornadoes get all the publicity but termites do more damage and they take such ity-bity bites.
Tom Ziglars explains the benefits for listening to podcasts in a regular routine.
$10,000 challenge
66 days to create a new habit that will stick.

You want to get to the point where if you quit your new habit your body and mind will miss it.
Join the gym in January and quit in February. You must stick it out for 66 days.

Extreme Pareto Principle

1% of our activities produces 60% of the results we have
We all have default modes and un-default modes.
Try to grow 1% each day.

Most lottery winners are out of money within 10 years because they never built the character to keep the money.
Barry says you've got to book an appointment with every action on your calendar.
Tom's 'Perfect Start' to your day.

Two chairs.
He is reading five to ten books at a time.
Working on his goals and uses a planner.
He creates a mental model on important items of the day.

He pictures the event or conversation going as perfectly as it can.
Mental preparation makes him prepared and ready.
Works on his One-Thing.

Tom Ziglar's ideas on how to connect with books. Don't forget about audio and podcasts.
Tom Ziglar's favorite quote from his dad Zig.

Be socially involved and in touch with the show:
Facebook   Twitter   Linked In   Email
---
This episode is brought to you by Federal-Mogul


Motorparts and Garage Gurus. With brands like Moog, Felpro, Wagner Brake, Champion, Sealed Power, FP Diesel and more, they're the parts techs trust.  For serious technical training and support – online, onsite and on-demand – Garage Gurus is everything you need to know. Find out more at fmmotorparts.com  and fmgaragegurus.com