Are You Fixing Hybrids Cars? [THA 221]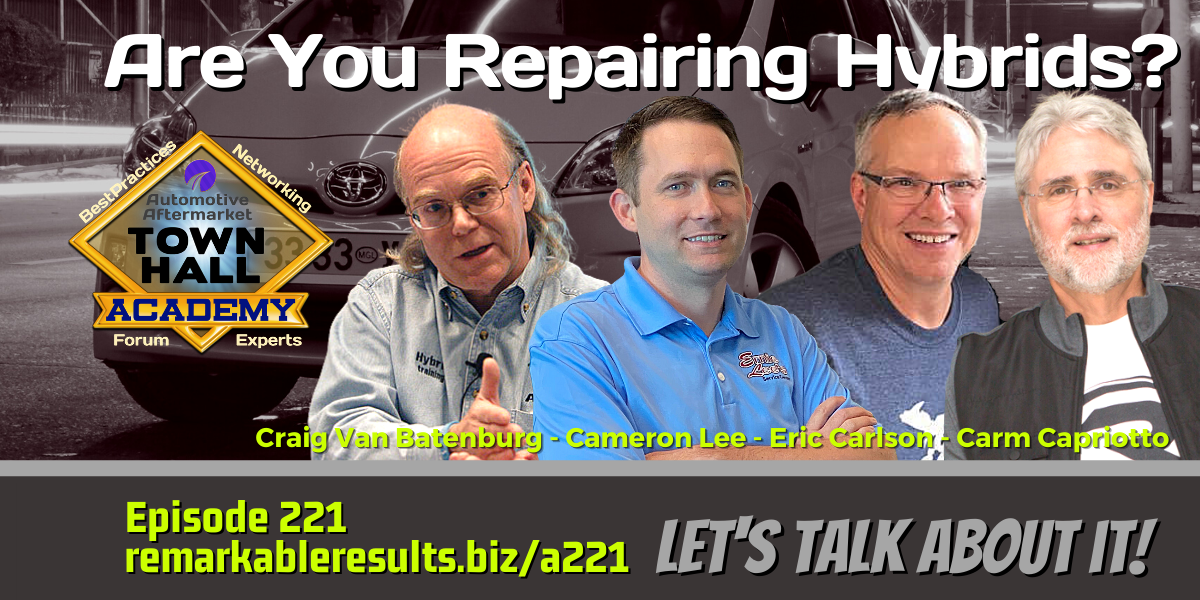 Craig Van Batenburg, AMAM, is the CEO of Automotive Career Development Center [ACDC] and a former repair shop owner. Craig is engaged full time in the understanding of the technology used in hybrid and electric cars. His 45 years of automotive experience serves him well. He travels throughout the world doing training on Hybrid and Electric Vehicles. Previous Episodes HERE.
Cameron Lee-Ernie Lee's Service Center was founded in 1972 by Cameron's grandfather. His father and Cameron now currently operate the business as a team. He went to work in the family business right out of college and started as a Tire and GS Tech and moved my way up to being the Lead Technician. Cameron serves as the Shop Manager and focuses on the day-to-day operation of the shop, developing the business, and meeting the needs of the ever-evolving aftermarket repair industry. Early in 2020 after attending Up Your Voltage by ACDC, Cameron opened another division of Ernie Lee's known as Raleigh Hybrids due to the ever-growing demand of Hybrid and EV repair and maintenance. In many ways, his role is modernizing and expanding the family business and the development of Raleigh Hybrids was a natural progression of that.
Eric Carlson has been a technician for over 40 years. His formal automotive education came from Ferris State University where he took all 8 ASE tests prior to graduation in 1977. Eric has re-certified every 5 years since. He took the L1 when it was introduced and is now L3 hybrid certified. Full disclosure: Eric is a subject matter expert for ASE and has participated in writing test questions, in the past 2 years, for the L3 test.
Eric and his wife Jamie bought Ervine's in 1994 and added Grand Rapids Hybrid to the family in 2013 after Eric became the first Master Hybrid Service Technician in Grand Rapids, MI. Eric has been interviewed by several local television stations and publications seeking his expertise on everything from basic maintenance to the ramifications of "Right to Repair" legislation. Ervine's Auto Repair and Grand Rapids Hybrid became an ASE Blue Seal of Excellence shop when it was introduced and have been since. Previous episodes HERE
Key Talking Points
HybridsAnother revolution in emissions
Stepping stone to pure electric cars
Another means of controlling pollution
Honda announcement- no internal combustion after year 2040You MUST be a part of the evolution and start handling hybrid repairs
"It's not a question of should you get into hybrids, it's a question of why haven't you done it 10 years ago?"
SpeedbumpsReceive rare unicorns that other hybrid shops don't want to touch
Need to say yes to every hybrid vehicle- capitalize on marketing as the shop that can "fix everything"
Tools you need- test every connection
Advice- buy Gen 2 and start working on it
Get into hybrid first to learn basics before EV (electric vehicles)Properly trained
Proper tooling- inexpensive compared to others
Hybrid car owners will turn into EV owners- natural evolution to be conscious of the environment
Fixev.com- keep independent shops in businessOffer management training
Webinar training- learning at your own pace
Move your 12 volt brain to high voltage thinking Conditioned at early age that a car sound is "vroom vroom"
Pure electric vehicles First fluid change is 150,000 miles or 10 years, all LED lights
Need level 2 charging station.
Lift fixtures to take 1500lb batteries out
A special thanks to Craig Van Batenburg, Cameron Lee and Eric Carlson for their contribution to the aftermarket.
Books Page HERE
Listen to all Remarkable Results Radio, For The Record and Town Hall Academy episodes.
Facebook Twitter LinkedIn Instagram Youtube Email
Join the Ecosystem – Subscribe to the INSIDER NEWSLETTER HERE.

This episode is brought to you by Shop-Ware Shop Management. It's time to run your business at its fullest potential with the industry's leading technology. Shop-Ware Shop Management will increase your efficiency with lightning-fast workflows, help your staff capture more sales every day, and create very happy customers who promote your business. Shops running Shop-Ware have More Time and generate More Profit—join them! Schedule a free live demonstration and find out how 30 minutes can transform your shop at getshopware.com

This episode is brought to you by Shop Marketing Pros. Your guides are Kim and Brian Walker with a rich history as shop owners and industry veterans. When someone searches for a shop, who are they finding? Your competitors? It should be you! The good people over at Shop Marketing Pros know how to drive website traffic and make Google work for you! www.shopmarketingpros.com