My Computer Was Hacked: Now What? – Tom Sciortino [RR 764]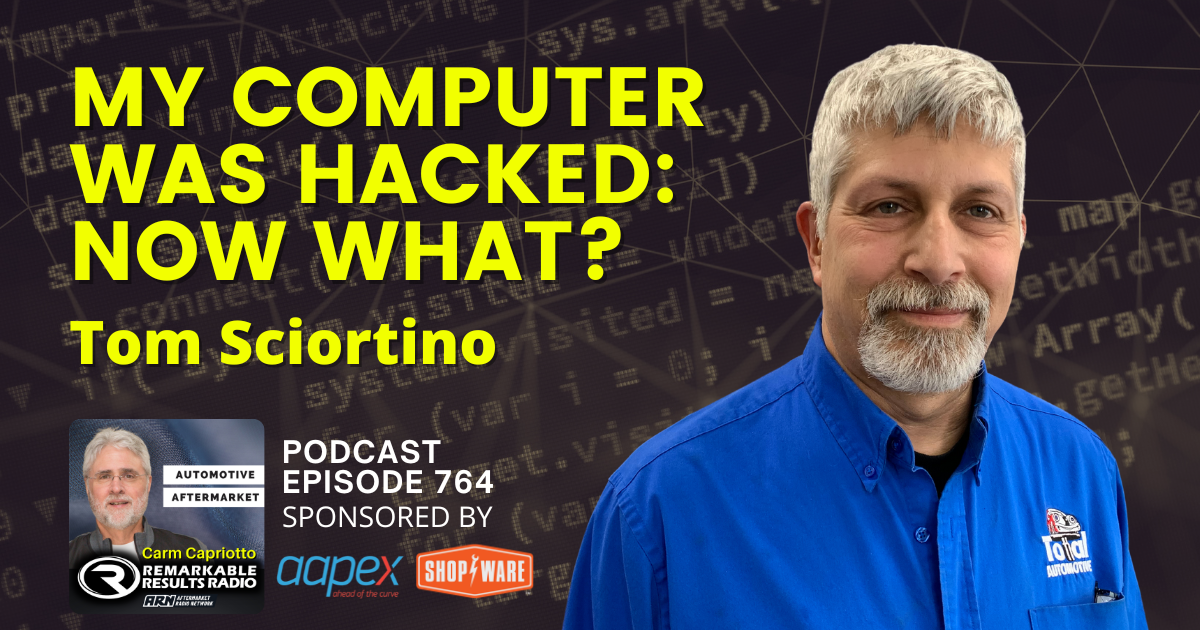 How secure is your computer and internal network? Could it survive malware or a virus? For most of us, our system just runs and is out of sight, out of mind…until something happens. I'm with Tom Sciortino, a good friend and local shop owner in my hometown, and his business computer got hacked. Tom's personal accounts were also hacked.  He bought a couple of laptops he didn't know about. Don't let this happen to you; keep listening to find out how he discovered the hack and the changes he made to protect his network. 
Tom Sciortino, Total Automotive, Buffalo, NY. Tom's previous episodes HERE
Key Talking Points
One of his 6 terminals was hacked in the shop. Hacker also had access to his home computer and Amazon account. Police traced recent order for 2 laptops to a home in Rochester, NY, about 80 miles away. Retrieved the laptops but couldn't prove it was purchased by a hacker, no case can be created. 

Passwords had to be locked down, and lock computer system with password protection. Google activity is monitored weekly

Have a system in place for checks and balances- when Tom first started his business he had an employee skim cash from check deposits and steal 8K in 5 weeks.   

Advice- have a good relationship with your IT and bankers. Evaluate your credit card chargeback policies and fraud alerts
Connect with the Podcast:
Check out today's partners:

Set your sights on Las Vegas in 2022. Mark your calendar now … November 1-3, 2022, AAPEX – Now more than ever. And don't miss the next free AAPEX webinar. Register now at AAPEXSHOW.COM/WEBINAR.

More Time. More Profit. Transform your shop at getshopware.com/carm