Addiction: How Can We Help? What Can We Do? [THA 238]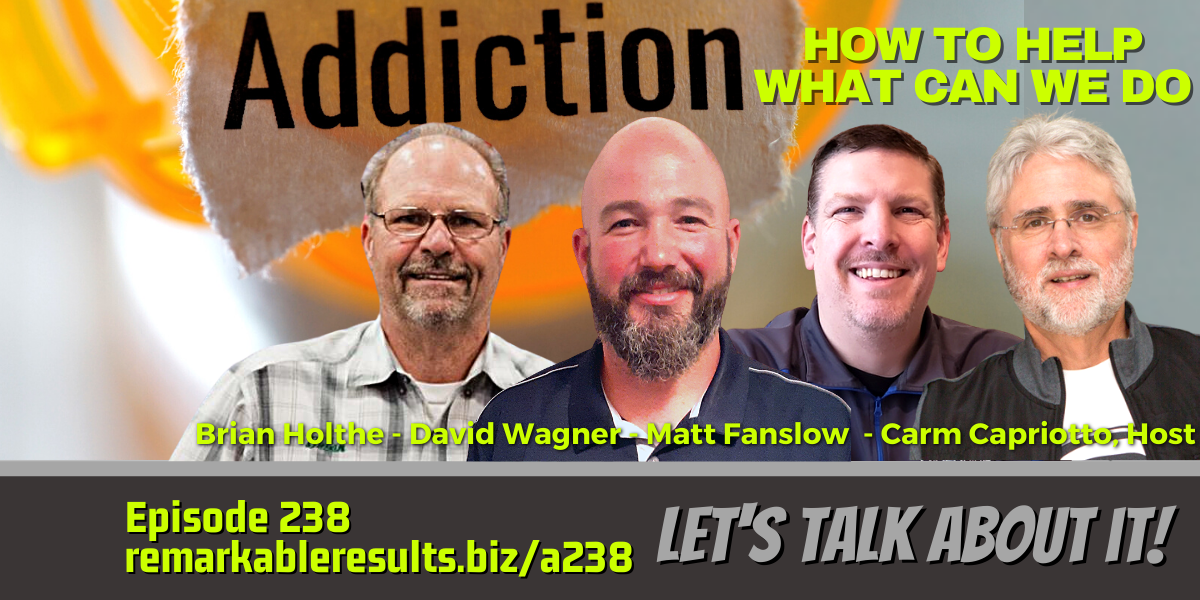 Brian Holthe- Brian's automotive trade experience started in Sept 1980 when he moved from California to Arizona to attend trade school. Brian started his first shop while attending trade school, two years after graduation he landed a dealership technician position working for a Volvo dealership, where he learned how a successful shop should run. He obtained his Master ASE and Volvo Technician certifications while employed there. After working in other shops as a technician, running a couple in management he ended up in Tacoma WA. In 1989. Here he worked for a shop that did lots of service and repair for everything from dealership lots to fleet and one RV Dealership across from the shop. For this dealership, he worked on RV chassis for coaches to be sold. The shop sold and Brian began a new chapter. In 1993 Brian opened a shop in Lakewood WA, a suburb of Tacoma. He carried the RV chassis repair business, used car repair business and building on those relationships Genesis Automotive Repair began. In 1994 Brian changed the business name to include RV Repair and incorporated. Since then, Genesis Automotive and RV Repair has also taken on service and repairs of food service vehicles, mobile pet grooming vehicles servicing chassis, internal equipment and power generation, becoming an Onan authorized sales, service and repair facility. Genesis Automotive and RV Repair has grown to be respected in the service and repair of automotive and RVs. Find Brian's other episodes HERE
David Wagner, Mobile Diagnostician
Matt Fanslow is the diagnostic tech/shop manager at Riverside Automotive in Red Wing, MN. His primary responsibilities are to diagnose driveability and electrical/electronic issues, and perform most all programming, coding, initializing, adoptions, etc. Basically, if it needs to be figured out or has wires, it goes to Matt. He's been a tech since 1996. Matt is also a subject matter expert for ASE and has instructed at Vision Hi-Tech Training and Expo. Matt has participated on 18 ASE technical committees for the ASE Practice Test, A6, A7, A8, and L1 tests. He's also done case studies for Standard Motor Products. Fanslow's goal is to do everything in his power to improve the overall level of professionalism within the automotive and light truck repair trade and also raise the level of its public image. Matt Fanslow's Previous Episodes HERE.
Key Talking Points
Brian Holthe-

addiction was from 14 years old, started drinking beer, alcoholic by 17. At 21, got turned on to coke, speed then drugs via syringe at 23. Once IV use began, I got into the crack, heroin, and meth. During his 30's his turning point was his mom saying she wanted him out of her life. 1992 began his sober road.

David Wagner- addiction to alcohol, cocaine, and crystal meth. Been off of the drugs for about 11 years now, Started having a beer or wine once in a while. His wife and mom were the catalysts to become sober. 

Help along the way- having trusting friends that can help, coworkers constantly checking. Understand people care about you. There are always people to help with anything in life- sometimes you just don't see them or are aware. 

Being open, realize you have a problem, ask for and accepting help- realize danger signs, be willing to act on them, set a clear path to maintain being sober

How to help- don't distance yourself from the addict, acknowledge someone asking for help. Support as an employer- consider going to meetings with them, celebrate their sober milestones, never look down on them, acknowledge their sober path, listen, ask questions. The automotive industry has typically a fixer type personality- consider listening instead of trying to 'fix' and give your answers to them. 

Success stories can help motivate

Safety nets- choosing to go to rehab and having job security

Have to hit the bottom to rise above but so many people are still functioning addicts. 

Changing routine- drugs/alcohol disrupt your routine and you start not knowing what your priorities are

Find a support group that works for you

Higher power- you are in less control than you think you do, surrender and forgive yourself

Putting energies towards other things instead of addiction- hobbies, teaching etc that is rewarding. Accepting you won't feel the same "high" and start appreciating the little things. Remember what's important.
A special thanks to Brian Holthe, David Wagner and Matt Fanslow for their contribution to the aftermarket.
Facebook   Twitter  LinkedIn   Instagram  Youtube   Email  
Join the Ecosystem – Subscribe to the INSIDER NEWSLETTER HERE.

This episode is brought to you by Shop-Ware Shop Management. It's time to run your business at its fullest potential with the industry's leading technology. Shop-Ware Shop Management will increase your efficiency with lightning-fast workflows, help your staff capture more sales every day, and create very happy customers who promote your business. Shops running Shop-Ware have More Time and generate More Profit—join them! Schedule a free live demonstration and find out how 30 minutes can transform your shop at getshopware.com