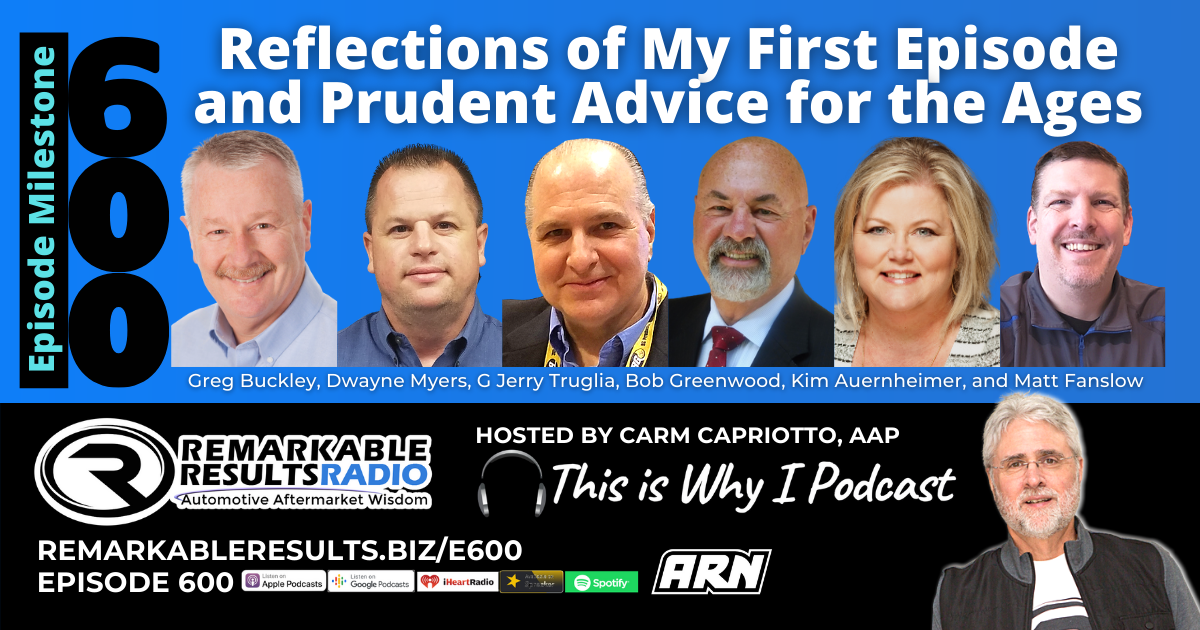 Reflections of My First Episode and Prudent Advice for the Ages [RR 600]
Welcome to the 600th Episode of Remarkable Results Radio. Enjoy some very candid talk and behind the scenes revelations from some of the very first episodes from my panel.
Along with the fun discussion, the panel dished out some great advice as the podcast continues to set the standard and the tone for aftermarket industry podcasts.
Our longevity is a testament to the leaders from every segment of the industry who have shared so that others have gained. We will continue to bring thought piercing issues and commentaries so that you grow your business acumen. As I said and I mean it from the bottom of my heart, this podcast is dedicated to you for "listening and learning" and for letting me know how much our content means to you. And a big shout out to the sponsors who make the podcast a reality. Please support them.
My guests bring and give color to this milestone event. Not many can reach the lengths we have reached but we have aced it through the support and respect from peers, students, coaches, service advisors, and shop owners. Welcome Greg Buckley from Buckleys, Dwayne Myers from Dynamic, G Jerry Truglia from TST, Bob Greenwood; CEO of AAEC, Kim Auernheimerfrom CS Automotive, and Matt Fanslow from Riverside Automotive.
We've reached these milestones, besides the 600th RRR, the 200th Town Hall Academy and the start of Aftermarket Weekly this year only because you are there and use this resource.
You can find our guest's previous episodes, their bios, and the key talking points for this episode at remarkablersults.biz/e600
Listen and view episode notes