Work Happy, Drive Happy [RR 768]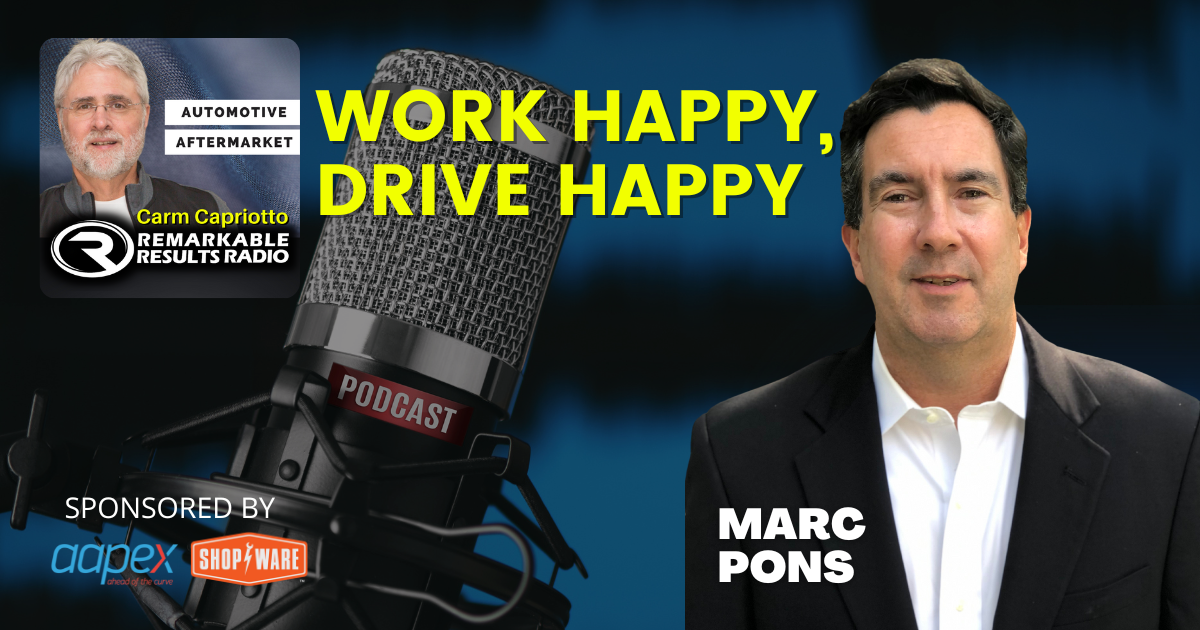 Find out how Marc Pons maintains a "Work Happy, Drive Happy" culture inside his 9 shops. Marc is also the president of ASTA in North Carolina, the Automotive Service and Tire Alliance, the folks who bring you ASTE. Marc explains the importance of setting routines to reinforce your values, it only takes 15 minutes at the beginning of each day. Can your shop spare 15 minutes? I think you can.
Marc Pons, Chapel Hills Tire, 9 Shops, Chapel Hill, Durham, Raleigh, and Apex, NC
Key Talking Points
Should you sell tires? Don't leave money on the table, be the one-stop shop to serve your customers. Tire programs are key for selling tires.

Initially didn't want to be in the family business- didn't want to be viewed as his father's son who had things 'handed' to him 

"Work Happy, Drive Happy" culture. Employees will treat customers up to the level they are treated themselves. They need to be rested, cared for, and appreciated. The culture in your business exists even if you don't do anything to it. Your culture needs to be articulated and written with your team. Then you need to install routines to drive the culture. Let the values guide your decisions.    

"Value of the Week" huddle at every store every morning to go over the value of the week and how to live it. "Strive for Excellence" tech helping another tech etc. 

On the website- "Why Work Here," with pay and compensation plan  

Workforce development- ASTA has a strong apprenticeship program with hands-on experience. 

Training- service advisor training, tech training, ASE master techs do lunch and learns for test preps. Working on having a full-time in house trainer. 
Connect with the Podcast:
Check out today's partners:

Set your sights on Las Vegas in 2022. Mark your calendar now … November 1-3, 2022, AAPEX – Now more than ever. And don't miss the next free AAPEX webinar. Register now at AAPEXSHOW.COM/WEBINAR.

More Time. More Profit. Transform your shop at getshopware.com/carm