Assessments: Hire Engaged, and Productive Employees Who Find a Home [RR 572]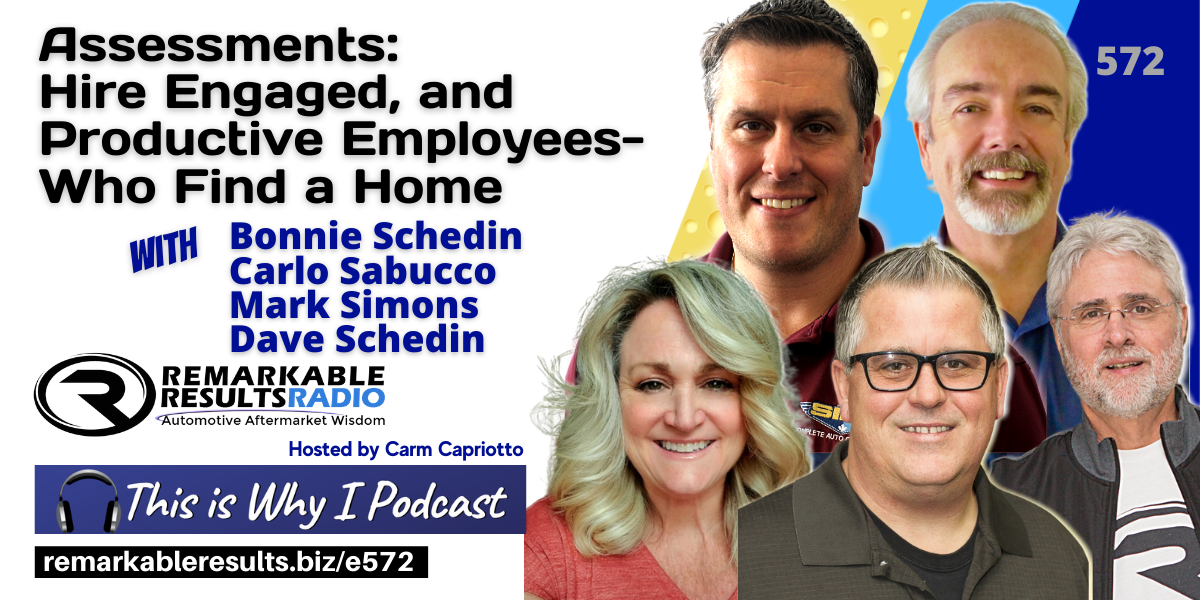 Carlo Sabucco, 2nd generation owner of Sil's Complete Auto Care Centre. My father started the company September 1976, I joined in 1994 and succession of ownership in 2009. Company is now a 7000 square foot facility with 8 bays and 6 wonderful team members. I would never be here today without the team, the help of some amazing coaches, my peer group for the last 16 years, and lastly my wife Melanie. The last 2 years has been a steep learning curve of C Suite coaching, personal development, learning to be a better leader and focusing on where the industry will be in 5-10 years and preparing for it. Listen to Carlo's other Episodes HERE.
Dave Schedin has 40+ years of experience in the automotive field. He has extensive General Motors University Automotive & Business Management training and is a graduate of the Arizona Automotive Institute.
Dave began his career as a young lad in an independent shop in '79 and began working as an Apprentice Tech advancing to a Master Level Driveability Tech. In '86 he moved into the dealership arena as a Lead Driveability Tech and obtained both the Chevrolet and ASE Master Technician status and became a Shop Foreman overseeing 24 Techs, Assistant Service Manager, Service Manager to Fixed Operations Manager.
In '97 Dave started and managed "Dave's Auto Repair" in the Pacific Northwest where he took that business to a near million-dollar sales level in under FOUR years by implementing and continuing to developing the
"CompuTrek Automotive Management Systems." Since 2006 Dave has been coaching and training to help shop owners achieve on average $200,000 in NEW GP dollars in 12 months Dave and his partner/wife Bonnie Schedin also carry extensive Leadership and Personal Self-Development coaching and training at an advanced level. Through both personalized and highly effective 'team' training & seminars, they offer well-rounded coaching for the automotive professional through experiential seminars. Listen to Dave's other Episodes HERE.
Bonnie Schedin, a Certified Assessments Practitioner, has 30 years of experience as a business owner and has held positions in government and City departments as well as the public sector in human resources, marketing, and employee life coaching. As an HR Professional and Certified Assessment's Practitioner and Integrative Life Coach, her diverse background working with all people groups from every employable arena has supported her passion to help transform cultures and build teams with the use of streamlined and simple to use technology that carries high levels of validity.
Bonnie employs an industry-leading 'job fit' assessment tool to support business owners to not only onboard, but help produces stronger leaders, increase overall staff satisfaction, CSI ratings, and revenue simultaneously.
Bonnie and her business partner/husband Dave Schedin have extensive Leadership & Self-Development training at advanced levels and are Certified Master Level Coaches and Trainers. Through both personalized and highly effective 'team' training & seminars, they offer well-rounded coaching for the automotive professional through experiential seminars, one-on-one coaching
, and 'real world' training. They make their home in Southern Idaho.
The CompuTrek Group's commitment is "discovering and unfolding solutions' for business owners and their employees to support strong relationships and higher customer service satisfaction. Listen to Bonnie's other Episodes HERE.
Mark Simons of Rolfs Import has 2 locations and is a major part of ASA NW. With a staff of experienced, professional ASE Certified Technicians, Rolf's Import Auto Service is the premier import auto repair and service facility in the Lakewood, WA and Fife, WA communities. They provide expert vehicle computer diagnostic services as well as complete auto services and repairs ranging from engine and transmission replacement to wheel alignment and brake service.
Key Talking Points:
Who?
Pneuma (pron: nooma) Advantage is a division of The CompuTrek Group, Automotive Management Systems, Coaching & Training. Together they have partnered with one of the largest global assessments company to provide businesses with a 99.9% reliable and high validity assessment used to understand their candidates and employees. Using reliable, validated solutions to address your key talent management issues, Pneuma Advantage can deliver immediate results via clear, actionable reports that also provide interview questions.
What? Two Important Assessments
The Step One Assessment is a very cost-effective, brief, 15-min pre-evaluation of an individual to determine whether or not you wish to consider them further. Basically, a screening tool early in the candidate selection process. It is scientifically designed to assess a candidate in areas of Integrity, Reliability, Work Ethic, and Substance Abuse tolerance.
It also gives you valuable interview questions that CAN be asked during an interview directly related to their answers as well as a distortion rate which can tell you whether or not they answered consistently.
The PXT Select Assessment measures how well an individual fits a specific job(s) in your company. The 'job matching' feature is unique because it enables the manager to evaluate an individual relative to the qualities required to successfully perform in a specific job. It is used throughout the employee life cycle for selection, onboarding, managing and strategic workforce planning.
The PXT will exponentially help you as well in Pre-Hiring during the interview and selection process. It identifies people who have the highest probability of being successful in a role and provide practical recommendations for maximizing performance. We also provide a Coaching Report that will give you pinpoint accurate interview questions and tips directly related to areas that new candidates (or current employees) are OUTSIDE of a 'top performer' pattern for any one position and how hard you and they will have to work at getting them to the place you want them to be operating at.
This report will also clarify additional training an individual may need thus, GREATLY reducing the interview time.
It measures cognitive scale, behavioral characteristics, and whether or not the job they are applying for is a top interest. It shows you how to use this knowledge to increase employee performance and ensure you have a great fit to ensure you have the most thorough view of the respondent's data and who they are at core level.
Where?
All assessments are completely online, anywhere there is an internet connection. They can also be completed by hand, but need to be done in person. Booklets are available for the Step One only because the PXT Select is adaptive and will provide next level questions contingent on the previous questions the candidate/employee chose. No two questions the same for each individual.
When?
Anytime you are hiring, on boarding or succession planning within your company.
Why Assessments?
There is a very real need to support businesses to enhance the eco-system of their organization through it's greatest asset…PEOPLE. In this age of information, 'job fit' high validity assessments support managers in their pre-hire, on-boarding, succession planning and leadership development process.
Pneuma Advantage helps businesses leverage and streamline their hiring process and leadership goals by positively affecting your company's bottom line with activated, engaged and productive employees…the LIFELINE of a healthy business culture.
Resources:
Thanks to Dave Schedin, Bonnie Schedin, Carlo Sabucco, and Mark Simmons for their contribution to the aftermarket's premier podcast.
Link to the 'BOOKS' page highlighting all books discussed in the podcast library HERE. Leaders are readers.
Find every podcast episode HERE.
Every episode segmented by Series HERE.
Key Word Search HERE.
Be socially involved and in touch with the show:
Facebook Twitter Linked In Email
Listen for free on Apple Podcasts, Google Podcasts, Spreaker, iHeart Radio, Spotify, Podchaser and many more. Mobile Listening APP's HERE
Join the Ecosystem – Subscribe to the INSIDER NEWSLETTER HERE.

This episode is brought to you by Shop-Ware Shop Management. It's time to run your business at its fullest potential with the industry's leading technology. Shop-Ware Shop Management will increase your efficiency with lightning-fast workflows, help your staff capture more sales every day, and create very happy customers who promote your business. Shops running Shop-Ware have More Time and generate More Profit—join them! Schedule a free live demonstration and find out how 30 minutes can transform your shop at getshopware.com/carm
This episode is brought to you by AAPEX, the Automotive Aftermarket Products Expo. AAPEX represents the $740 billion global automotive aftermarket industry and has everything you need to stay ahead of the curve. With 2,500 exhibiting companies, you'll see the latest products, parts, and technologies for your business. As a result, the event also offers advanced training for shop owners, technicians, warehouse distributors (WDs) and auto parts retailers, as well as networking opportunities to grow your business. AAPEX 2020 will take place Tuesday, Nov. 3 through Thursday, Nov. 5, 2020 at the Sands Expo in Las Vegas. Therefore, more than 48,000 targeted buyers are expected to attend, and approximately 162,000 automotive aftermarket professionals. They will be from 135 countries which are projected to be in Las Vegas during AAPEX 2020. For information, visit aapexshow.com