One Location $2.5M: How We Do It [THA 334]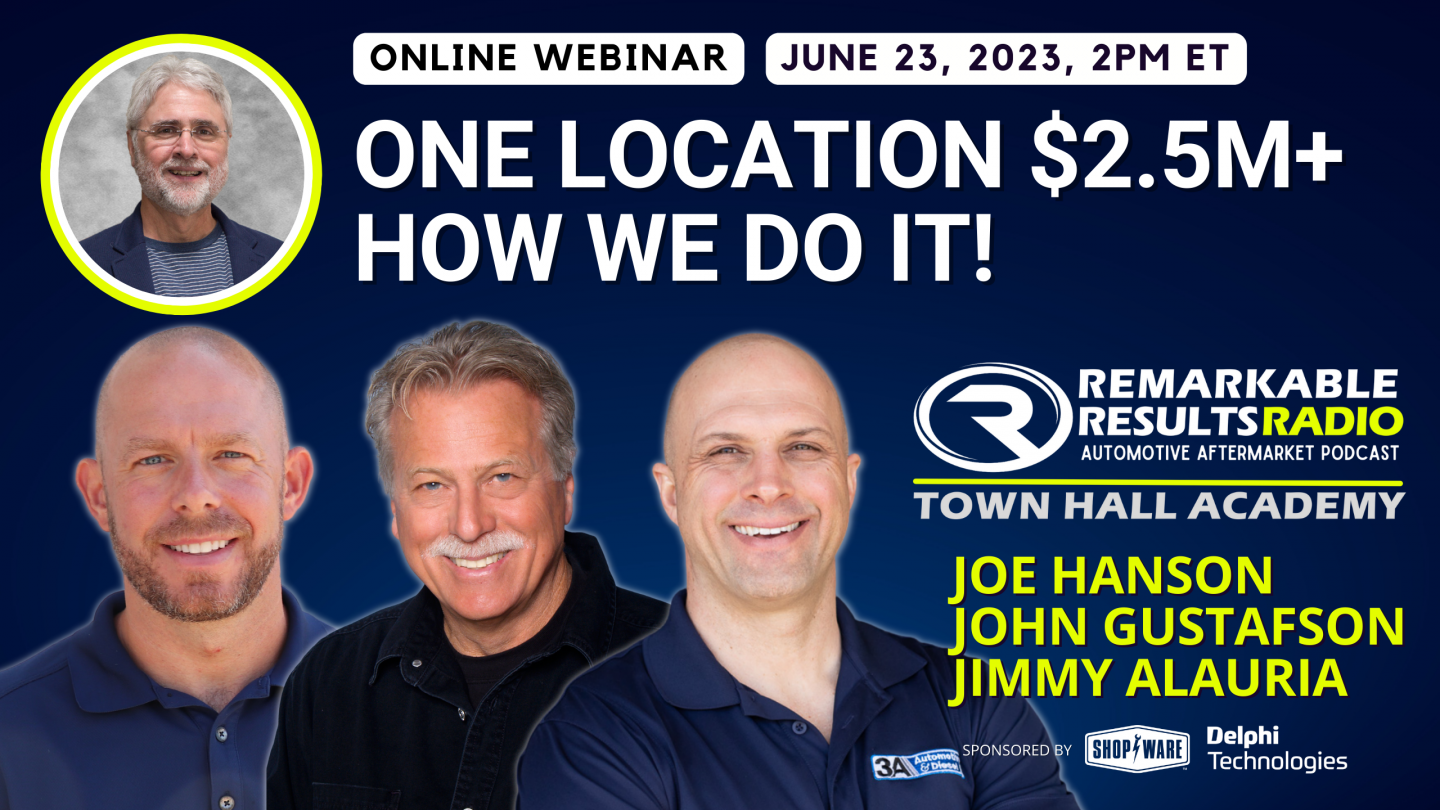 Shop owners Jimmy Alauria, Joe Hanson, and John Gustafson share their strategies and tactics for achieving exceptional success. The most valuable lesson? The importance of having a strong team, setting goals, and monitoring key performance indicators to achieve success. They emphasize the need for attention to detail, accountability, and hiring the right people, empowering them to lead and demonstrating commitment to the purpose and core values of the business. Tune in to learn more about how to achieve success in this industry!
Joe Hanson, Gordie's Garage, Roseville, MI. Listen to Joe's previous episodes HERE.
John Gustafson, Gustafson Brothers, Huntington Beach, CA. John's previous episodes HERE
Jimmy Alauria, 3A Automotive and Diesel Repair, Phoenix, AZ. Jimmy's previous episodes HERE
Show Notes:
Watch Video Episode HERE
The Importance of Staffing (00:03:04) Jimmy and Joe discuss the importance of having a full team to run the operation and how adding key pieces to the office, such as a parts manager and a service manager, helped them grow their business.
The Role of Culture in Business Success (00:05:30) The importance of having a top culture and how it is the umbrella that everything works under. They emphasize the need for a competitive, positive, and teamwork-oriented culture.
Managing by Statistics (00:07:11) Jimmy explains the importance of managing by statistics and how posting graphs and statistics can help motivate the team to improve and keep score. He emphasizes the need for a competitive nature in the team and the importance of keeping track of personal sales, efficiencies, and hours.
Weekly meetings and KPIs (00:08:38) The importance of weekly meetings and key performance indicators (KPIs) in tracking trends and setting goals for their shops.
Leadership and accountability (00:09:46) Holding both employees and owners accountable for meeting goals and contributing to the success of the shop.
Selecting leaders (00:13:16) How leaders in their shops are selected based on their demonstration of the company's purpose and core values, as well as their ability to gain the respect of their peers. They also draw parallels to their experiences with leadership in sports.
Training and Self-Discipline (00:17:01) Jimmy and Joe discuss the importance of training and self-discipline in leadership and management roles.
Marketing Strategy (00:20:11) The importance of having a marketing strategy and investing in it to grow the business.
Numbers Game (00:22:47) Joe explains how having a plan and using math to calculate the number of customers needed to hit revenue goals is crucial for success.
Building Customer Base (00:24:38) Importance of growing customer base and hiring a support consultant for social marketing.
Financial Disciplines (00:27:10) The importance of pro forma and daily reports in achieving financial success, with examples from successful shops.
Big Business Attitude (00:33:23) Discussion on how to run a much bigger business and all-inclusive with people, backing oneself out and putting other people in charge mentality.
Creating Groups within Our Group (00:34:20) Creating teams within the organization, with a production team and a manager over that production team, and a sales team with a service advisor and a customer service rep.
Unleashing Responsibility to the Team (00:36:16) The importance of being the visionary of the company, where to go and how to get there, and unleashing the responsibility to the team.
Thanks to our Partners Shop-Ware and Delphi Technologies
Shop-Ware: More Time. More Profit. Shop-Ware Shop Management getshopware.com
Delphi Technologies: Keeping current on the latest vehicle systems and how to repair them is a must for today's technicians. DelphiAftermarket.com
Connect with the Podcast
-Join our Insider List: https://remarkableresults.biz/insider
-All books mentioned on our podcasts: https://remarkableresults.biz/books
-Our Classroom page for personal or team learning: https://remarkableresults.biz/classroom
-Buy Me a Coffee: https://www.buymeacoffee.com/carm
-The Aftermarket Radio Network: https://aftermarketradionetwork.com
-Special episode collections: https://remarkableresults.biz/collections